Twitter
@st3amco
We get a lot of RT's but who really sees them?
Use these hashtags
#ARTCONNECTS
#CREATIVITYFIRST
#ILOVEARTACTION
#ILOVEART
#SCOKXC
STEAM Co. on BBC Radio London
STEAM Co. on RADIO 5 LIVE
Nick Corston of STEAM Co. discusses BBC research into declining arts education with RSA and Headteacher.
ARE WE OVERTESTING OUR KIDS? OBserver/Question time
90 second film with footage from BBC Question time of teacher and David Cameron Policy Adviser questioning our approach to testing.
Ad artwork from Observer newspaper
Tweet here
RIDLEY SCOTT ON ART, TEACHERS AND DADS
60 second clip of Ridley Scott's epic BAFTA Lifetime achievement film referencing his apparent failure in school but success after encouragement of his father and teachers and art school
Bill Gates shortlists Andria Zafirakou, Art Teacher at Alperton Community School in Brent for the million-dollar Global Teacher Prize.
Schools' Minister Nick Gibb refuses to answer 9x8 on national TV, saying a children wouldn't be asked to do it. or woudl they.
The child in question here, attends Parklands Primary in Leeds whose Head Teacher Chris Dyson is keynoting at our event.
TES ARTIcLE ON CREAtivity and community ENGAGEMENT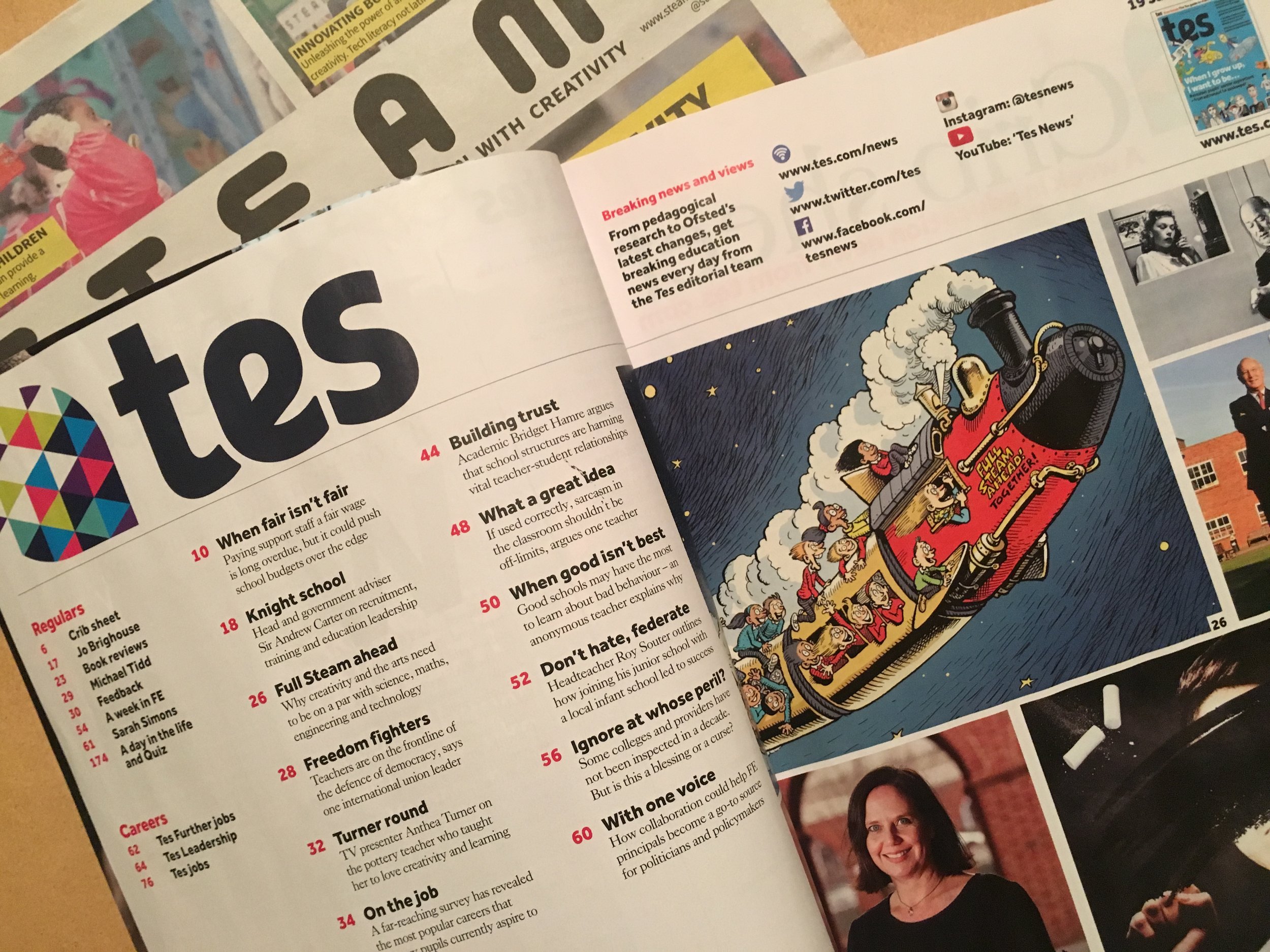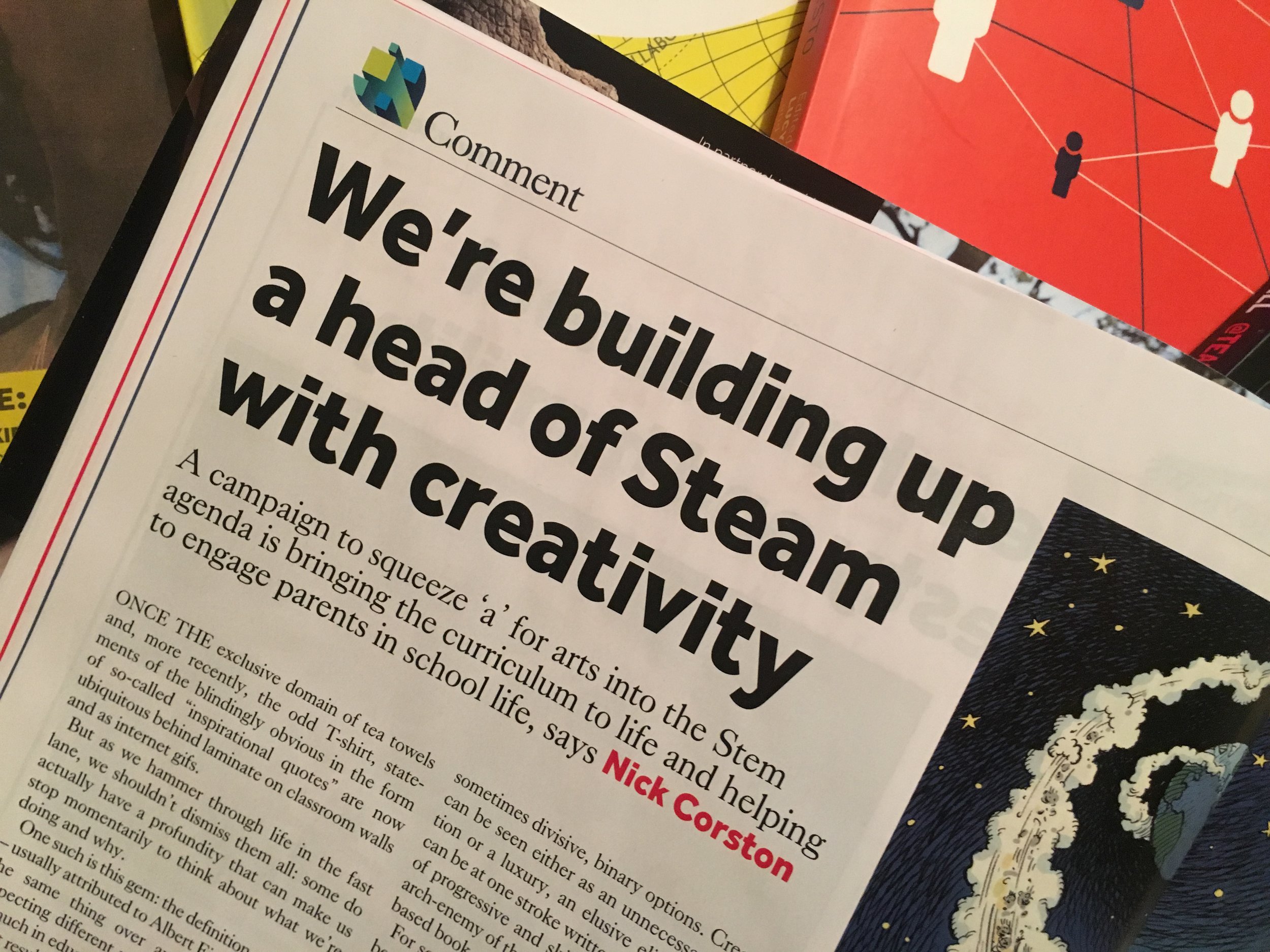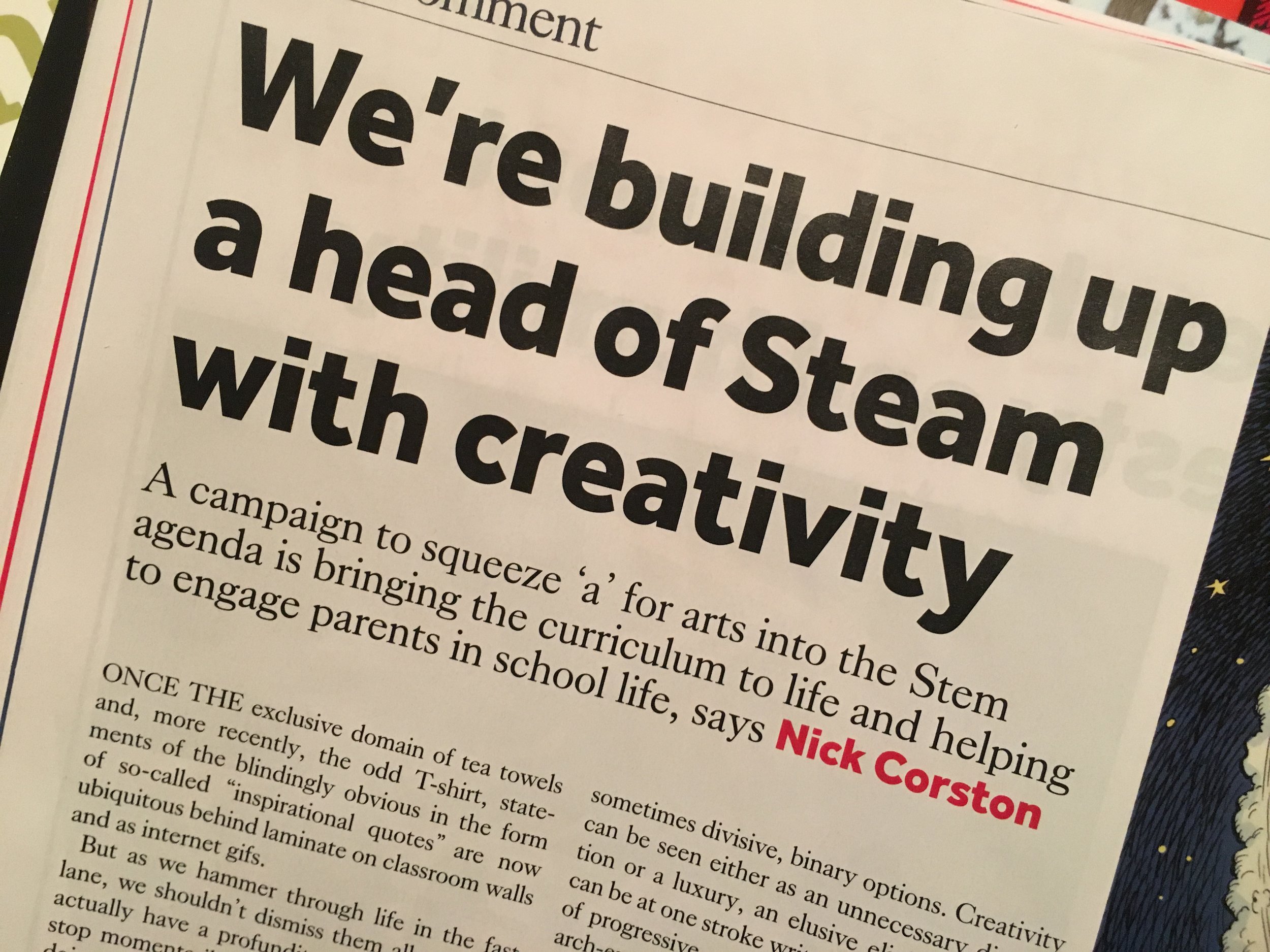 Article talking about various STEAM Co. projects and how they have fostered massive community engagement.
One case study in Luton saw over 150 parents come in to a primary school.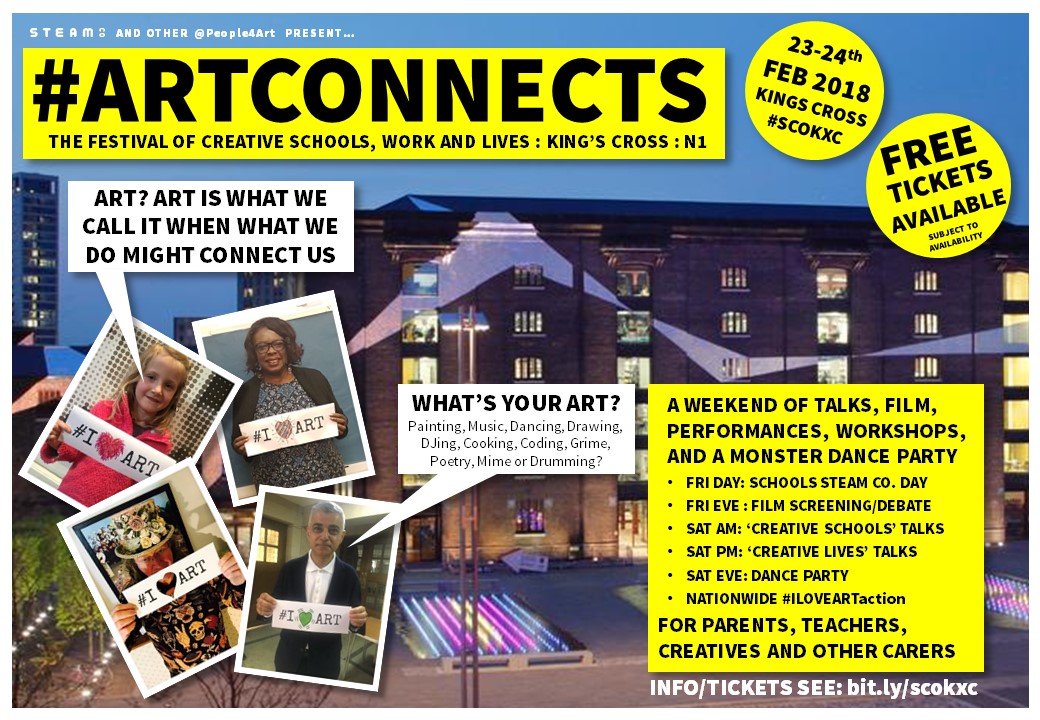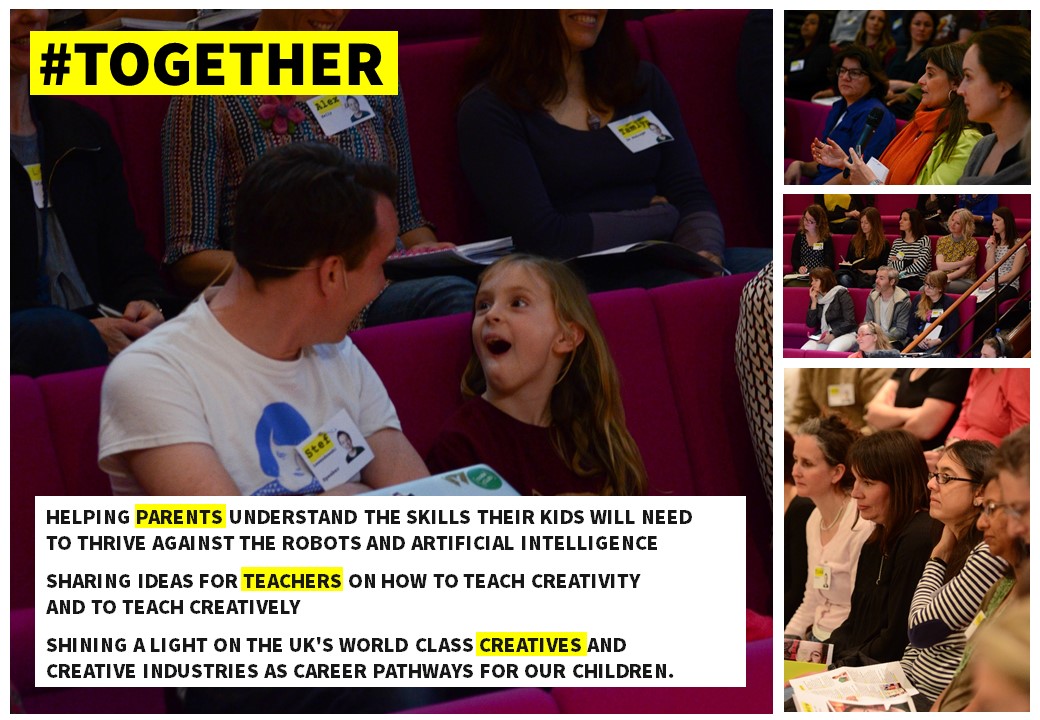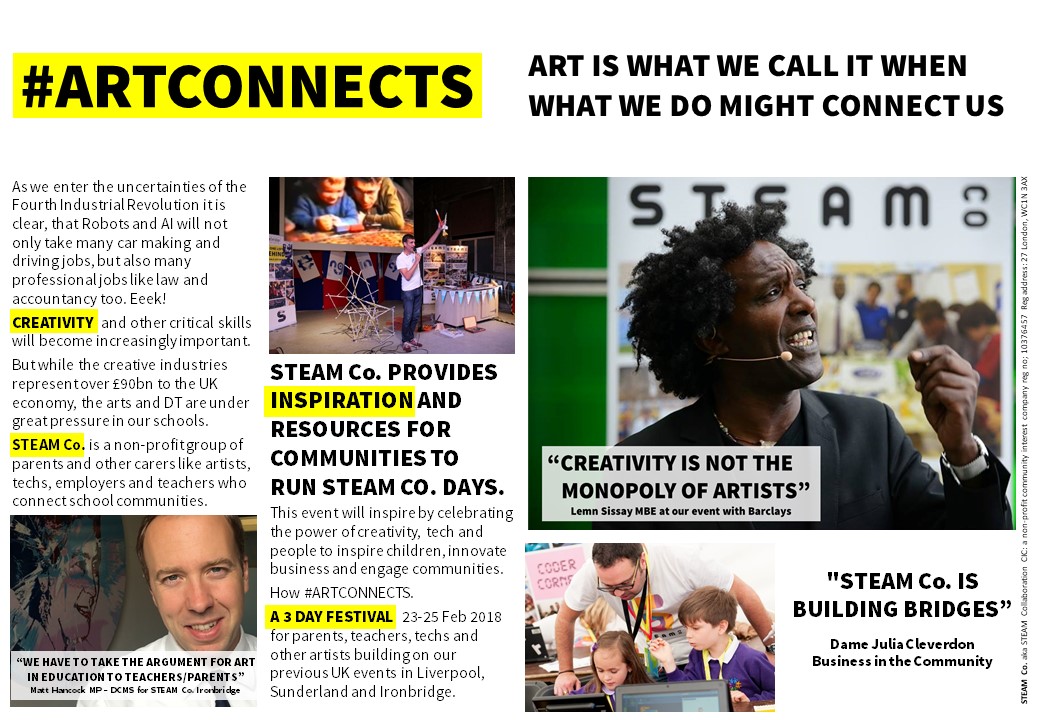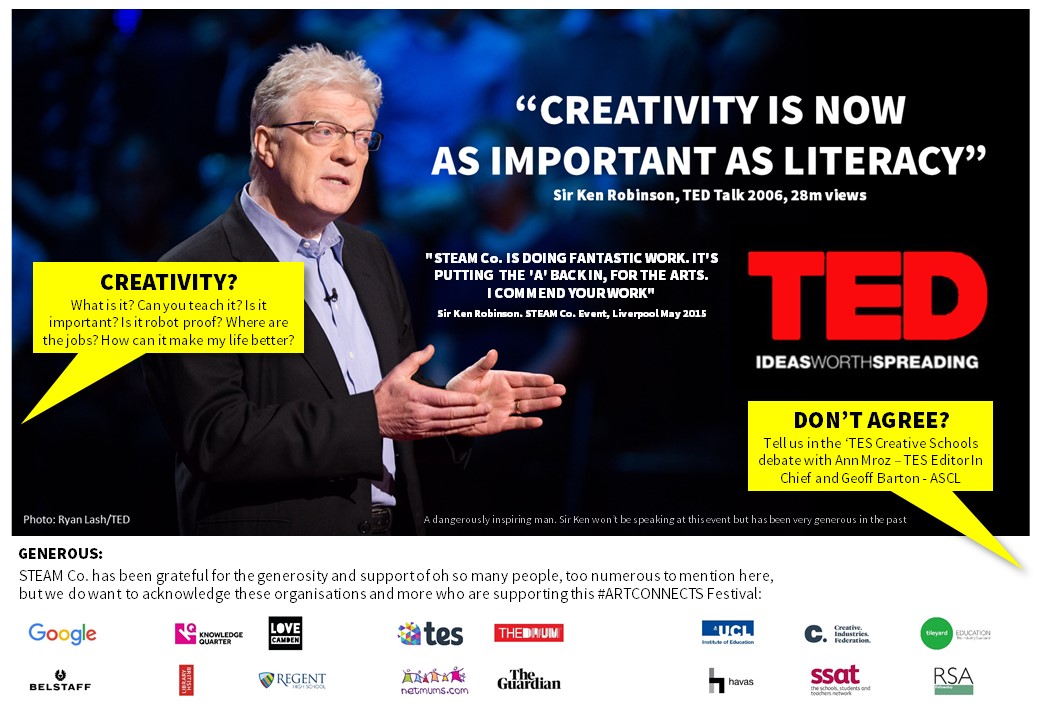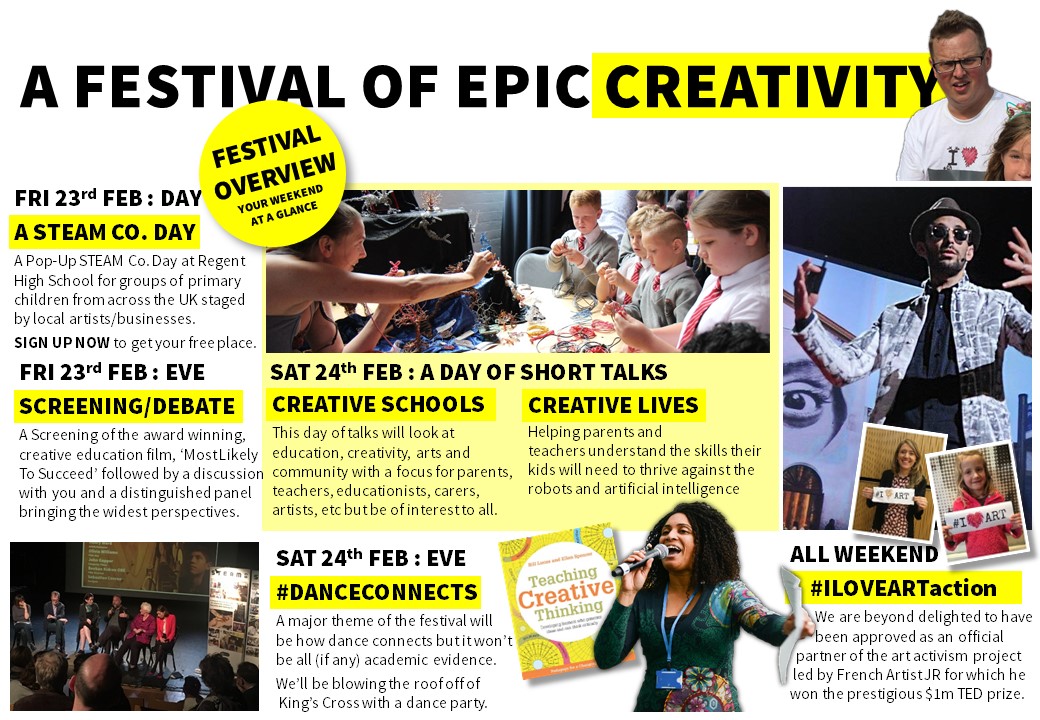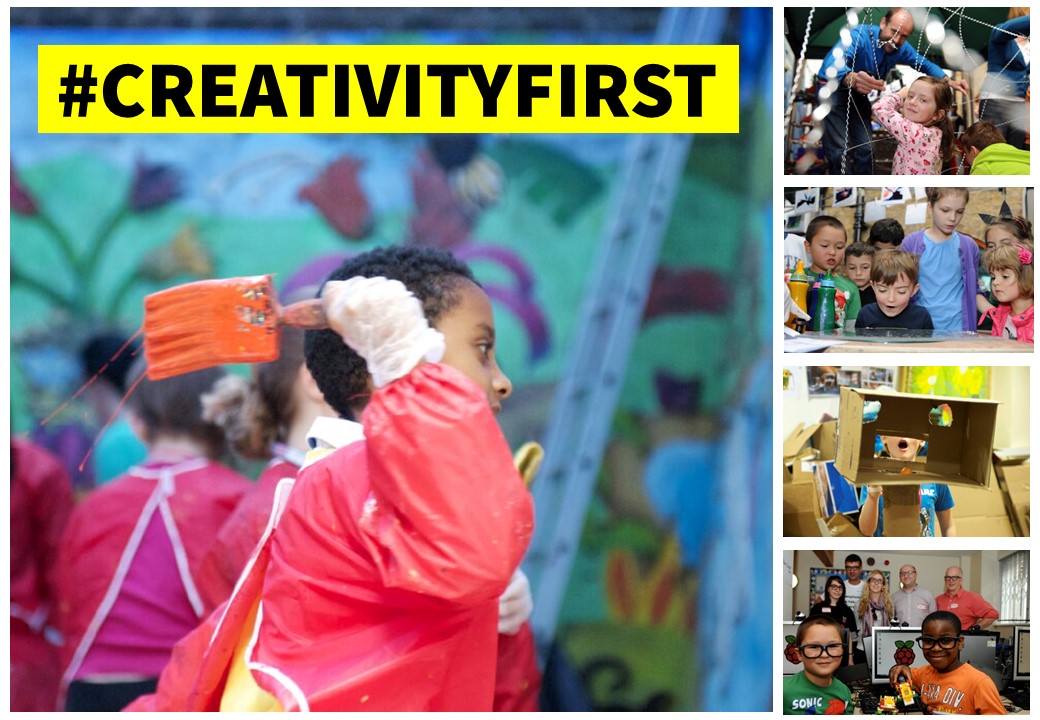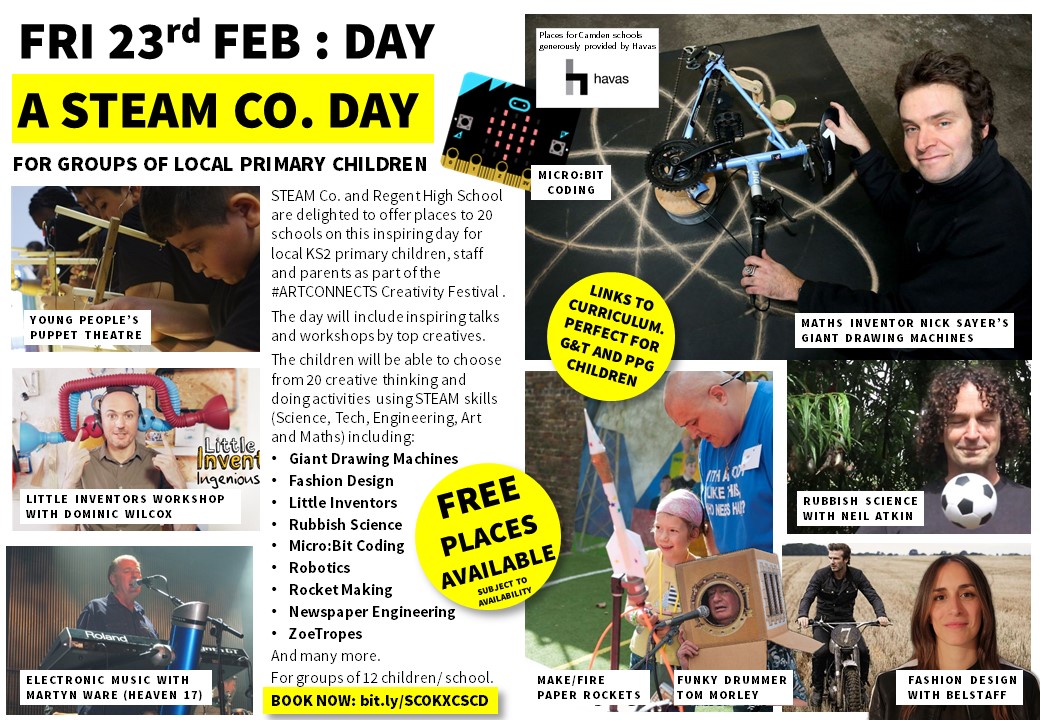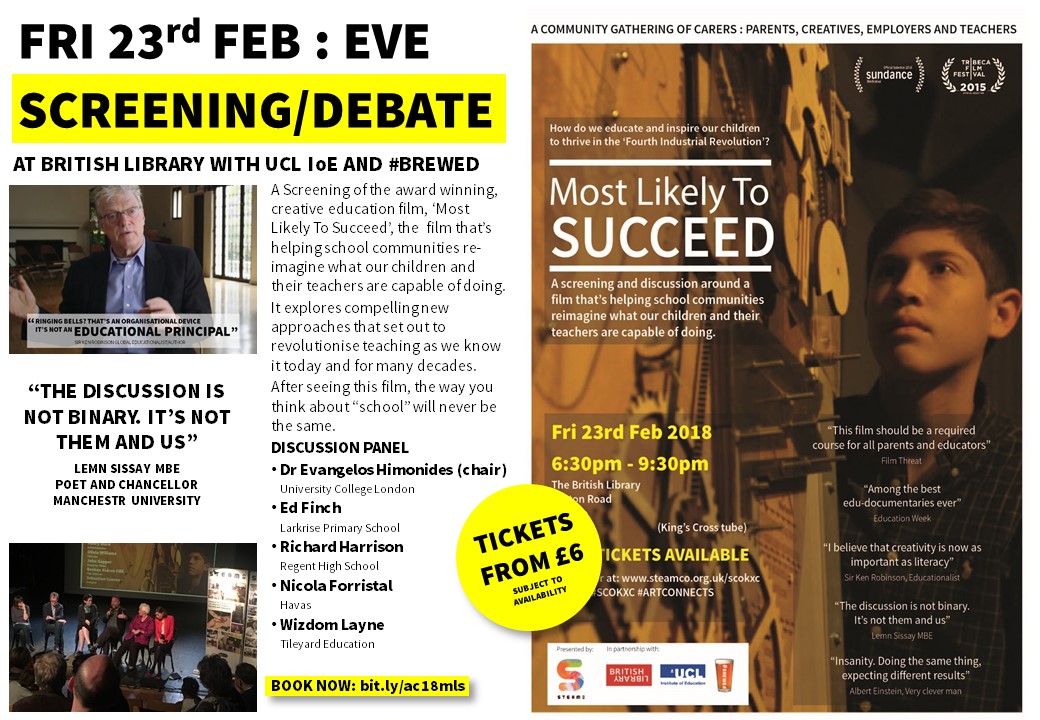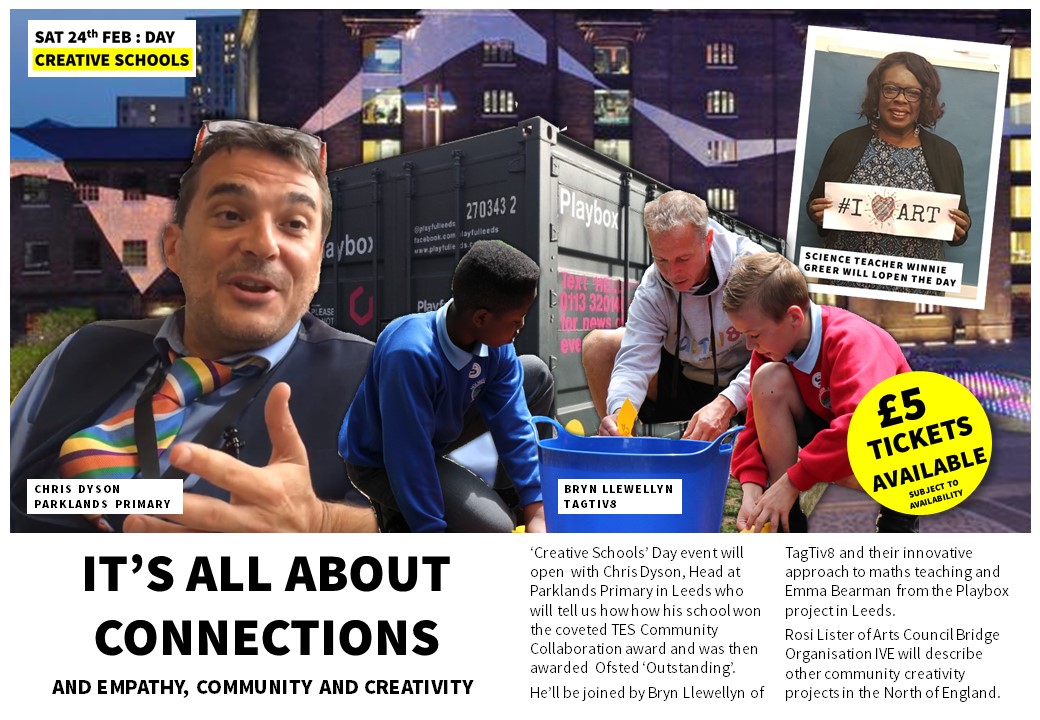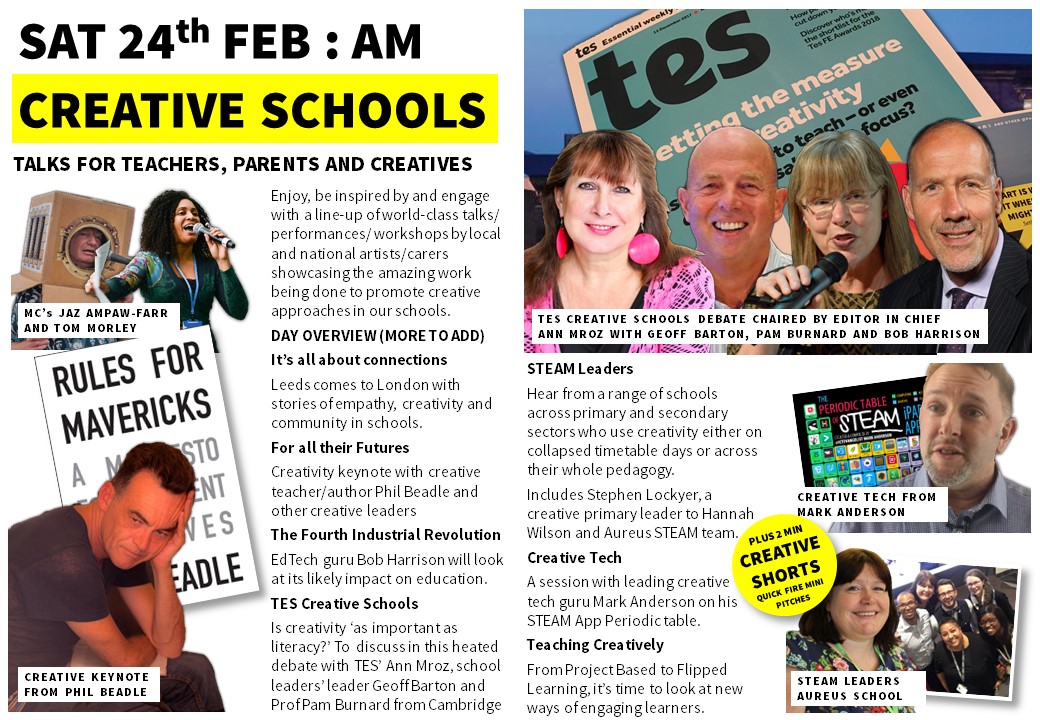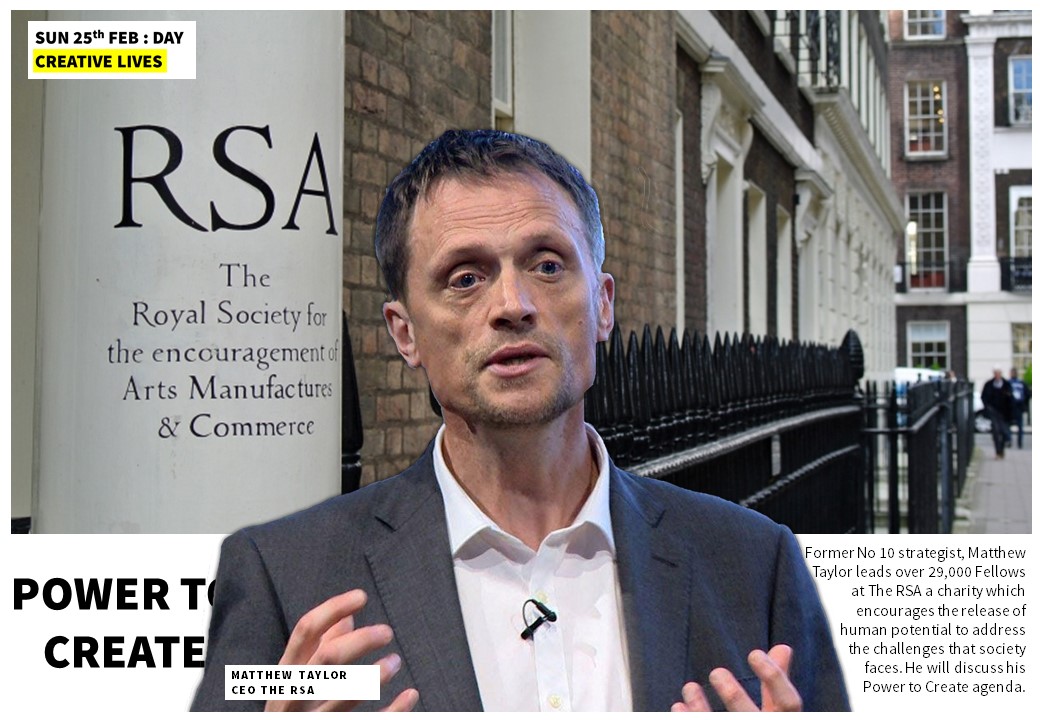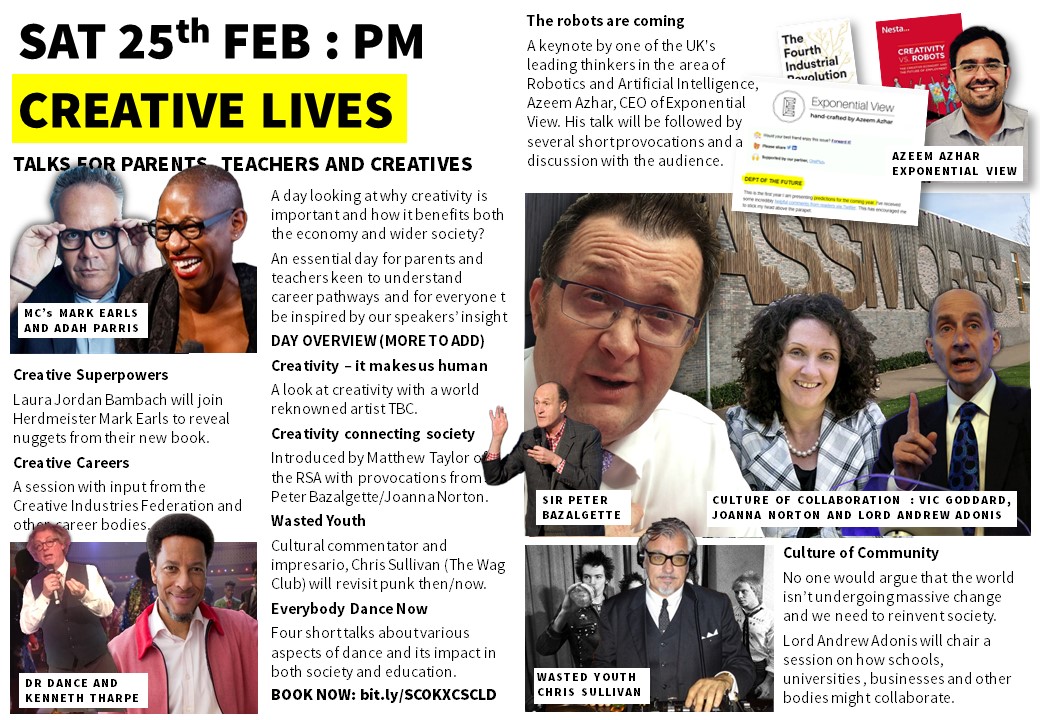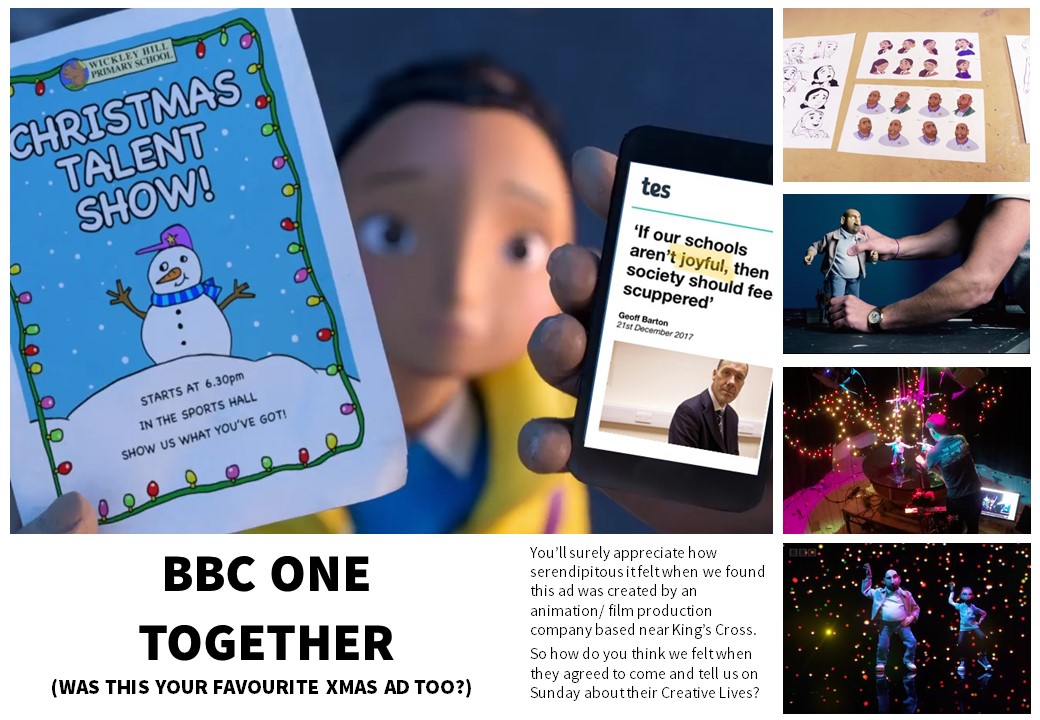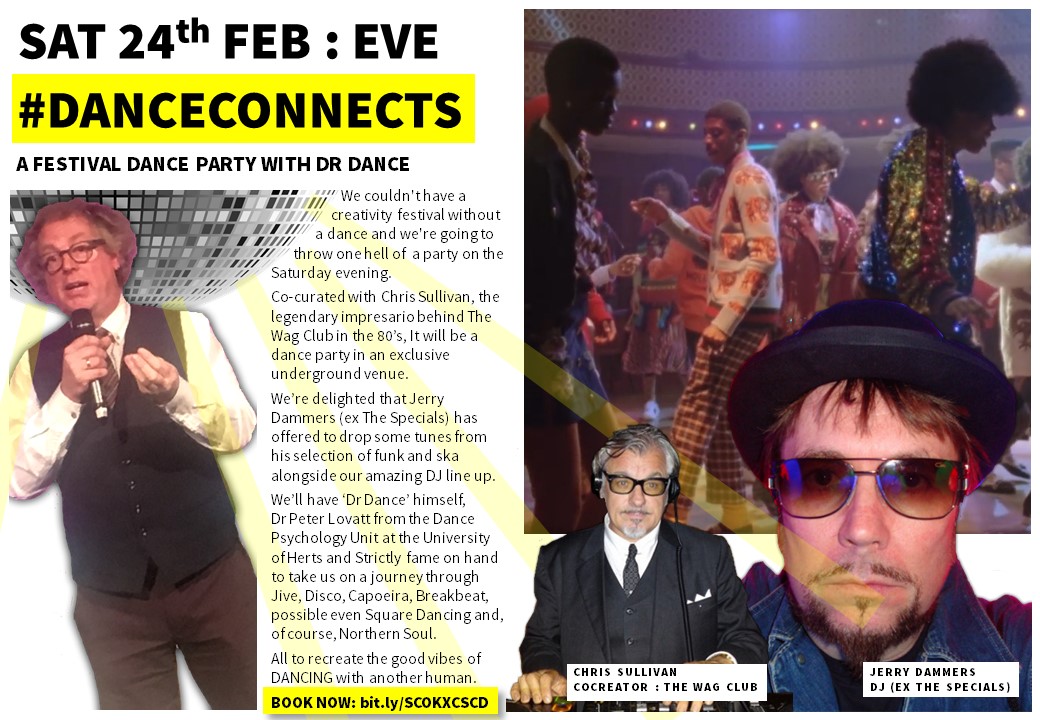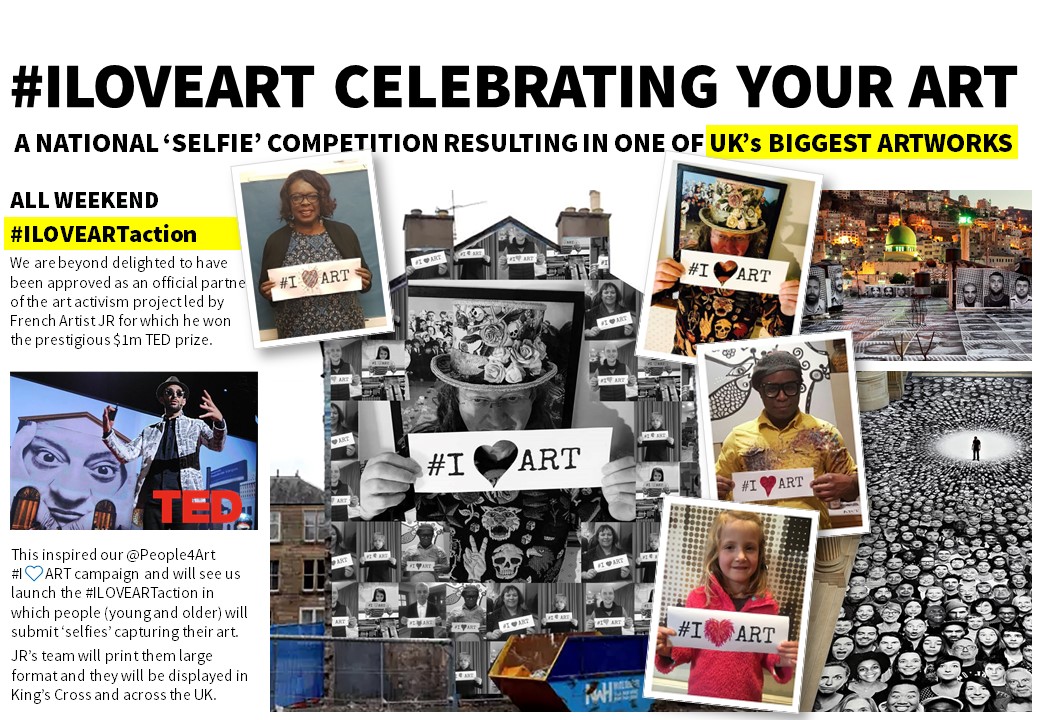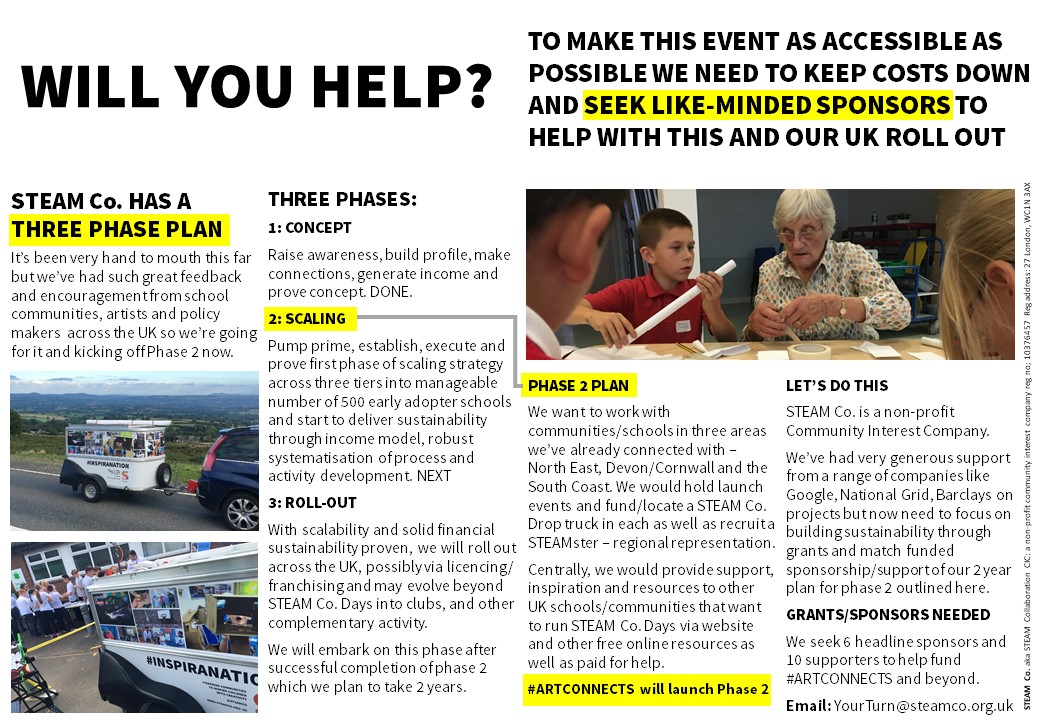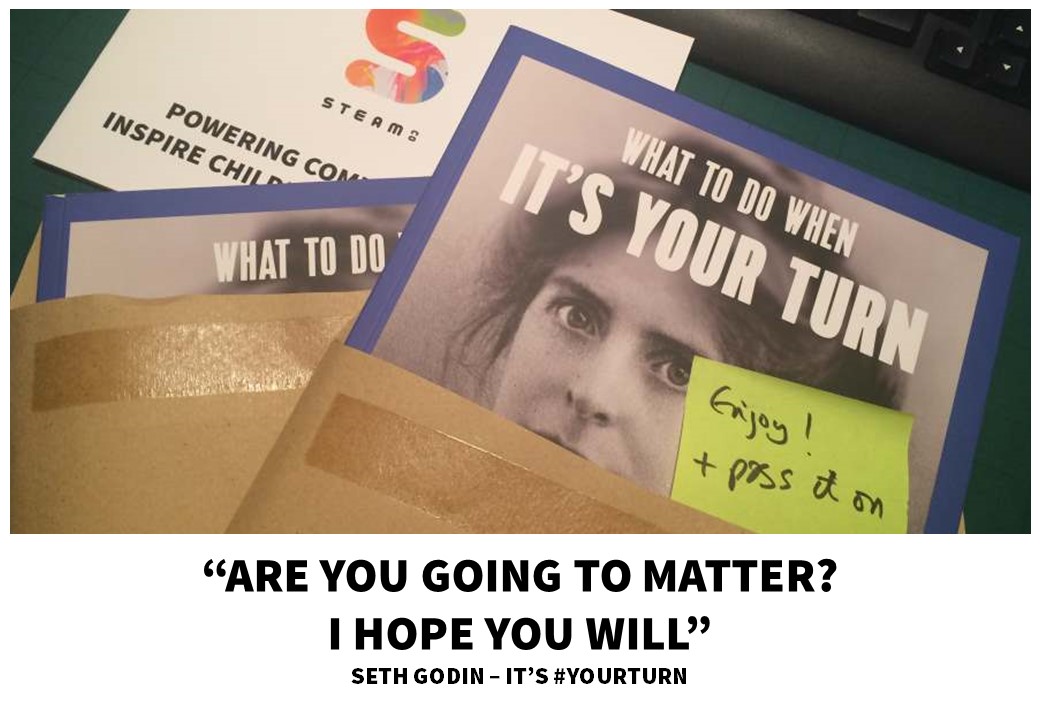 16 page PDF overview of the event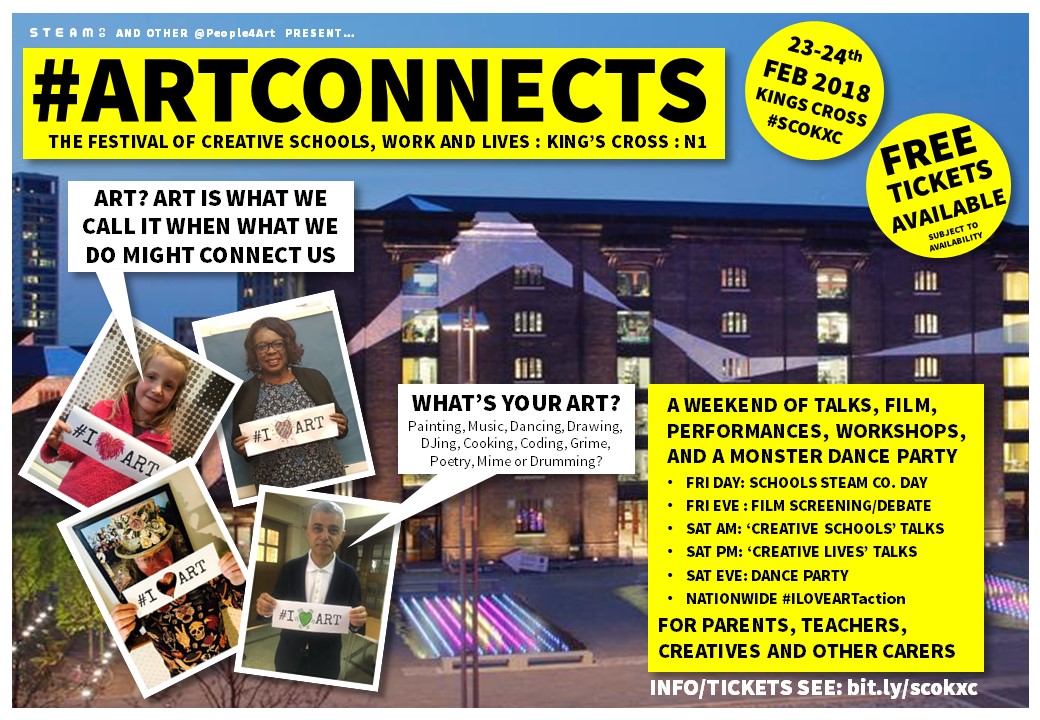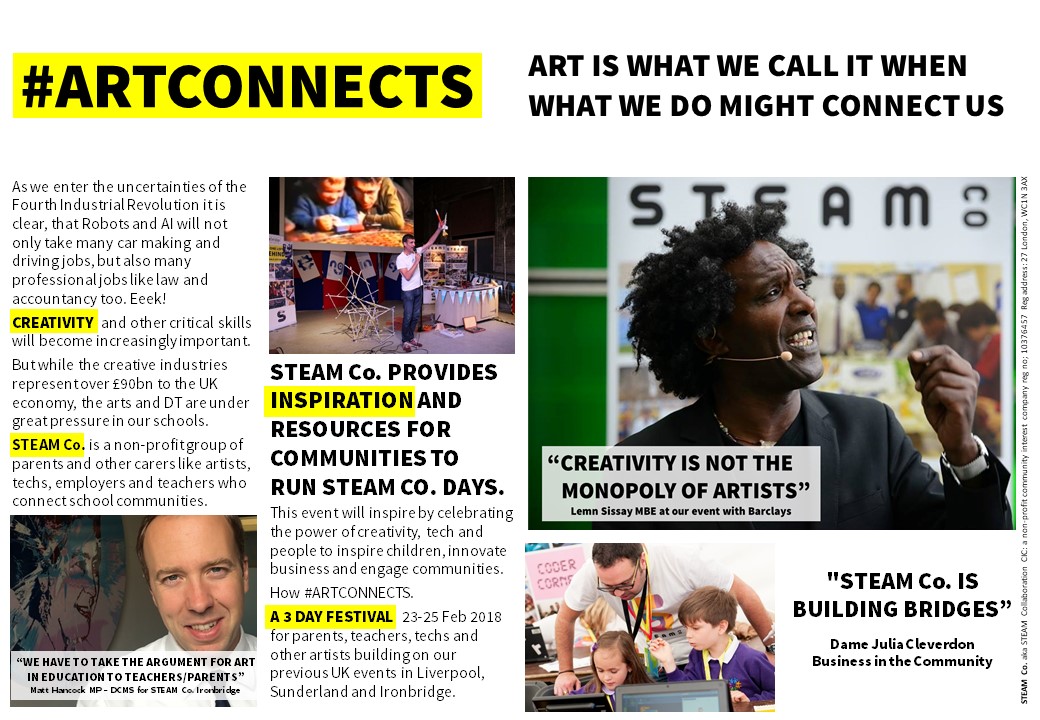 2 page PDF overview of the event for emailing
SAMPLE COPY FOR POSTS
The #ARTCONNECTS Festival : putting Creativity First in Schools, Work and Lives
A free day of Talks, Performances and Workshops for Parents, Teachers and Artists who say we should put Creativity First in Schools, Work and Lives to help our kids.
Bringing Parents, Teachers and Creatives Together
<< Helping Parents understand the skills their kids will need to thrive against the robots and artificial intelligence.
<< Sharing ideas for Teachers on how to teach creativity and to teach creatively. An inspiring day of CPD
<< Shining a light on the UK's world class Creatives and creative industries as career pathways for our children.
A collaboration with venues and organisations across King's Cross - London's freshest Creative Hub and world-class Knowledge Quarter. Working closely with Camden's schools
Includes:
<< Inspiring and understandable short talks by leading education and creativity experts
<< The #DANCECONNECTS panel with Dr Peter Lovatt off 'Strictly'
<< Coding, e-safety and Screen Time management workshops
<< Examples of what to look for in a great, creative school
<< The 'Tes Creative Schools Debate'
<< Talk by the leader of the Camden STEAM Commission working to help our children get the high tech jobs that are now coming to Camden.
Free tickets available for local community members, though donations gratefully received.
We also have a Creative Education film screening and debate at the British Library on the Friday evening.