24:06:17 STEAM Co. Co-founder Nick Corston writes:
IT'S ABOUT BRINGING CREATIVITY TO SOME OF THE MOST DEPRIVED CHILDREN IN THE COUNTRY
So said Marva Rollins, Head Teacher at Raynham Primary in Edmonton/Tottenham London, who I first met at the SSAT conference in Manchester (where the best connections are made every year- I also met Creativity Champion Bill Watkin, Head Head Teacher Stephen Tierney, Tweecher Toolkit and Channel 4 super hero head Vic Goddard there!).
And she's not wrong. Marva leads one of the UK's largest primary schools with nearly 900 children in one of the most deprived parts of the UK with 10% of the countries poorest people in her catchment area.
A good indicator of the level of deprivation in a school community is the percentage of children who received Pupil Premium, a government payment conceived by the Liberal Democrats in their moment of power sharing glory.
It is a per pupil payment to schools (£1,320 for primary and £935 for secondary) that is designed to help close the attainment gap between children, who are eligible for free school meals, and more affluent children whose parents are able to afford to give them enriching experiences that help their development and academic achievement.
The school in Paddington where we started STEAM Co. feels like a fairly typical and affluent working/middle class inner city primary yet has around 25% pupil premium. A school I spoke to in Darlington had over 80%.
Despite its deprived setting, Marva's school only has around 45% Pupil Premium children.
Why not higher? Because many of the families in her school don't qualify for benefits due to immigrant status, or can't read the forms to apply or are juggling several low paid jobs that take them just above the income threshold, but not into an affluent status by any means.
CREATIVITY IS A LUXURY
When I first met Marva and told her about STEAM Co. Days, it was as if her eyes glazed over at the thought of something so fanciful.
One week I was in the school, running a literacy CPD session for Raynham's TAs, they received ten new children into Year 4 none of which had a word of English between them.
Marva's number one job is to teach these children the basics - literacy and numeracy - and up to the required national standard required of any other child, regardless of background or mother tongue. And with no additional funding.
Failing that, Marva and her team and the school would be judged a failure.
As Marva said to me "Creativity is a luxury, but while we're broke, we're not broken".
I was determined to do what I could to help bring the experience of a STEAM Co. Day to Marva and her school community.
THIS CALLS FOR Blue Sky Doing
Our #BlueSkyDOING event on the top floor of Barclays HQ in Canary Wharf in the summer of 2016 was a momentus evening.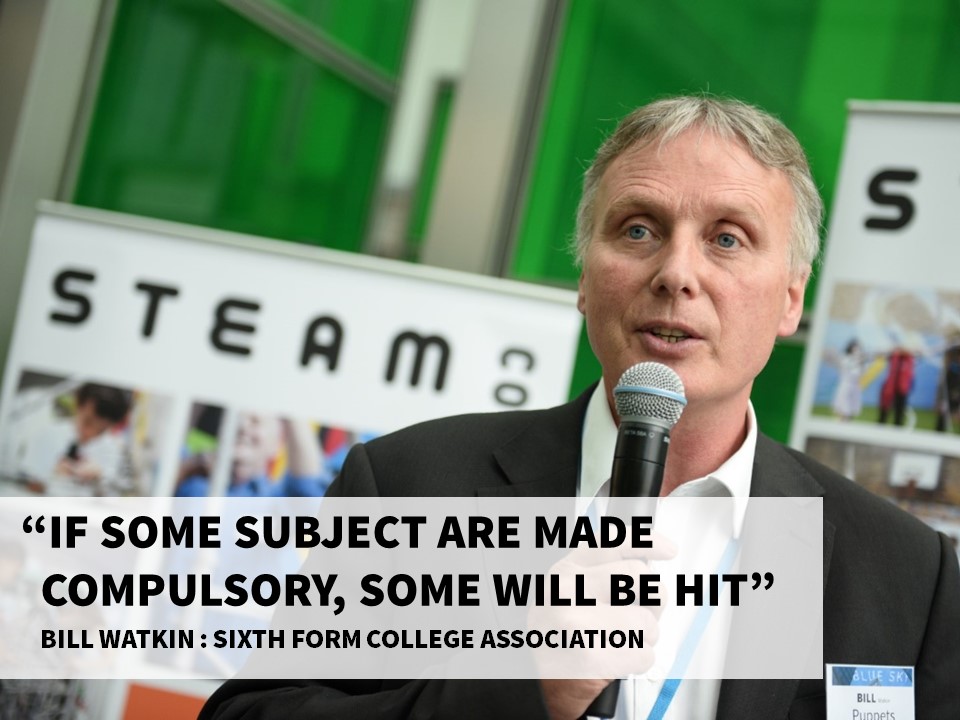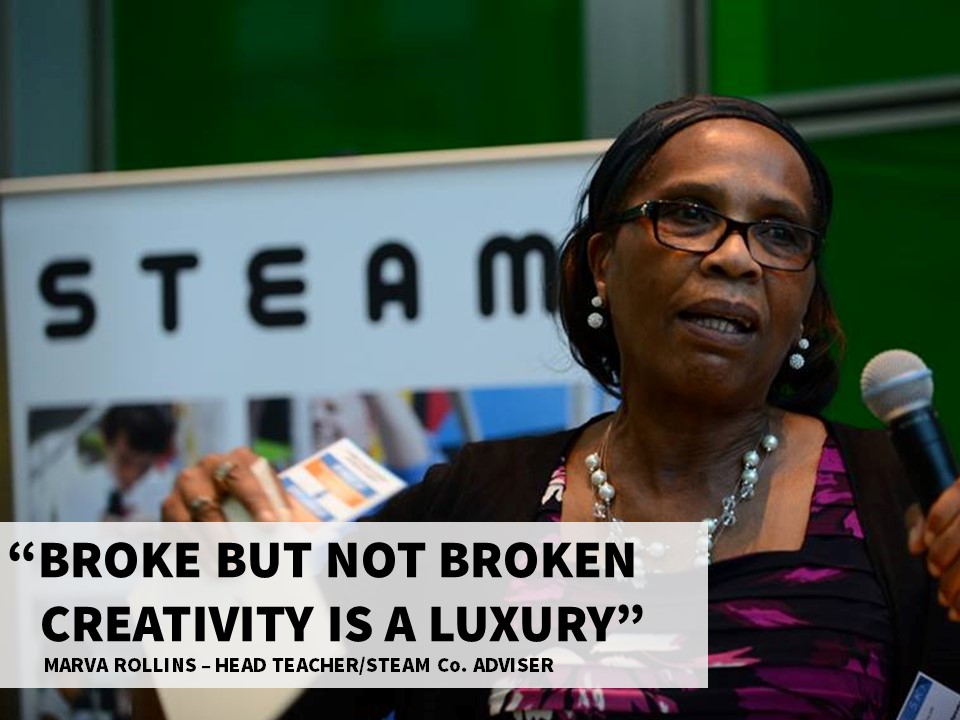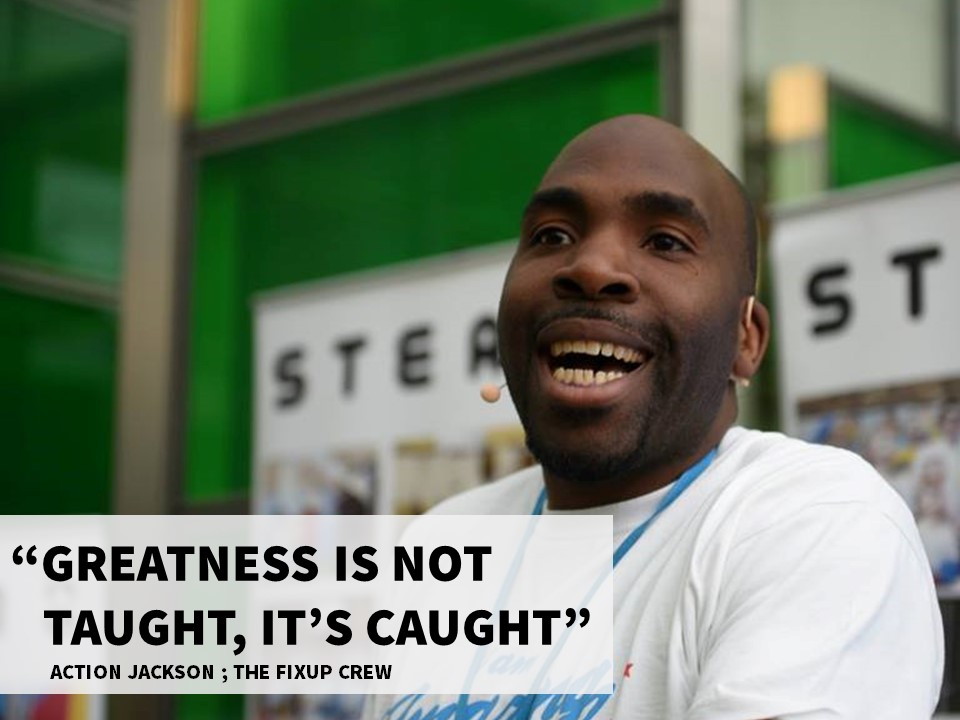 Hundreds of tickets went in hours and we had a fantastic line up of speakers from the worlds of education, entertainment, advertising and business. See films of all the 2 minute talks here.
Particular highlights were Poet, Advocate for Care Leavers and Chancellor of Manchester University Lemn Sissay MBE, who said "Creativity is not the Monopoly of Artists".
Bill Watkin of the Sixth Form College Association gave a fantastic talk on how the EBacc is impacting provision and access to arts and creativity in schools.
The CEO of Barclays, Ashok Vaswani credited STEAM Co. for "Unleashing the power of art and creativity" and said that unlike the first industrial and agriculture revolutions, this time "he was committed to leaving no one behind".
See the short film here with a snippet of every one of the talks.
One local digital marketing and website design agency Your Favourite Story ran a half page ad in the newspaper we published for that event and pledged to allocate some of their staff to go and run a STEAM Co. Day in a local school.
And we felt that school should be Raynham Primary and in Summer 2017 they did just that when Your Favourite Story saw a quite spot in their schedule.
A SCHOOL DAY LIKE NO OTHER?
We connected the MD and a project manager at the agency with Raynham Primary who allocated a member of the Senior Leadership Team, Ozgen Pastirmacioglu to lead it from their side.
They referenced our 'How To Run a STEAM Co. Day' document and went to work pulling a day together in under two weeks. To simplify everything, Your Favourite Story made a donation to STEAM Co. to use our Pop-Up Day Drop Truck, which contains just about everything you need to run a STEAM Co. Day.
Being such a big school, the STEAM Co. Day was staged for Year 4 and 5 children, the size of most primary schools, at over 230 children.
The children were able to take part in activities like Newspaper Engineering, Spin Painitng #ILoveART t-shirt logo design and printing and Rocket Science as you can see in the film below.
CONNECTING OUR CHILDREN WITH OUR CREATIVE GREATNESS
Motivational speaker Action Jackson gave a fantastic talk at our Barclays Event about the power of celebrity which echoed our Inspirator approach, where we engage the UK's world famous creatives as ambassadors and create an activity pack with them that can be delivered on a STEAM Co. Day by members of the school community - parents, teachers or any carer.
Two creative celebrities contributed to Raynham Primary's STEAM Co. Day.
CREATIVE COMPANY
'Your Favourite Story' is a digital marketing agency that specialises in creating and delivering new product launches that embrace technology and creativity to deliver unforgettable experiences.
They recently made a film about a new milk product launch where they had a cow on the roof of their studio building in Shoreditch.
As well as paying for and running this STEAM Co. Day, they created a stop motion animation activity based on a cow character they created.
As you can see in the film above, their CEO, Julian Mitchel also ran a coding workshop and during the day taught 230 children how to code the BBC Micro:bit despite having no prior experience of coding, teaching or Micro:bits.
That's what we call job satisfaction!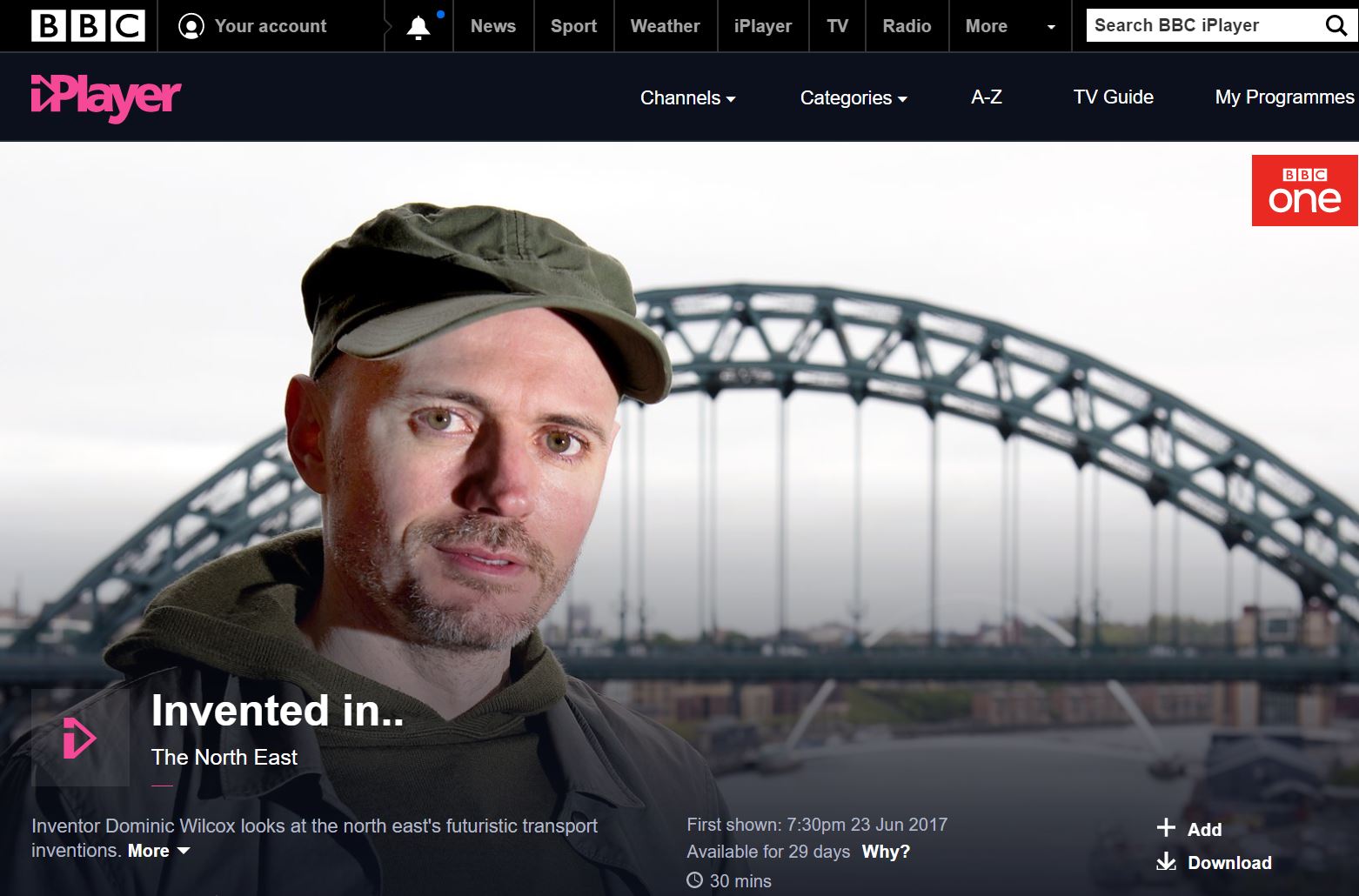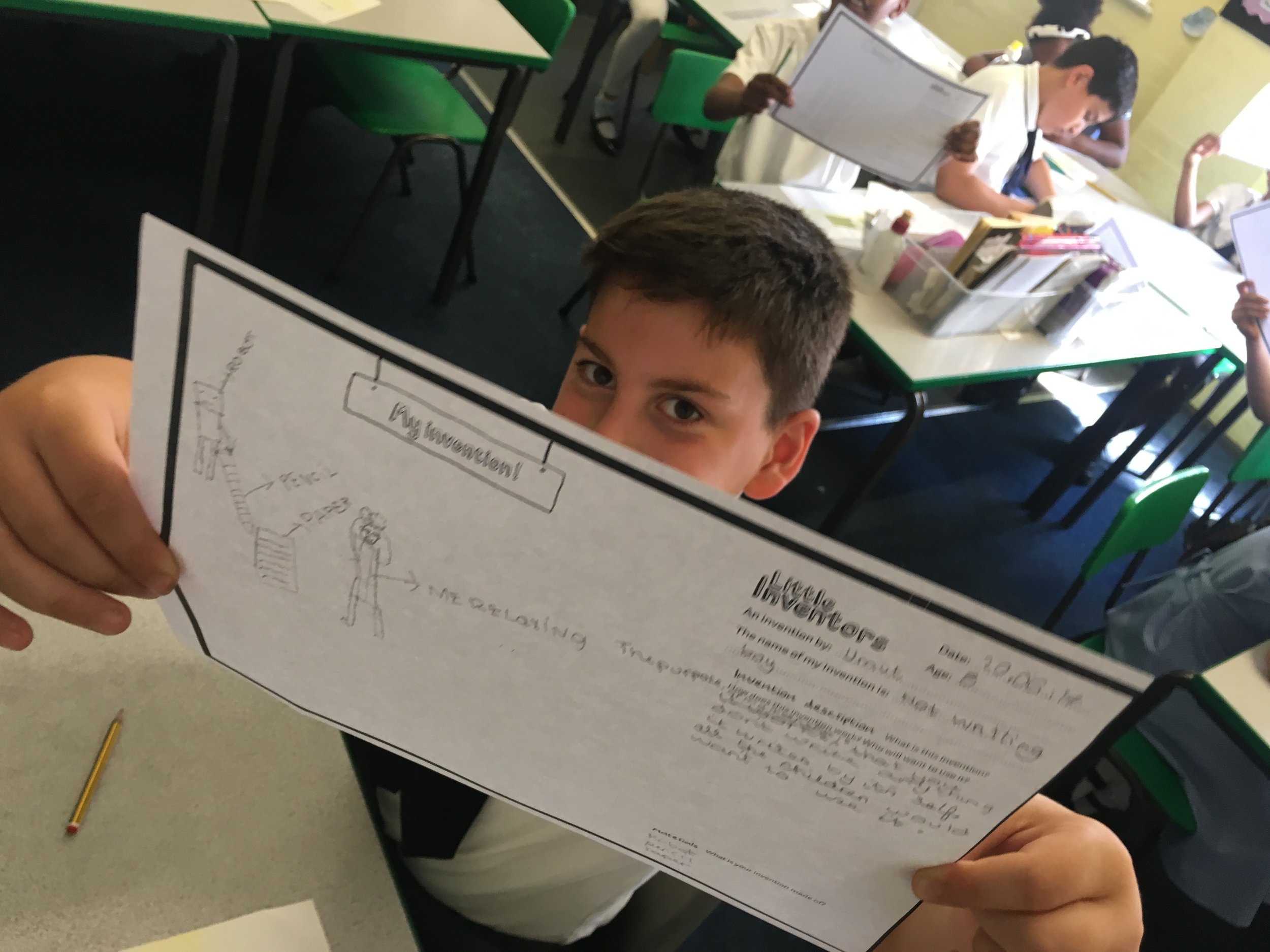 Global creative talent
In another activity, Little Inventors, the children were briefed to come up with zany inventions after watching a briefing film by Artist, Inventor and STEAM Co. Inspirator Dominic Wilcox.
We first met Dominic at a STEAM Co. Day we ran at the top of the BT Tower and he spoke at our Liverpool launch after which we collaborated on the Inventors STEAM CO. event in his home city of Sunderland last year.
Dominic's Little Inventors project has been endorsed by the United Nations and he has taken it far and wide including Beijing and Shanghai recently and has just also featured in a BBC TV documentary on Inventors.
No One Left behind
Inspired by people like Marva Rollins and her children, we're running a launch event 'No One Left Behind' in conjunction with a fantastic local school, Hadley Community Learning in Ironbridge on 4th July.
It will be a celebration of the power of creativity and people to engage children, innovate business and connect communities. Do join us. Info here.
Your Turn?
Inspired by global marketing, social change and education guru Seth Godin, we have one thing to ask you if you're a creative company, an engineering firm, a retailer, a bank or a building company or indeed any company or anyone who cares, cares about our children and all our futures, is it YOUR Turn?
Will you help run a STEAM Co. Day for a school in your community, or elsewhere.
Will you or your company sponsor a STEAM Co. Drop Truck for a regional location to be managed on a non-profit basis by a STEAMster?
Will you sponsor us?
You can tell your boss that working with STEAM Co. works on three levels:
Brand – creativity, family, tech and innovation
CSR – education and community
Employee – various engagement opportunities at events/schools
Or you might just want to help on a STEAM Co. Day or keep in touch.
Either way, do sign up on the form here.
Thanks for reading this.