A film made as the dust settled after an amazing couple of days in East Anglia as lead partners for #TEDxNorwichED
Norwich Sat 18th March 2017
It all came together very quickly after we heard that two of our board of advisers Jaz Ampaw-Farr and Hannah Wilson were giving keynote speeches and we were offered a feature area with one of our Drop Trucks and were helped by great partners like Barclays Eagle Lab.
Both Jaz and Hannah are incredible people and inspiring educationalists.
Hannah is head teacher designate for a visionary new secondary School in Didcot where she is keen to make STEAM a central pillar.
See a summary of the talks here: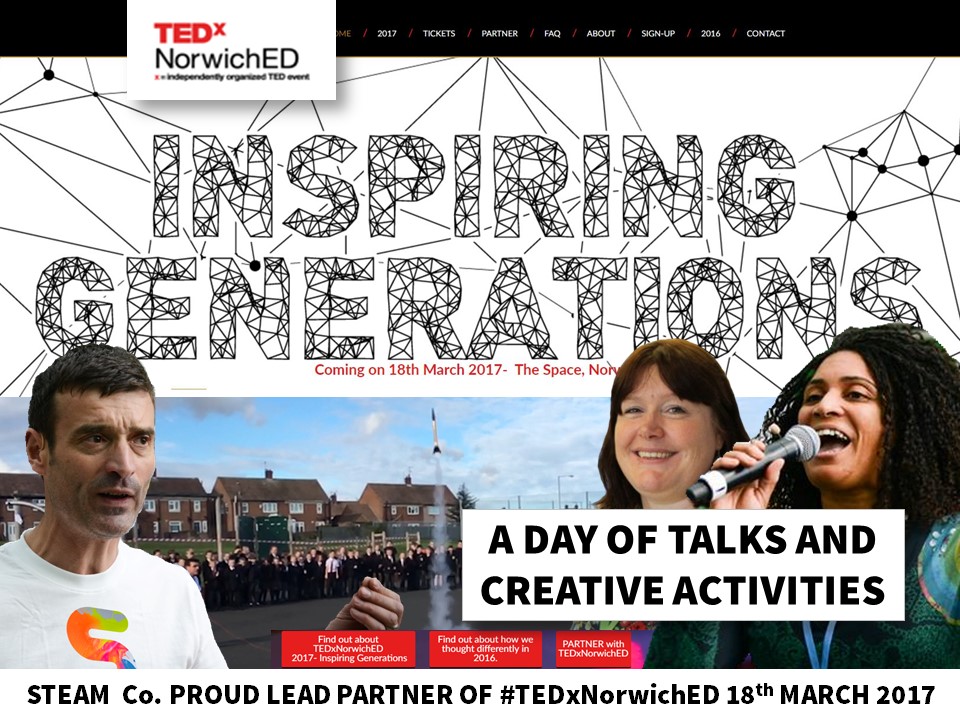 Hannah spoke on diversity and Jaz told us abotu the heroes in her life in the most moving TED talk we've seen. She certainly blew the roof off in Norwich.
Apparently, this was the only TEDX-ED in the UK if not Europe this year and as with all TED events sold out really quickly so we held one of our community screening and discussion on the Saturday evening at Norwich School.
For more info on TEDXNorwichED visit their website - they have all the talks filmed.
NEWSPAPERS
We published 5,000 newspapers to celebrate creativity and how it can engage children, innovate business and connect communities.
They have 2 great creativity posters in the middle.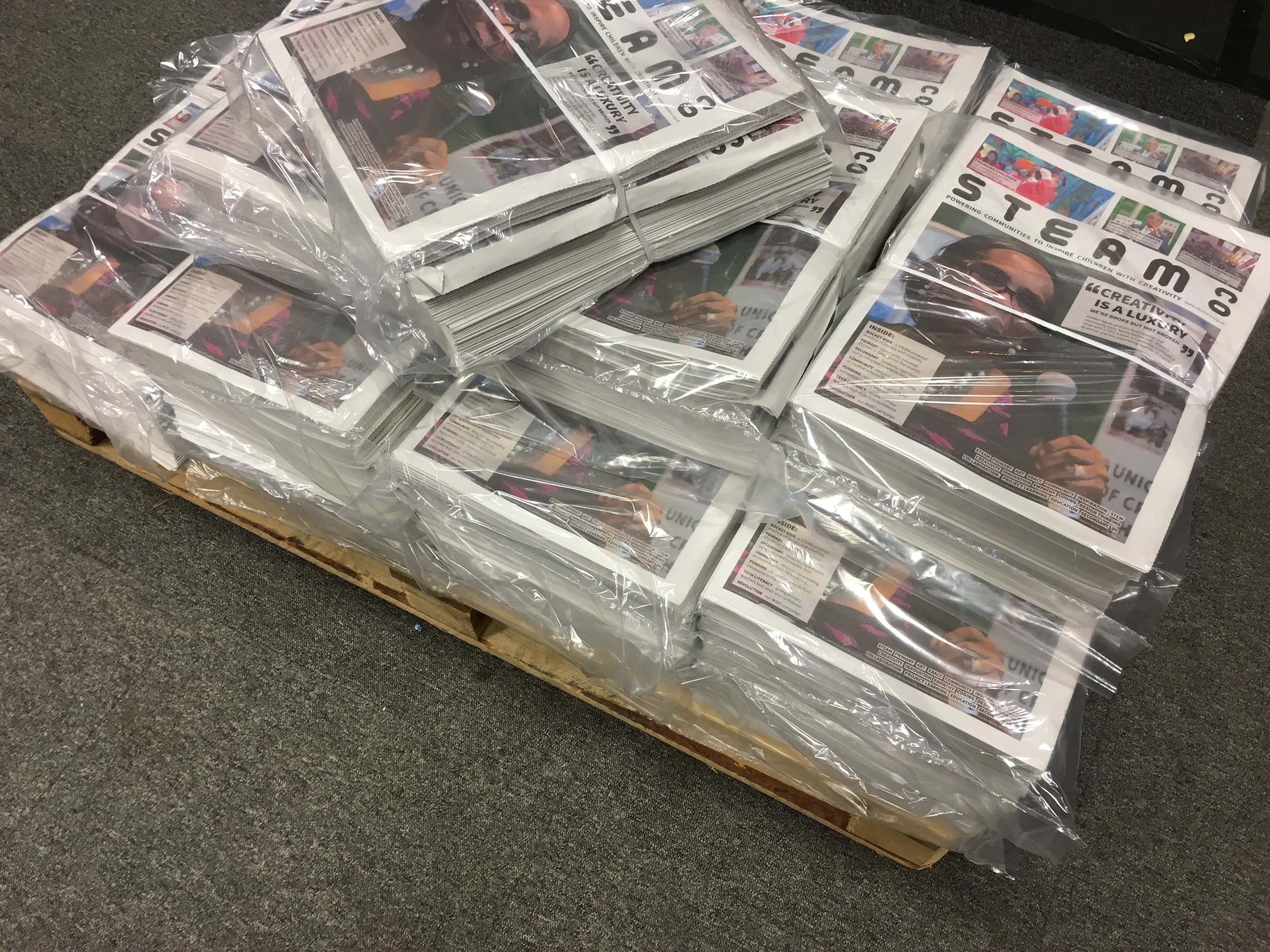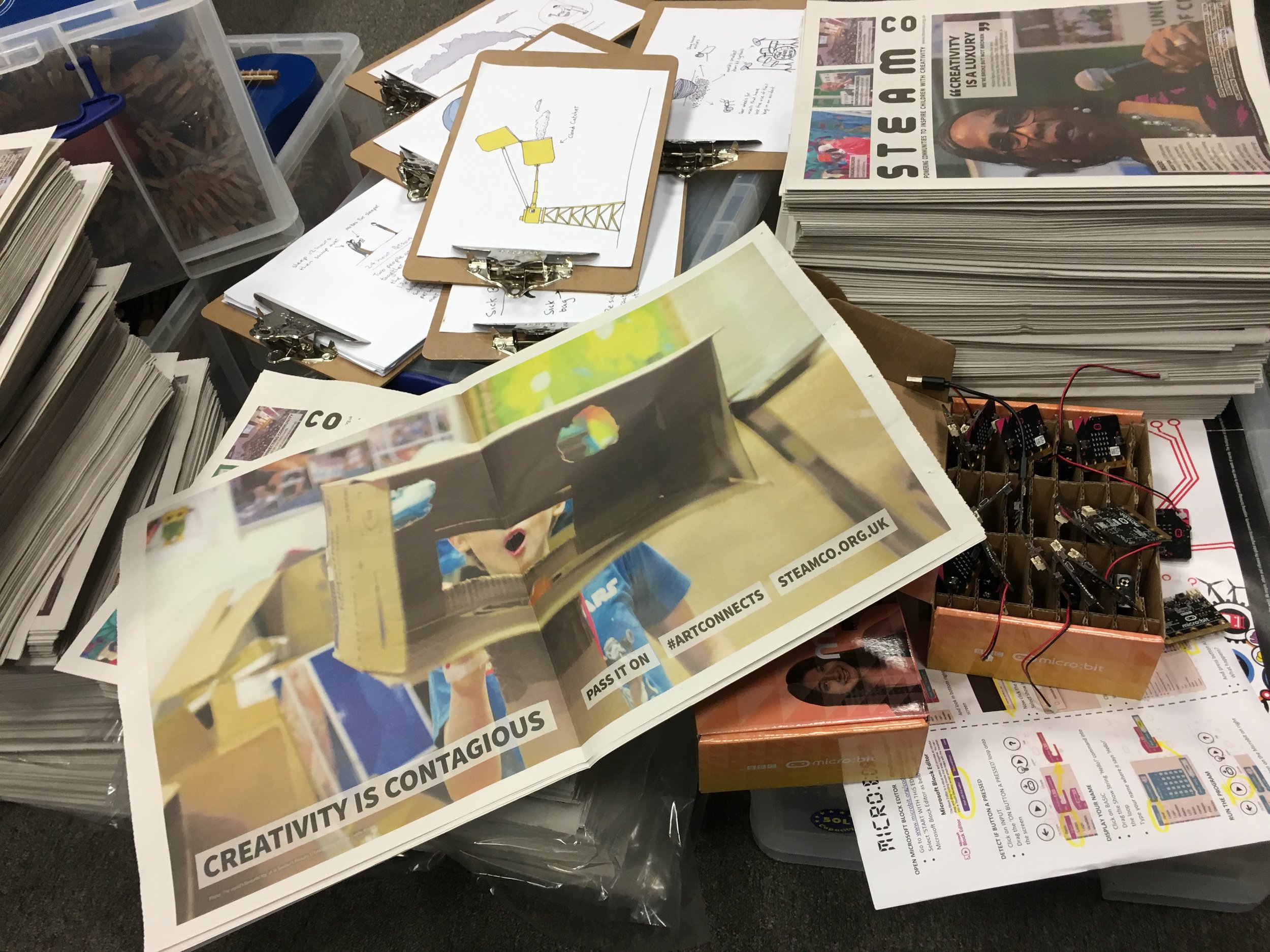 They were available at the TEDxNorwichED conference and also now at the library in The Forum in Norwich and you can order one or a whole bundle from our online shop here.
FREE ActivitIES FOR LOCAL CHILDREN
STEAM Co. were asked to provide a selection of activities in the Be-Inspired area on the day both for delegates and local children.
The local Barclays Eagle lab ran BBC Micro:bit activities and we ran our newspaper engineering and Rocket Science activities
We were delighted to be joined by the local Norwich Barclays Eagle lab who ran a coding activity with friends from Microsoft who brought a long a robot they'd made from a BBC Micro:bit and the amazing and inspiring Rod Stevenson, who is the ultimate rocket science teacher and member of EARS (East Anglia ROcket Society) who have a firing day once a month in a remote field!
Rocket Science
We told delegates about our 'Rocket Kids Show' , made paper rockets and marvelled at Rod Stevenson's monster rockets!
Barclays EAGLES
Thanks too, to the Barclays Eagles lab from Norwich who came along and ran coding activities.
Community Screening
For everyone who didn't manage to get tickets for the day of talks, we shared thoughts from the day at one of our Community Screenings/Discussions of 'Most Likely to Succeed' - the amazing multi award winning film about creativity in schools.
It was generously hosted by Norwich School in the city centre, .
As always we had a bunch of free tickets for 'unwaged but engaged' people from the community and other tickets were just a fiver.
We had a great panel lined up to lead a discussion after the film:
Hatt Bagley - 'Chief Doer' - Camouflaged Learning
Tom Morley - 'Inspirator' - creative ambassador and former drummer with Scritti Politti
Charlene Ledgard - 'Creative Community person' - Norwich Open Youth Trust
Rod Stevenson - 'Rocket Scientist' - possibly the most inspiring and engaging teacher imaginable. Will be bringing in his 20' rocket!
Claire Riseborough - 'Engaged Mum' and leader of Step into Tech, inspiring the next generation of coders.
Paul Freakley - 'Digital Eagle' - one of the amazing 15,000 Barclays Digital Eagles from their local Eagle Lab
Watch the trailer and a short film of such an evening we held recently in Hackney below. For more info on how we can help YOU run one of these evenings wherever you are see here.
Trailer for #TXNMLS Norwich Screening
Short film of Community Screening in Hackney
#ARTCONNECTS
This is going to be a very special event for us all. We have some great friends nearby in Cambridge in our other advisers Rachel Snape at the Spinney School and Prof Pam Burnard at Cambridge University.
But also... STEAM Co. Co-founder, Nick's family are from East Anglia, his mum and dad met on the roller skating rink at Bury St Edmunds in the 50's, but get this... his grandad started and ran a baked bean canning factory for HP on the site of the factory that built the legendary Burrell steam traction engines that helped fuel the first steam revolution.
So we can't wait to help bring the STEAM revolution back to East Anglia.