The inspiration for our trip to Camp Bestival this year came from a book, that Nick's dad came across volunteering in his local Oxfam. He says it's the best book he's ever read.
'Rocket Boys' : our inspirAtion
'Rocket Boys' by Homer Hickam tells the story of a group of boys in a dying mining town who, after seeing a Sputnik in the 50's, were inspired to make their own rockets and ultimately join the NASA space programme. It's story of aspiration.
We worked with Homer on using the book in our stage show every day at Camp Bestival.
We had our very own Rocket Scientist and Extreme Physicist, Neil Atkin, who explained how rockets work and told us about Exoplanets and how we can discover our own with a special IOP Tim Peake kit that he give to people in the audience each day.
We also passed the health and safety checks to be able to launch a 2 stage 'black-powder' rocket of our own at the end of the show each day.
See the film below: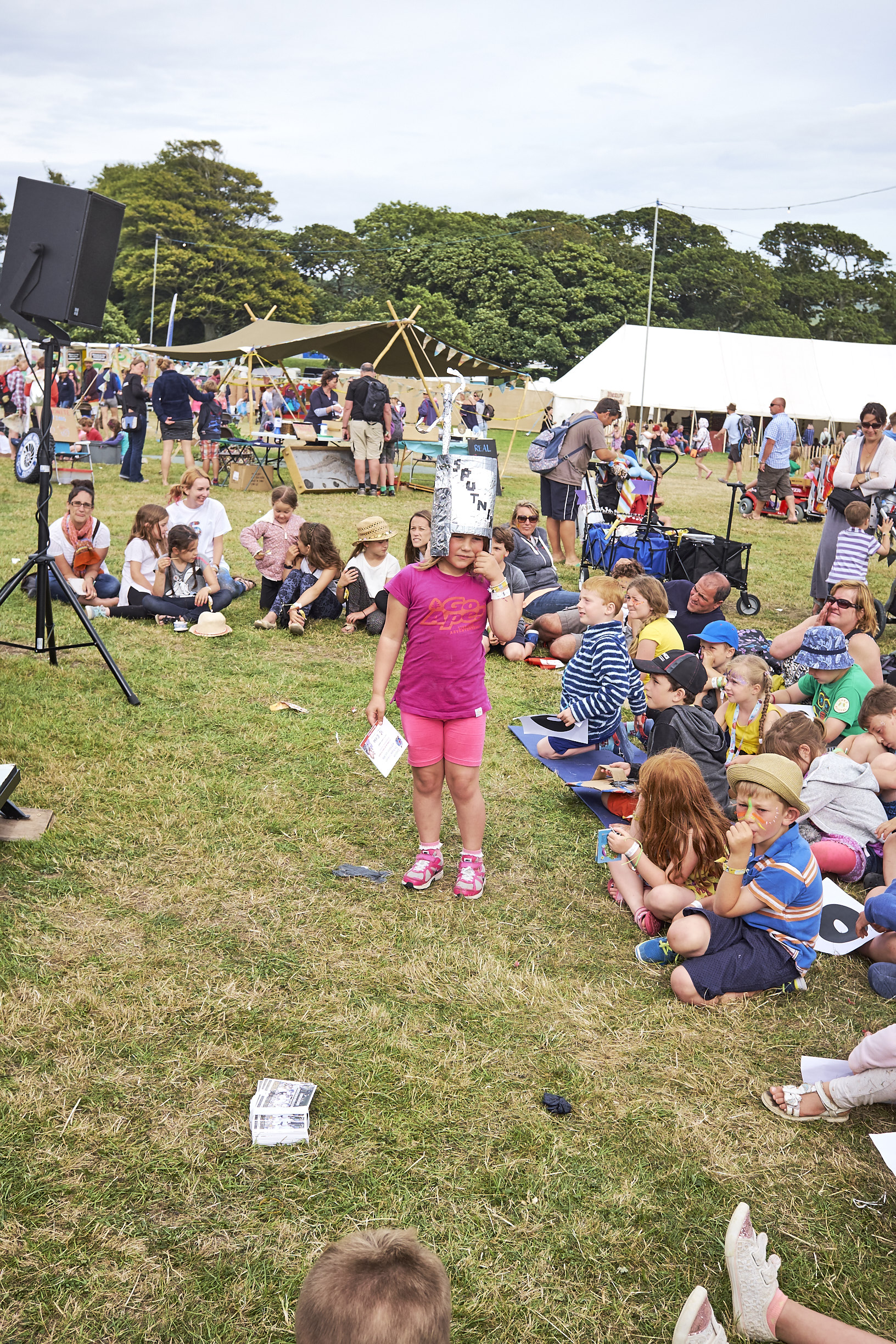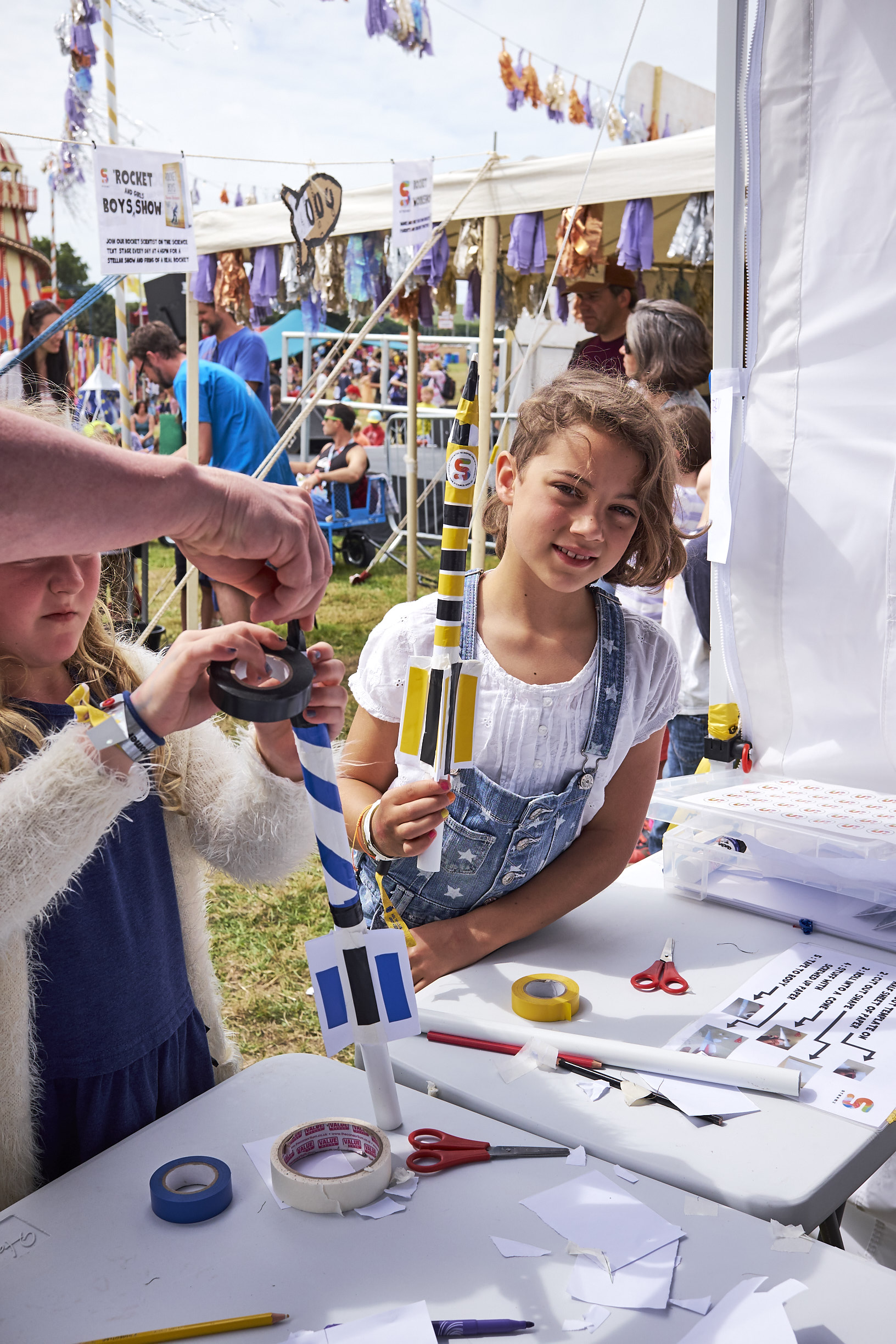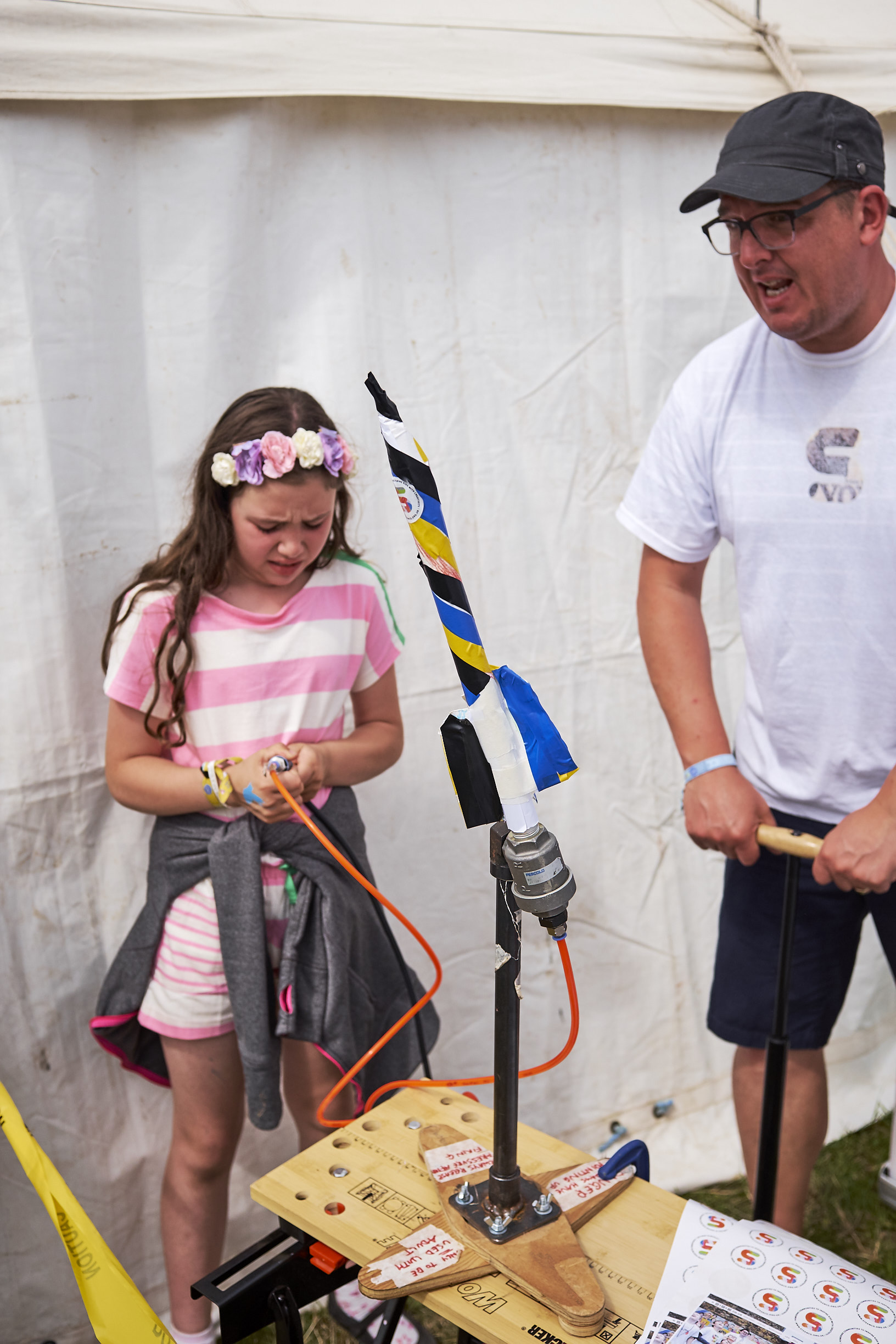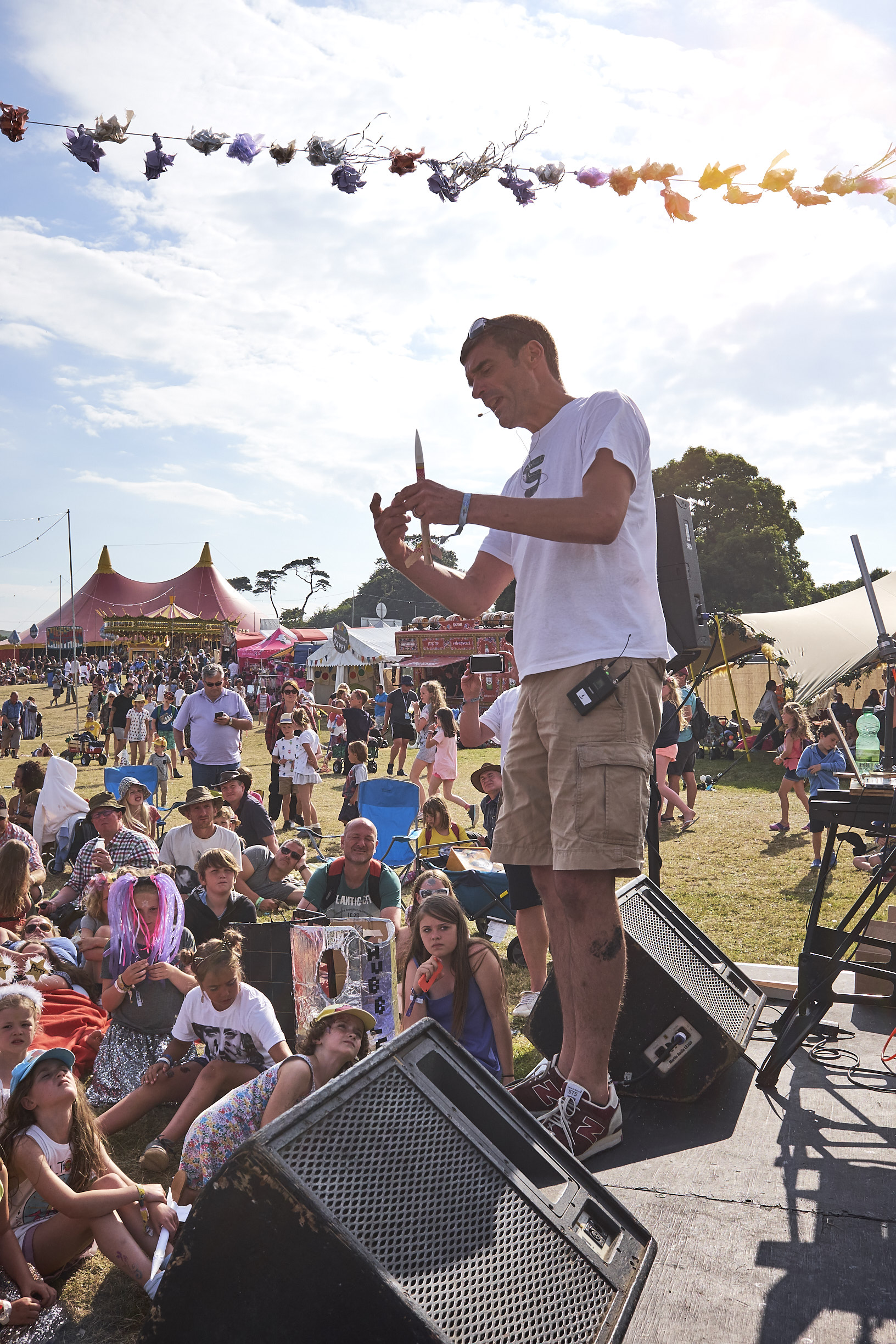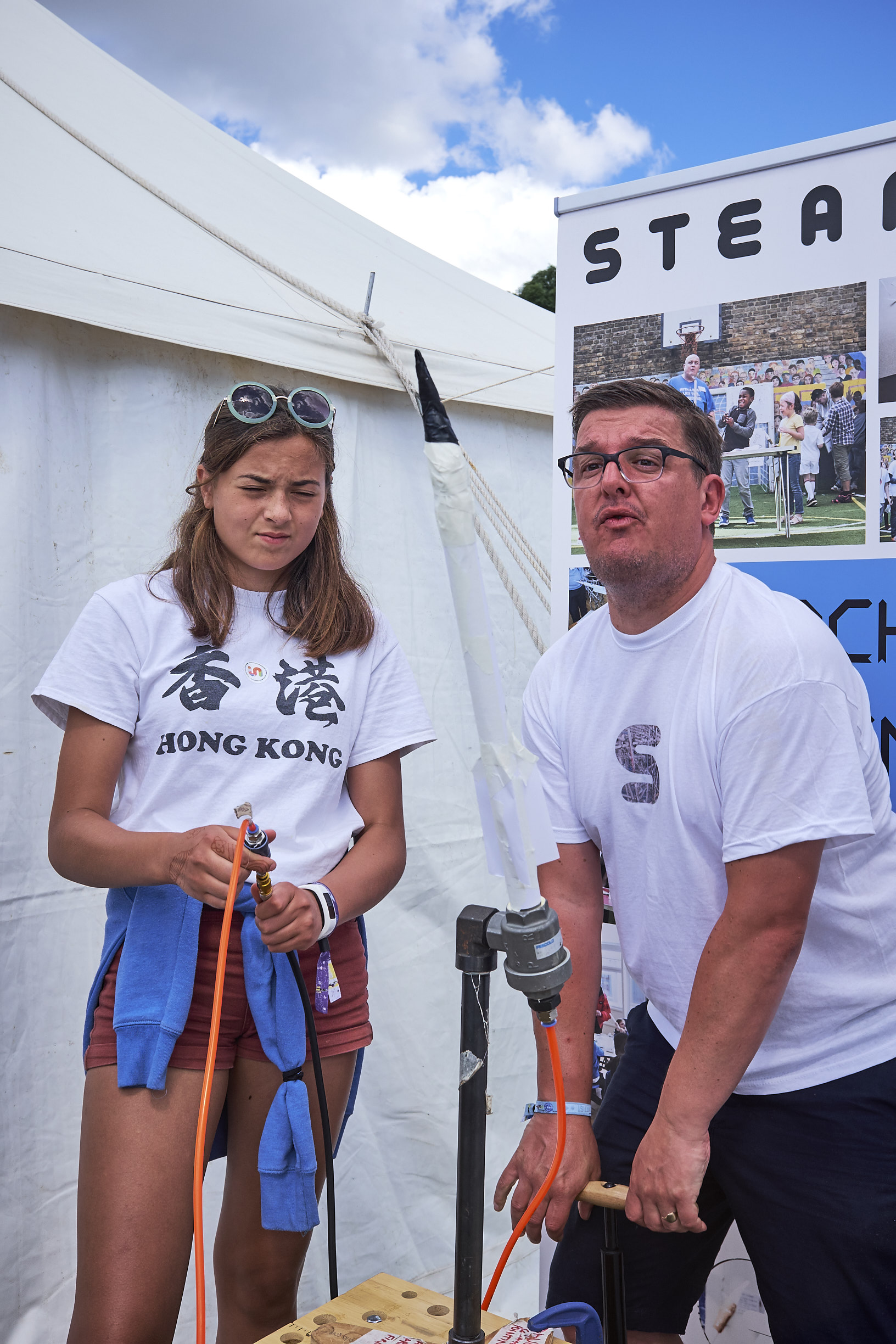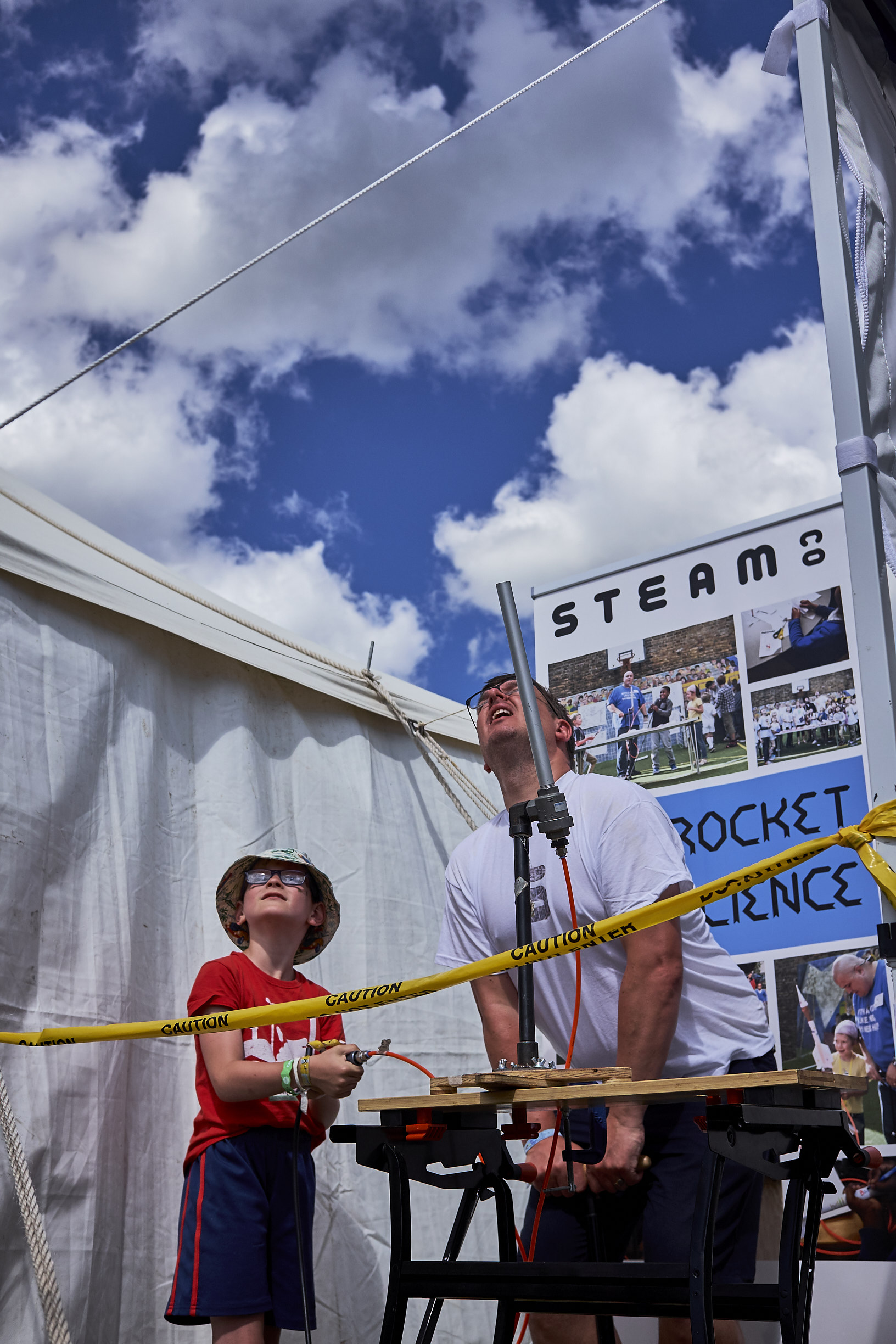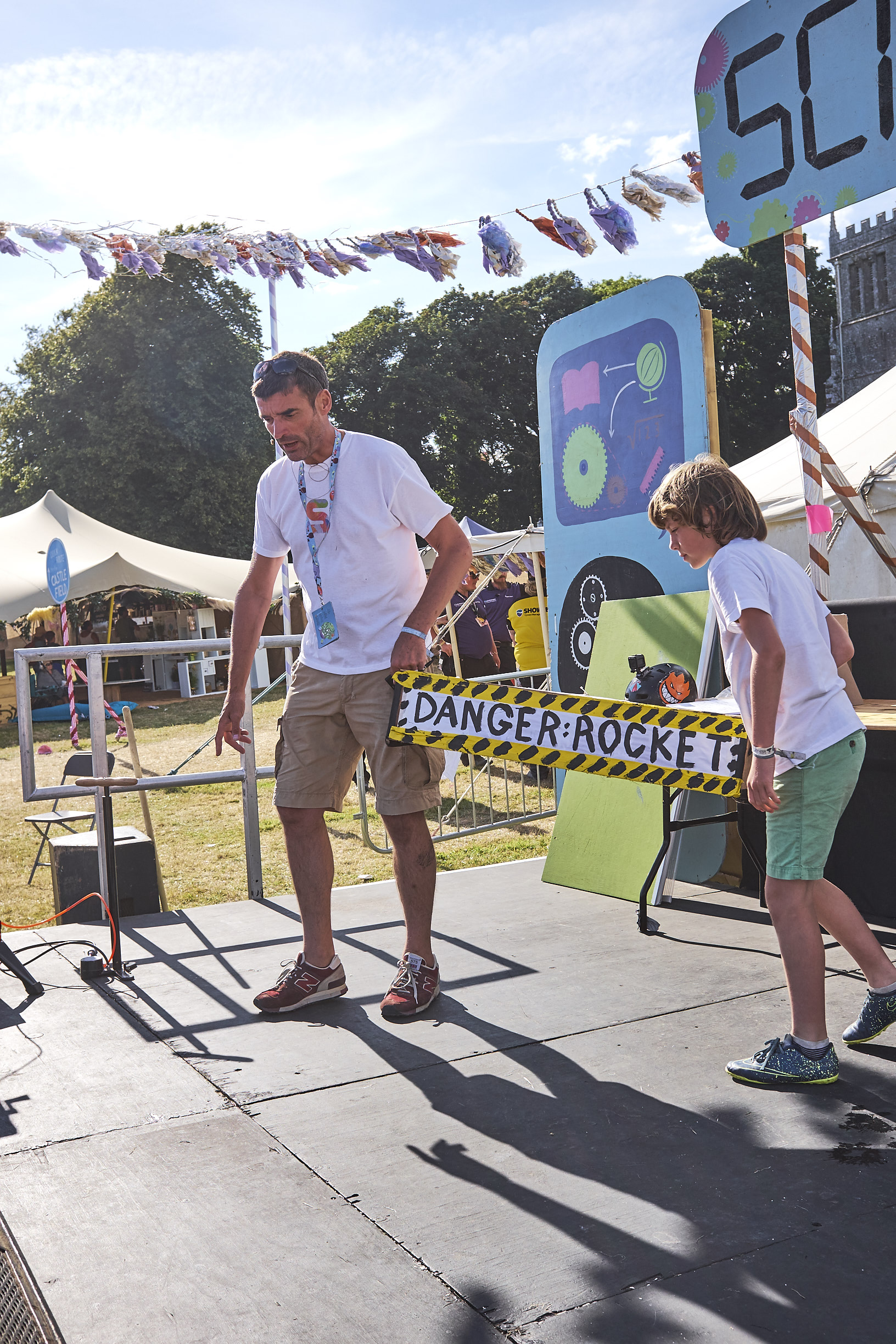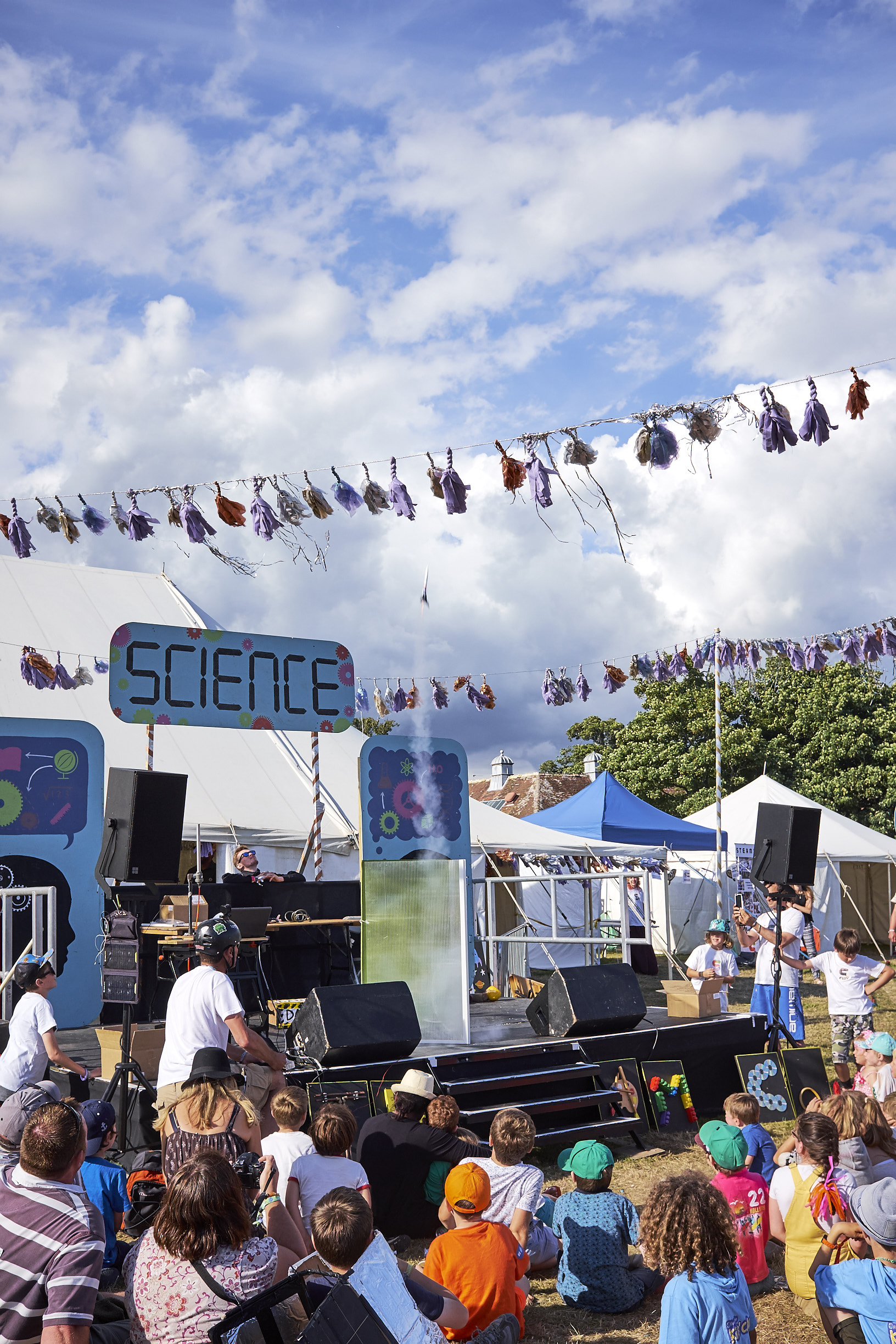 In this activity visitors got the chance to make and fire their own air rocket from nothing more space age than a sheet of A4 paper and some sticky tape.
But don't be fooled, when we released over 200 PSI of air pressure into the launcher, the rocket flew as high as a ten story building, certainly over a Camp Bestival Big Top and the biggest tree at Lulworth Castle.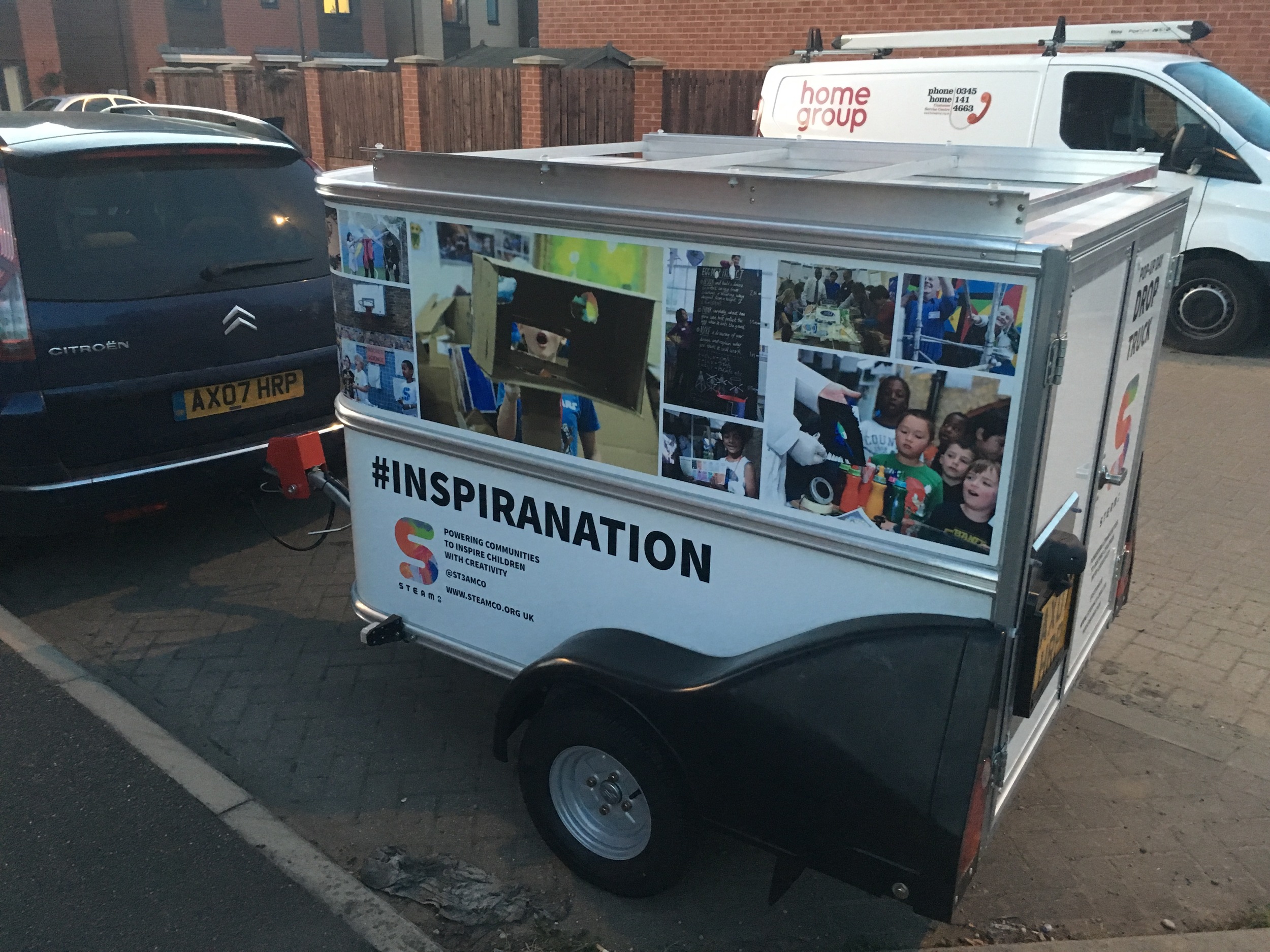 The STEAM Co. Day DroP Truck
We travelled to Camp Bestival with our brand new Pop-Up STEAM Co. Day Drop Truck which contains everything a community needs to run a STEAM Co. Day.
You can hire it to run your own STEAM Co. Day and we're looking for sponsors for Drop Trucks in key locations across the UK.
FLASH BACK to 2015
We really had the best time. 20 of us went down to Lulworth Castle - parents, teachers, a science teacher, our local pub landlord/dad and a bunch of primary children, all from across the UK, people we've met on our journey over the last year.
We printed up a few flyers (with video enabled images on them thanks to Blippar AR technology) and with #INSPIRANATION graphics wrapped round a rented trolley, we hit the road to Dorset.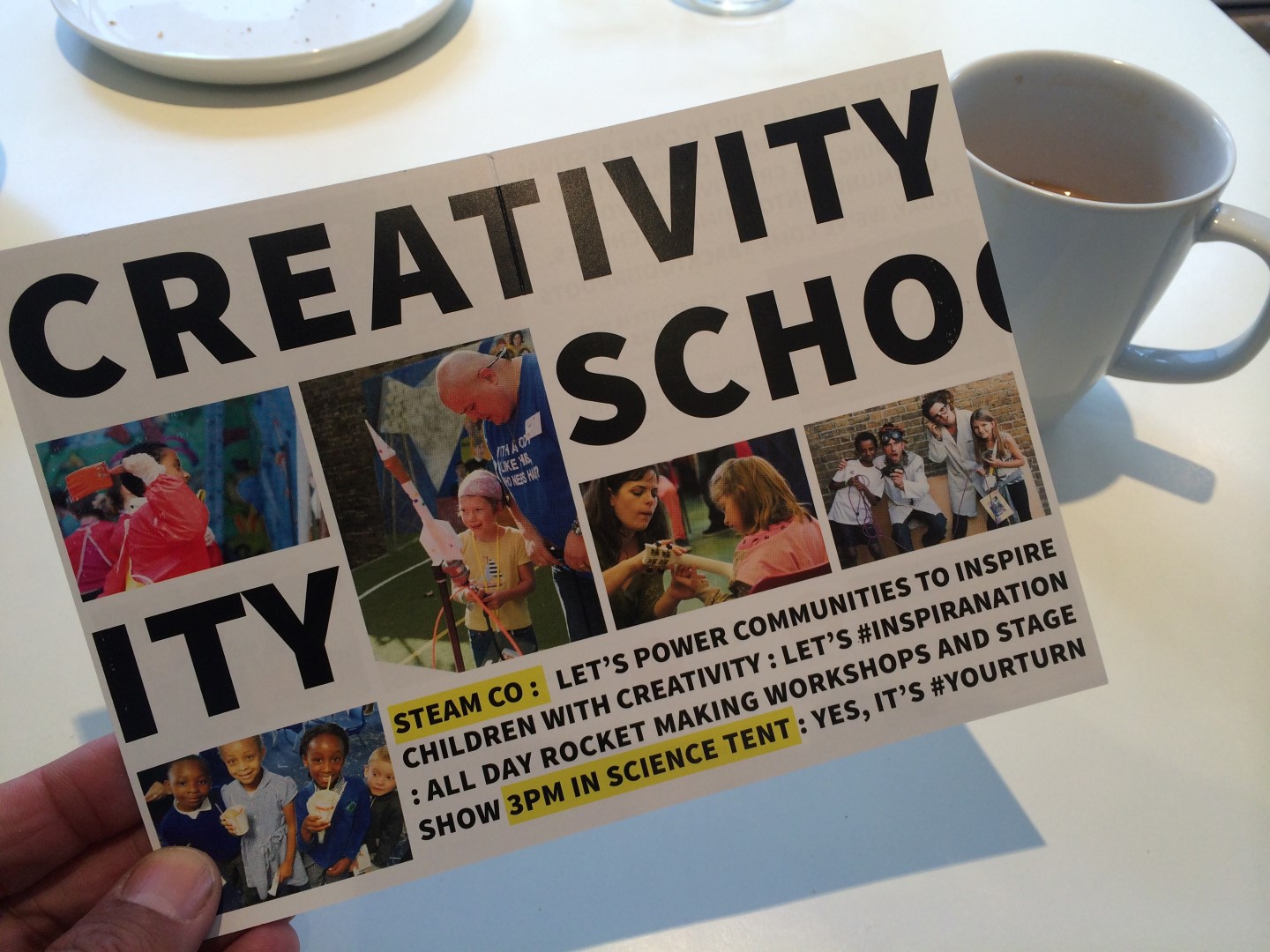 ROCKET MAKING ACTIVITY
We had a space in the science tent for our Rocket Science activity from our STEAM Co. Day.
Here we helped children and their parents make and launch about 250 rockets out of sheets of A4 paper (once we'd passed the Health and Safety check!). The pictures are worth a thousand words! Some went over 200 feet in the air.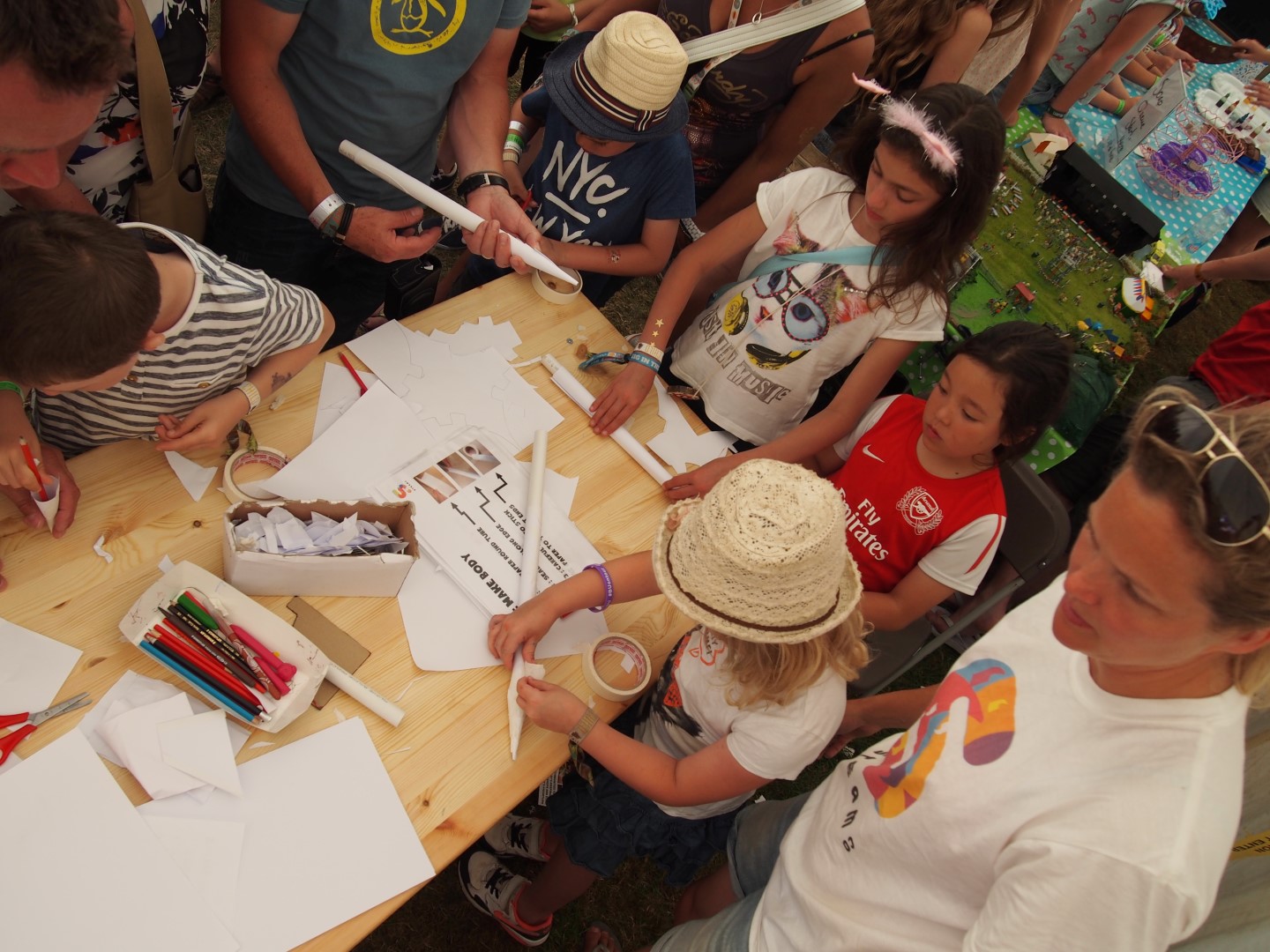 Daily stage show
Each day at 3pm we had a stage show, where in 45 minutes we tried to give a feel of the range of activities that might make up a typical STEAM Co. Day to inspire both children and carers to go away and run one in their own schools.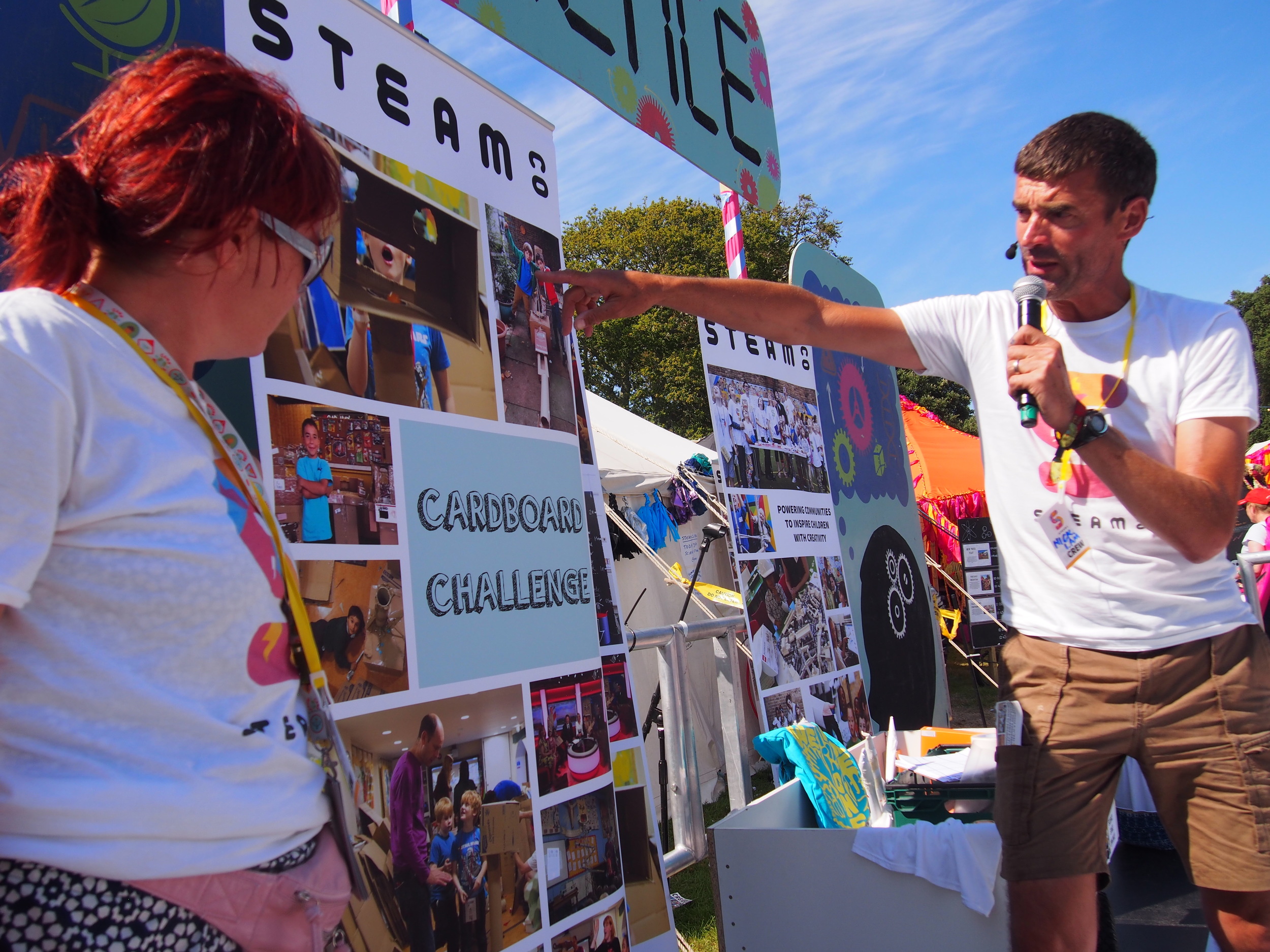 The roller coaster show included Newspaper Engineering where a family rolled a few pages from The Guardian into a titanium strength rod using Darcy's STIXX rolling machine that they took back into the audience to add to and reinforce a STIXX structure we'd half built for them.
We showed how to make a Lava lamp out of a jam jar and fired off a few rockets children in the audience had made earlier in our Rocket Science activity.
A particular highlight was Dominic Wilcox's 'Variations on Normal' activity where we gave children a copy of his book and a clip board to go back into the audience to come up with some inventions of their own.
The results were brilliant, but our favourite was an 'air bed that never goes down!'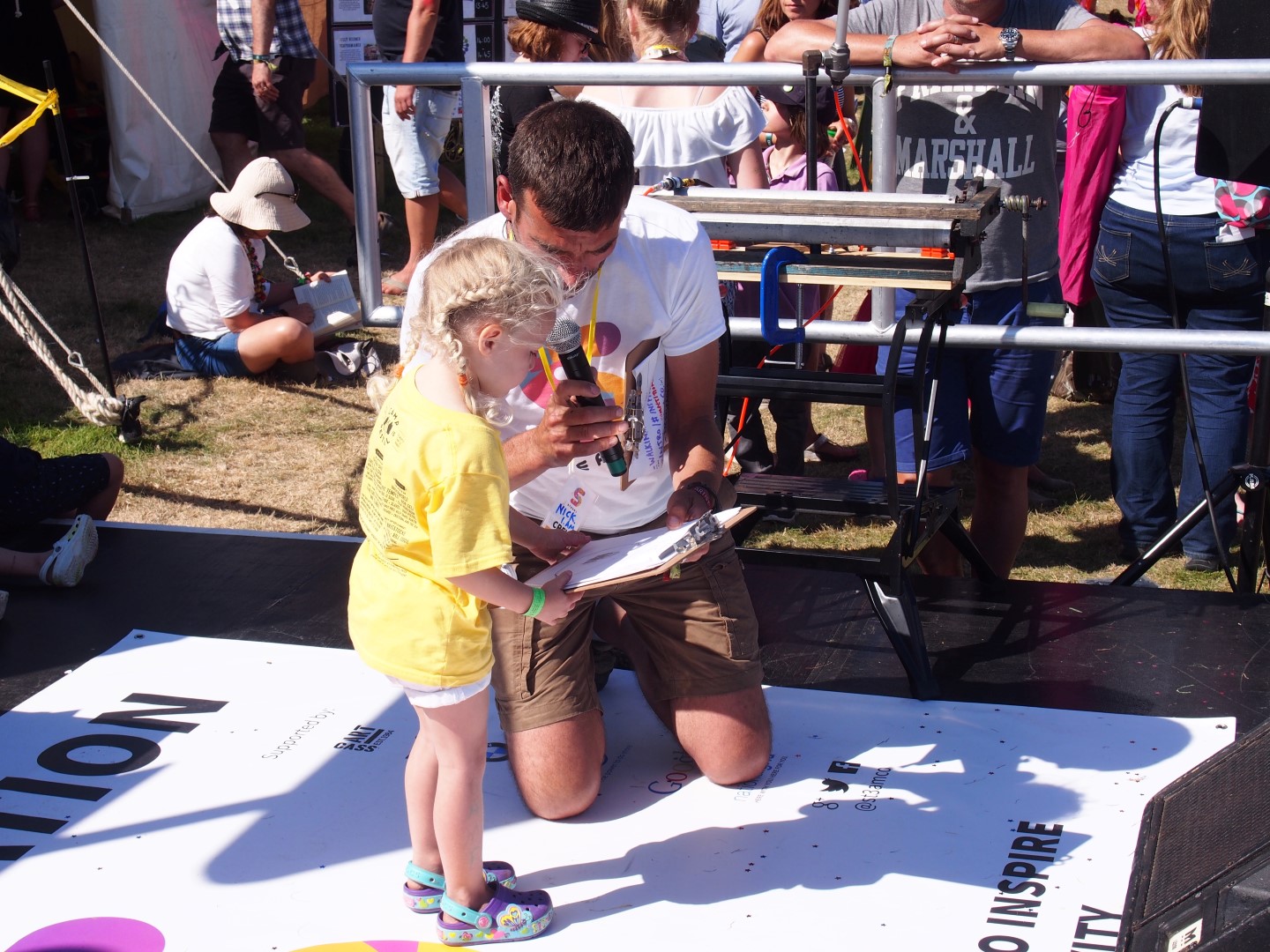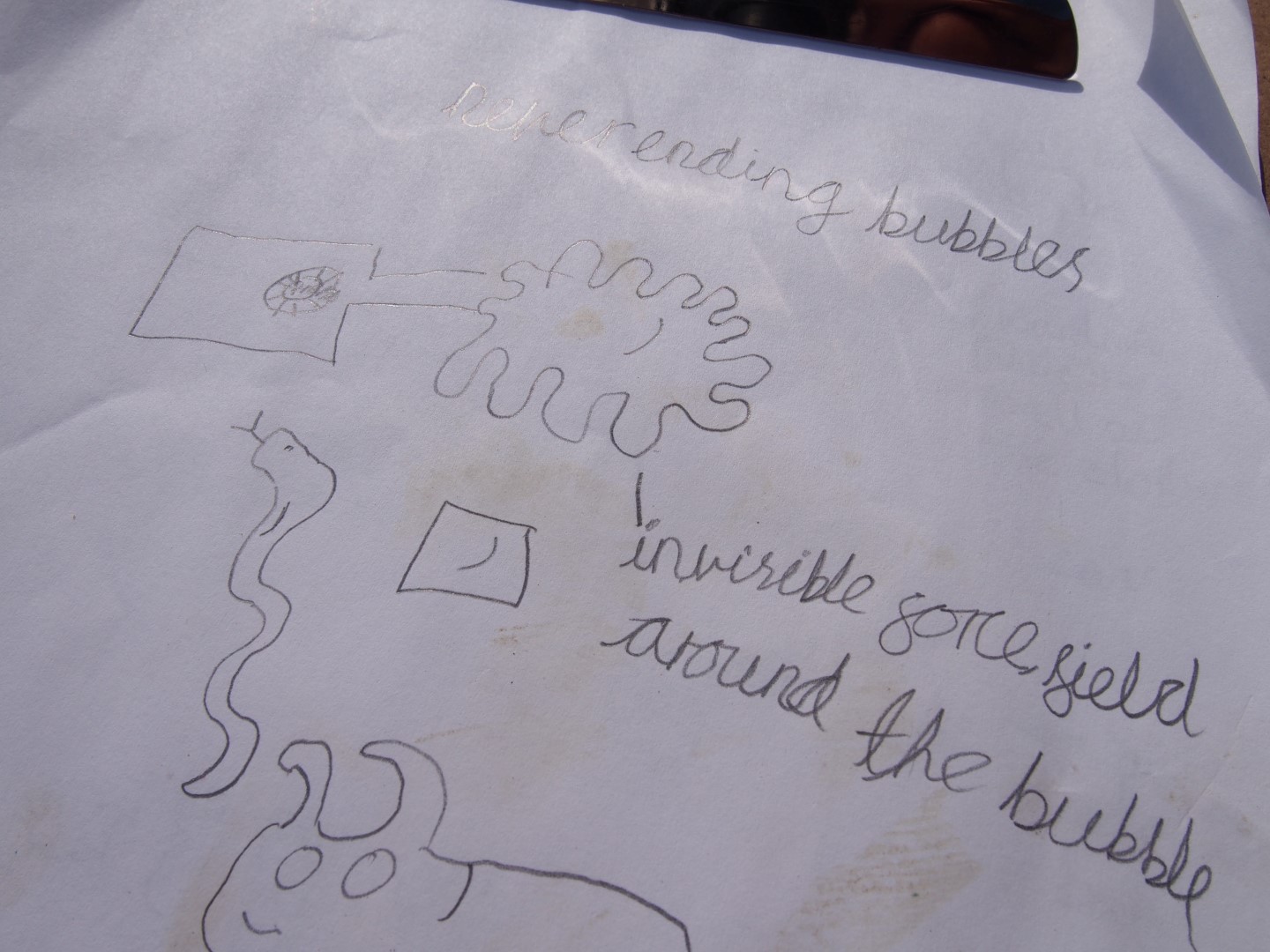 Other children took clipboards back into the audience to design their own STEAM CO. logo that we printed on to a T-shirt for them.
In the Human Coding activity (a world first?), children came up on stage to programme a game using cut out cardboard Scratch icons with parents as Sprites.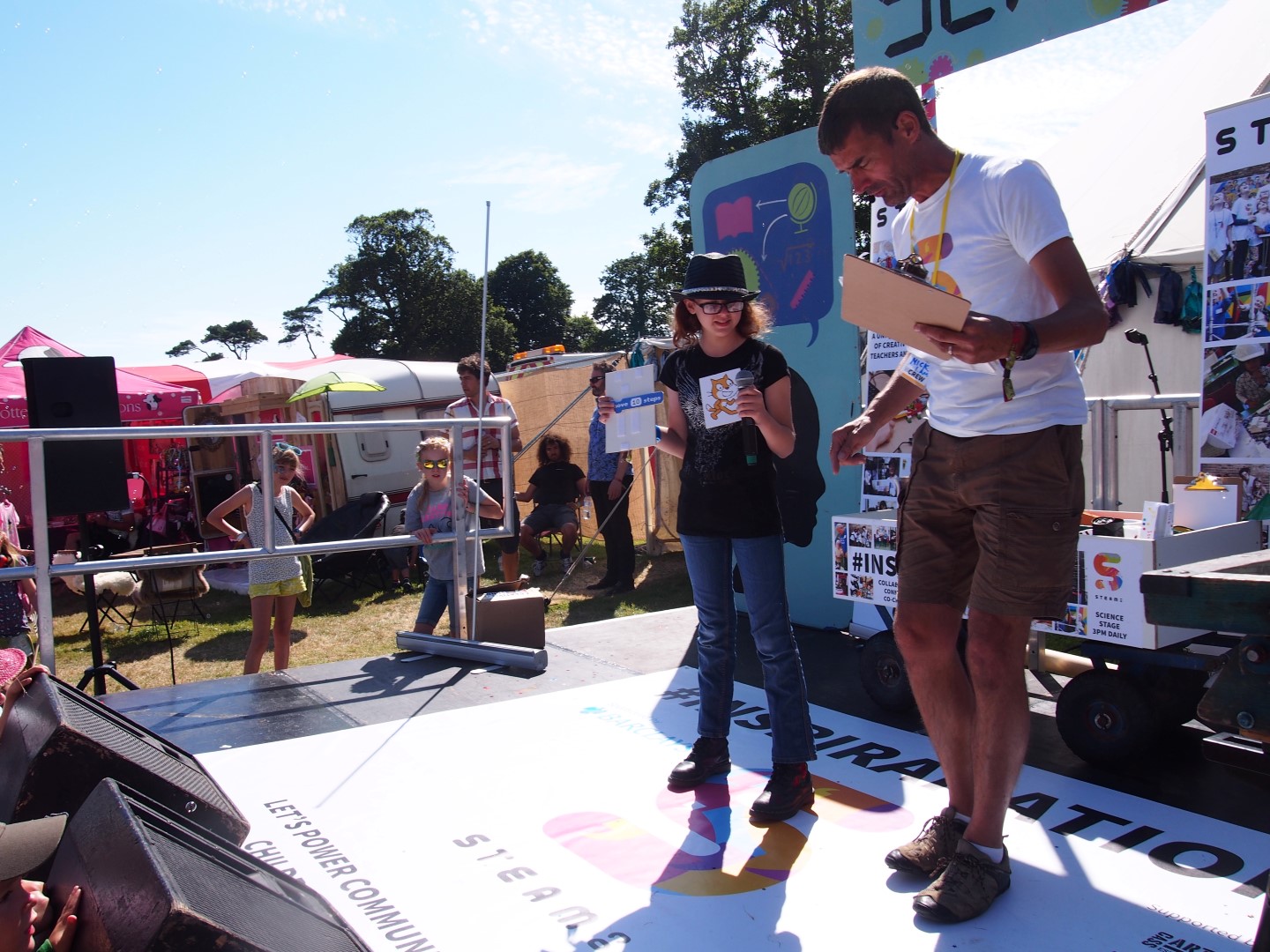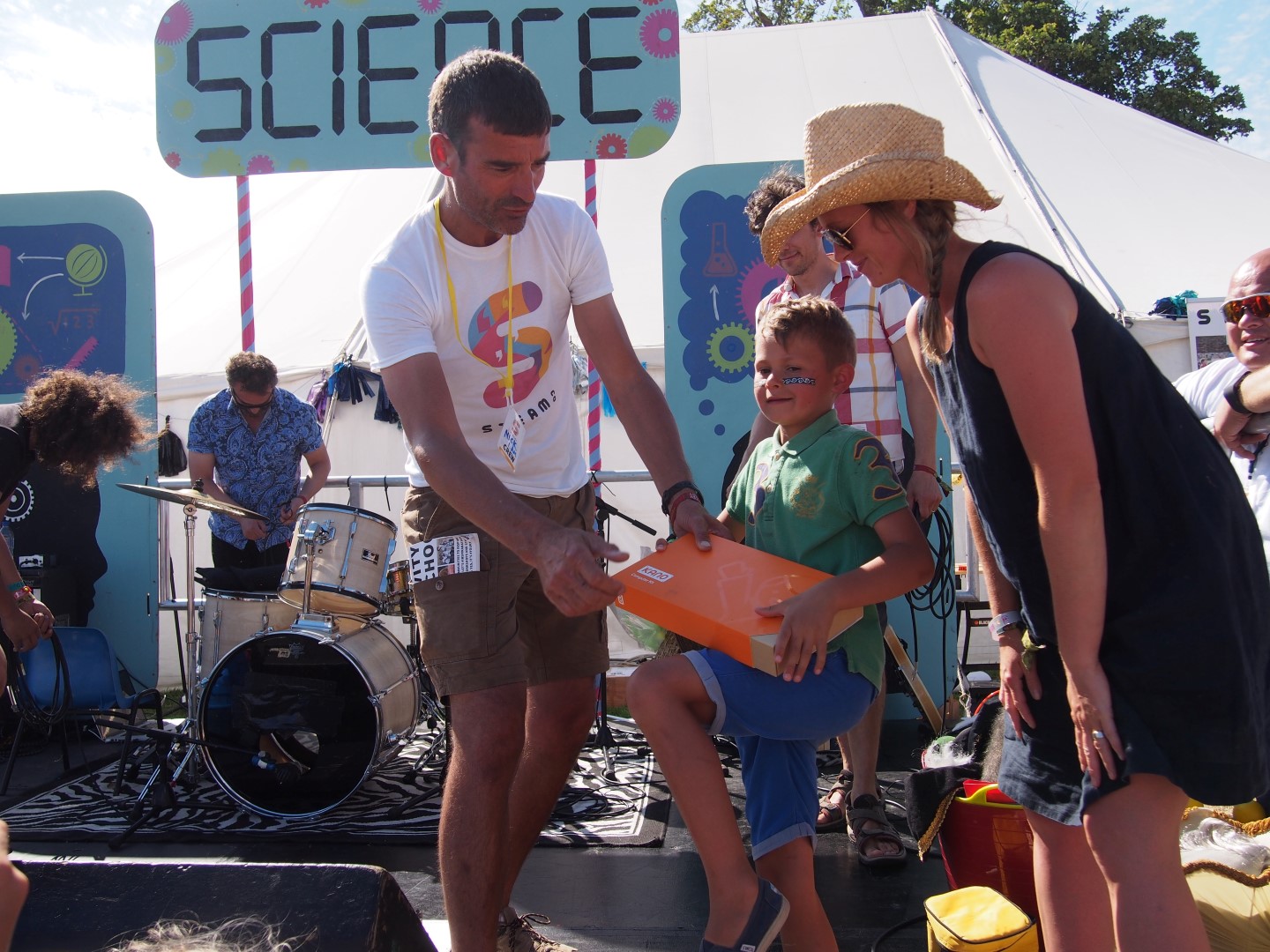 Thanks to our mates over at Team Kano we gave a Kano coding kit as a prize on the last day, which ended up being won by a family with 4 children (and they said they'd left a few at home).
We were chuffed to present Neil Atkin as a special guest co-presenter who did some pretty crazy science experiments with his son Finn.
STEAM IS A TEAM EFFORT
One of the best things about being in the Science tent was to be able to hang out with some other great talent, all as obsessed as us about inspiring children with creativity across the STEAM Skills.
We aren't setting out to reinvent the wheel with STEAM Co. but to connect. To connect artists, creatives, carers, businesses and teachers together so they can run their own STEAM Co. Days.
Here are a few of the cool artists we worked with in the Science Tent at Camp Bestival and hope to get involved in STEAM Co. Days as we roll out across the UK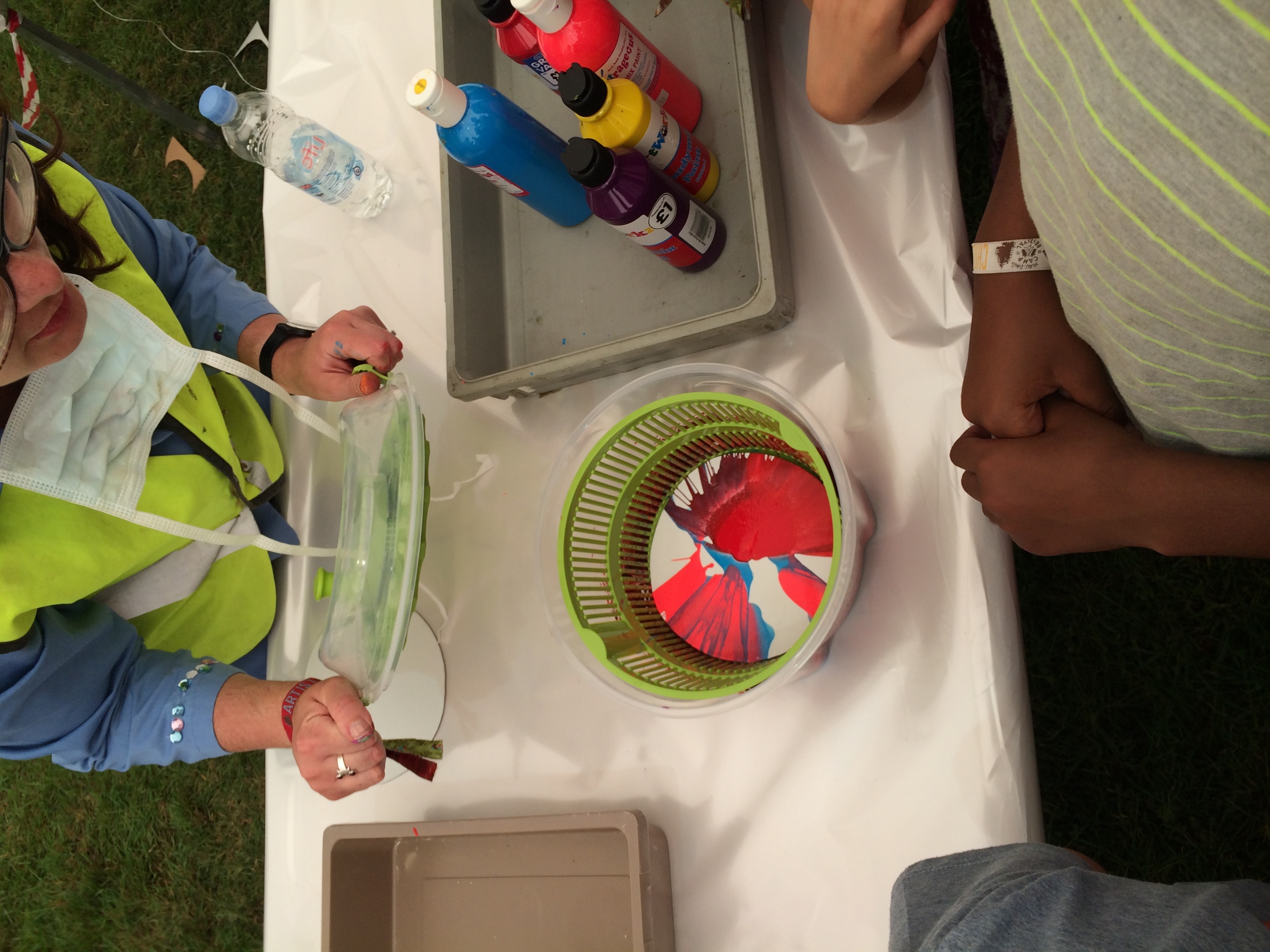 SILLY SCIENCE
Our favourites (if we're allowed to have one) was the Silly Science people - who did a fantastic stage show every day with a bunch of crazy experiments and demos.
We particularly loved their Stealth and Hasty Enforcement officers who made sure no one was at risk (well not too much!).
After the show they did a spin painting activity using salad spinners, which was inspired and a bit easier than humping around the Spin Painting machine we salvaged off Cromer Pier.
One of the team is a fireman and said he'd be up for getting his watch out to help run a STEAM Co. Day in their local primary school. We'll hold him to that! -)

Technology Will Save Us
Great activities with their electronic dough and electronics kits. Look out for the BBC Microbit they are helping get out to every UK secondary child this Autumn.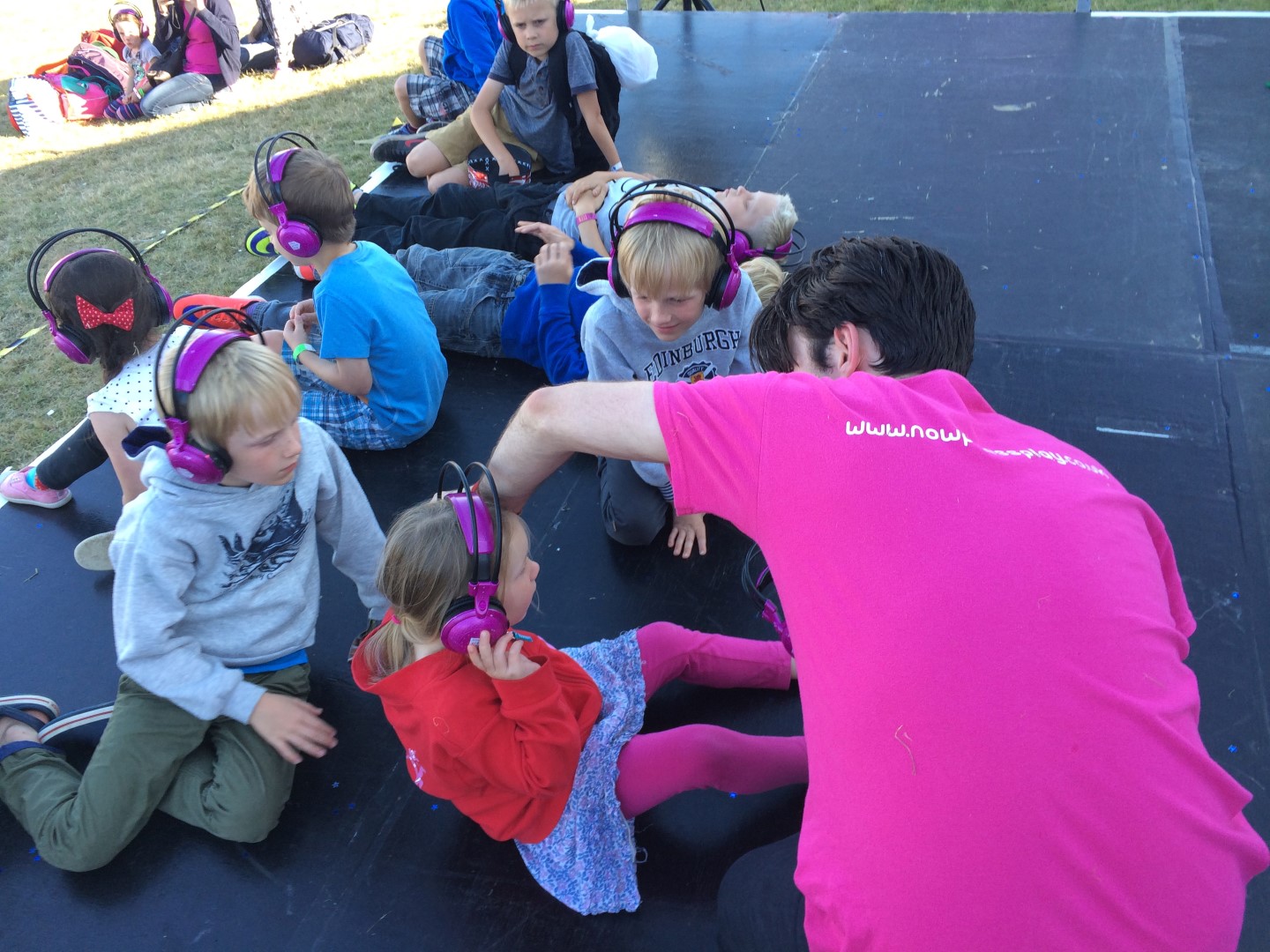 Now press play
Creative and imaginative story telling is a key aspect of a STEAM CO. Day and we loved the way this team used wireless headphones to transport children off to another world. We'd love to get them signed up to help on STEAM Co. Days.
THE BEST CUPPA AND CAKE
All this talk of community and Big Society might all be very trendy and now, but a group of people who have been doing it for years without any real fanfare is the Women's Institute who were offering the best (tasting and value) tea and cake at Camp Bestival.
They had a craft activity 'Make a bracelet with lots of knots' and it was great to see how they had put a call out to them members for cakes to sell at Camp Bestival.
In the way that STEAM Co. Adviser Sugata Mitra is amassing a Granny Cloud of volunteers to mentor children across the world in the School in the Cloud he is building, it would be great to get the WI and organisations like them involved with the big nationwide roll out of STEAM Co.
Big thanks
Finally a big thank you to everyone who helped make this happen.
Rob and Josie D Bank for having us and Kate who ran the children's field including Art Town and the Science tent (tho we should talk about a STEAM CO. tent in the middle next year to break down the silo of such left/right brain thinking ;-)
Everyone in the STEAM Co. posse: Jon, Kari and family from Kilburn, Becky from Bristol, Nikki, Neil and family from Wimbledon, Sarah from Leicester and Nick, Amanda and family from Paddington.
And thanks to the hundreds of families and teachers and creatives who came and chatted with us and who said they'd be interested in running STEAM Co. Days in their schools by powering their communities.
And to Sharon D Clarke (who sang our Camp Bestival #INSPIRANATION theme tune: 'Back to My Roots' with FPI Project) and who sent us a lovely message she sent us after she saw the YouTube film we threw together before we went:
"The video made my soul smile.
This is fantastic work you're doing.
Just looks amazing"
Sharon D Clarke