HOW THE ART OF JR AND A CEO INSPIRED US
TURNING THE WORLD INSIDE OUT WITH ART
JR is a Parisian street artist that the New York Times has called "a shadowy figure who has made a name for himself by plastering colossal photographs in downtrodden neighborhoods around the world. The images usually extol local residents, to whom he has become a Robin Hood-like hero".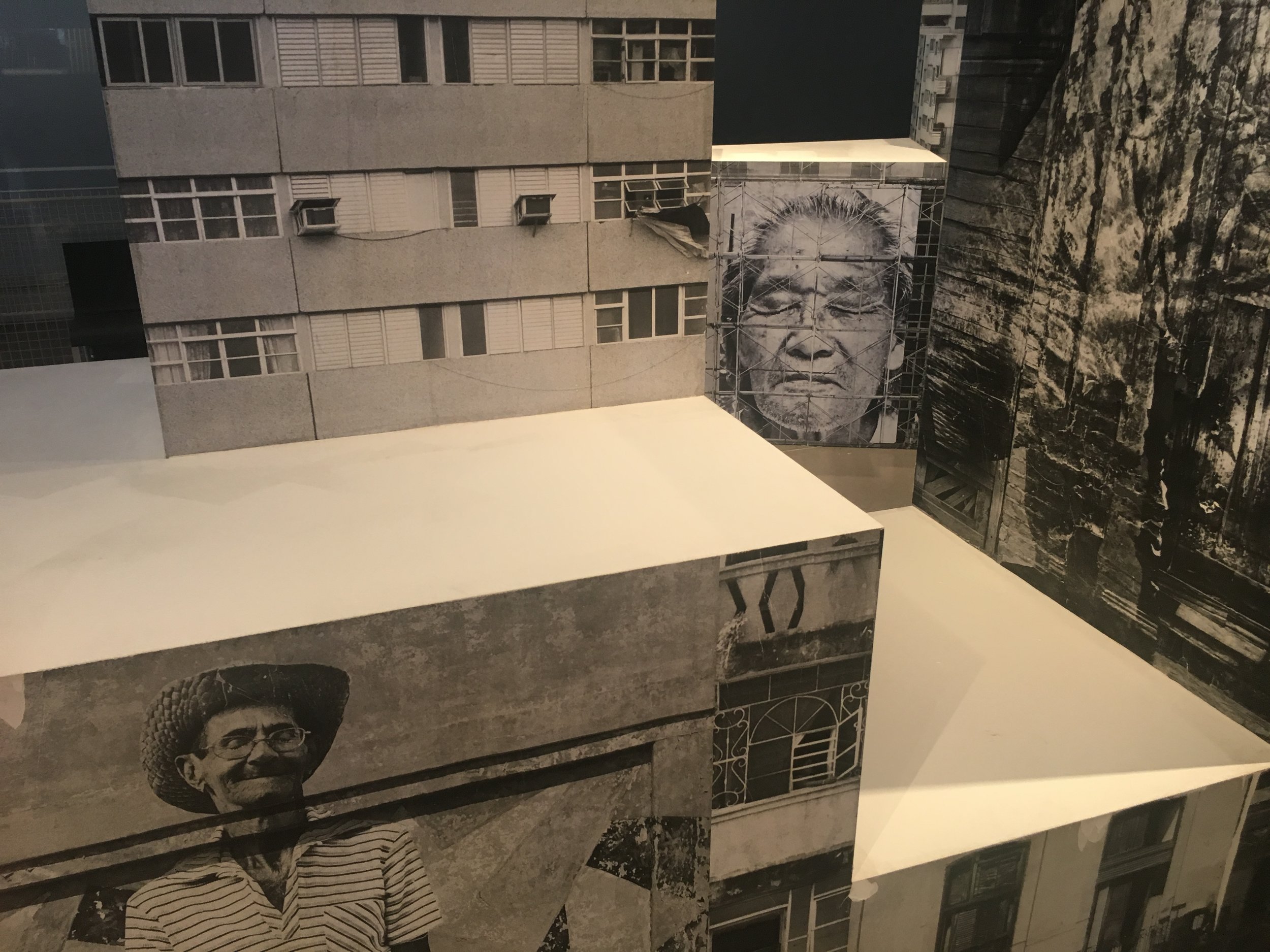 His work gained prominence in a TED talk back in 2011 (see below) after he won the annual $1m TED Prize with which he pledged to 'Turn the world inside out with Art'.
JR used the money to buy a large format printer with which he has printed over 200,000 posters from photos sent in by people across the world for use in their own 'Inside-Out' art actions.
He even set up a selfie photo booth and printer in the back of a truck which he has driven all over the world.
We came face to face with JR's work on a trip through Paris in the Summer in 2016 when we saw an exhibition of his work for young people in the Pompidou art centre. Where a selfie taken of you in one part of the display was projected onto a model of a wall of a building in another, really putting you in the art.
That same day we saw a window sticker simply saying I❤ART which stuck with us.
FROM PARIS TO SUNDERLAND
On returning home we saw a post-Brexit blog by Darren Henley, CEO of the Arts Council in which he called for a 'Creativity Revolution' and which he followed up on in speech he gave in Sunderland.
Inspired by Darren's words and with a 2 day trip already in the dairy to Sunderland we put two and two together and launched @People4Art and the #ILOVEART campaign.
In those two days, over 1,000 children in four schools in Sunderland created their own #ILOVEART logo as you can see in the film here.
JOIN OUR #ILOVEARTPROJECT
Given that 'art is what we call it when what we do might connect us' and our belief in the power of our art to connect, that we're all artists, we're delighted that JR has approved our #ILOVEART project for inclusion in his 'Inside-Out' art action.
He has offered to print photos for us onto large format posters to be displayed in Kings Cross and around the UK.
See our project launch film below.
WHAT'S YOUR ART?
So what's YOUR art? Drawing, dancing painting, coding, baking, football or drama?
Will you create your own #ILOVEART logo and share it with us to share with everyone else in this massive nationwide art project.
It's simple to join us, to join in, to connect.
STEP 1: create YOUR LOGO
All you need to do is download and print off our #ILOVEART template and add your own heart logo. You can draw, paint or collage something.
Find a background that captures your art and expresses your creativity. Maybe add a few props like a paintbrush, a fishing rod or a Ukulele?
Then get someone to take a photo in normal size (not square), portrait mode.
STEP 2: Send us your photo
To send us your photo, all you have to do is click this link to go to the registration page as we need to be sure you're aware of the terms and conditions of use of any photos you upload and that you have permission to do so.
We're keen to hear from young and old, but anyone under the age of 18 will have to get parental approval for upload and usage of the photo in this exciting project.
We'll then email you confirmation and a link that you can use to upload the photo to our server.
See JR's legendary TED talk below.
MORE ABOUT THE #ARTCONNECTS FESTIVAL
"Art is what we call it when what we do might connect us"
So what better name and inspiration than #ARTCONNECTS, for a national 3 day festival of creativity we're holding with other People4Art in King's Cross, London's freshest Creative Hub and Knowledge Quarter to celebrate and showcase creative schools, work and lives.
Click here to go to the event home page
The links below will take you to pages for each of the main elements of the festival where you can find out more and get tickets.
See the trailer film below and download the flyer here.
FRI DAY : STEAM Co. DAy
A day of creative activities and short talks staged by local artists/businesses and hosted by Regent High School in Kings Cross for groups of KS2 primary children from across the UK with their teachers and carers.
This is a strictly pre-booked ticketed event for schools and not open to the public.
FRI EVE : SCREENING/DEBATE
Join us at the British Library to see the creative education documentary 'Most Likely to Succeed' featuring High Tech High and Sir Ken Robinson. Join the debate afterwards to share your thoughts with a guest panel.
Proudly hosted in partnership with the grassroots teacher movement #BrewEd.
SAT DAY : 'Creative Schools'
Enjoy, be inspired by and engage with a line-up of world-class talks, performances and workshops by local and national artists showcasing the amazing work being done to promote creativity in our school communities and why.
At University of the Arts : Central Saint Martins.
SAT EVE : #DANCECONNECTS
We can't have a creativity festival and not have a dance. We'll be led by the amazing Dr Peter Lovatt - 'Dr Dance' at Hertfordshire University in a secret underground ballroom in Kings Cross.
Our DJ line up is TBC but expect to relearn to dance to everything from Disco to Capoeira, Jive to Country and Electro to Northern Soul.
SUN DAy : 'CREATIVE LIVES'
Enjoy, be inspired by and engage with a line-up of world-class talks/ performances/ workshops by local and national artists/carers showcasing creativity in everyday life and how it powers lives, businesses and communities.
Hosted by the futurist Adah Parris at the University of the Arts : Central Saint Martins.
ALL WEEKEND : #ILOVEART PROJECT
We have had approval to be supported as an official campaign of arts activism by the artist and $1m TED prize winner, JR.
He will large format print hundreds of selfies we send him of people/children celebrating their art to be displayed around Kings Cross and other key locations across the UK!
Thanks to our media partners:
And we're grateful to all these organisations: