How a community event was inspired by a blog by the government minister responsible for culture, creative industries and the digital economy, a bank boss and a little lad in a school so near, but yet so far from the epicentre of the first industrial revolution.
ANNOUNCING: 'No One Left Behind' - the regional launch event for STEAM Co. across Shropshire. Tuesday 4th July Enginuity, Coalbrookdale.
An event to celebrate creativity and how it can engage children, innovate business and connect communities as we move into the 'Fourth Industrial Revolution' where creativity and tech literacy will be essential for our children to thrive.
We have to use art and technology to connect.
To connect communities, culture and our children with yesterday but most importantly to inspire their tomorrows.
And what better venue for the event than the birthplace of the first industrial revolution, the inspiring Enginuity centre in Coalbrookdale in the shadow of the Ironbridge itself.
The event will be relevant for carers like parents, teachers, creatives, engineers and employers.
It will aim to inspire these communities to go away and run STEAM Co. Days in Primary schools across the county and beyond.
Sign up below to register for first tickets to come or help make it happen.
But first a short film to tell the story.
Blue skies have a lot to answer for.
As I went into Barclays HQ in Canary Wharf for a meeting last year I was taken by a display describing how, as a Quaker bank, they'd funded the world's first STEAM Railway between Stockton and Darlington.
As I came out with a generous offer to use their top floor conference space for an evening of creativity talks, I looked up at the blue sky and knew what to call it.
With a lot of talk about, much of it binary in nature about being right or wrong, left or right brain thinking and not so much doing, I remembered an episode of the Apprentice, where one of the candidates looked up at a blue sky painted on the ceiling of a conference room in an ad agency and was told it was where they do their most creative work, their 'blue sky thinking'.
We have enough blue sky thinking and talking. We called it the Blue Sky Doing event.
Creative Leaders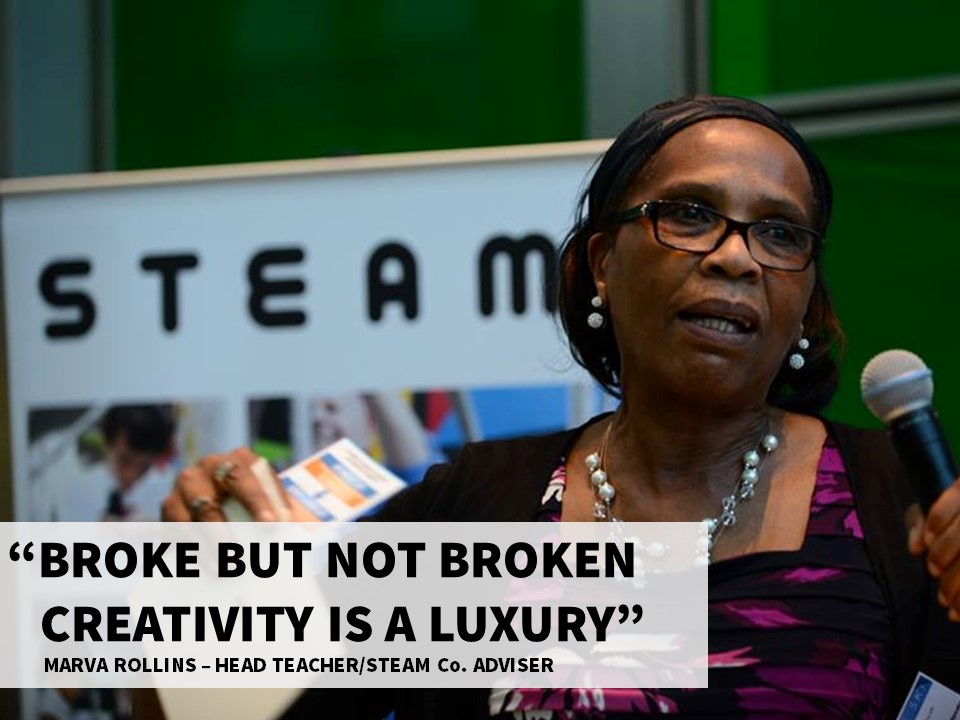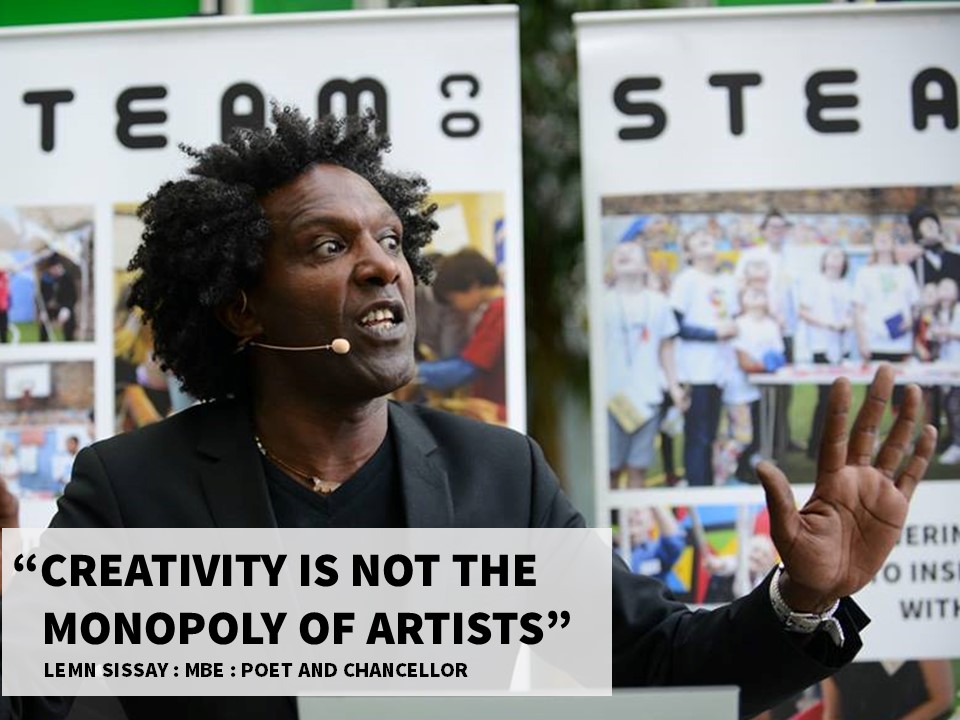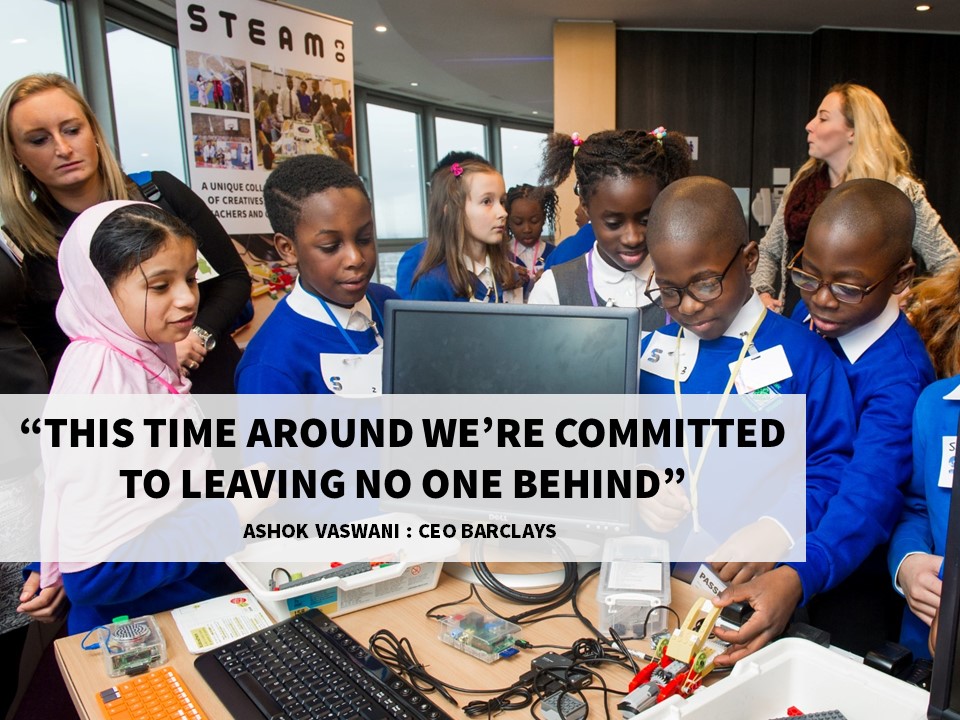 In that event, Barclays CEO, Ashok Vaswani stood among teachers, creatives, parents and other carers.
They included Marva Rollins OBE, one of a handful of the UK's black female head teachers in one of the UK's most challenged communities who said that 'creativity is a luxury' after we'd heard from Lemn Sissay MBE, a poet and Chancellor of Manchester University who said that he'd 'seen the light in creativity' in his hellish journey in the 'care' system and how one day we'd come to see "business leaders as creative".
Ashok described how various waves of agricultural, industrial, technology revolutions had only benefitted the few and described the work he was leading around digital empowerment and he said "this time we're leaving no one behind".
Where digital meets culture
The same day as I was in a school in Telford, I was taken by announcement by Matt Hancock MP, who heads up the creative industries, digital economy and arts and culture for the DCMS Government Department (now that's a brief to die for!).
In his blog he talked about a "natural synergy between the tech and cultural world" and the UK's "reputation for innovation and creative risk-taking, and for seizing the commercial benefits these bring".
See the link at the bottom of the page to read Matt's blog in full.
One of STEAM Co's core objectives is to connect schools across the country with the galleries, museums, trade organisations based in our cities, especially London. We want to do this by creating activity packs with them that can be delivered digitally and physically on STEAM Co. Days by parents and other carers.
Building bridges
Dame Julia Cleverdon, of Prince Charles' Business in the Community organisation has said that "STEAM Co. is building bridges, connecting the unconnected"
At our regional launch event in Sunderland, a local NE based artist Paul Merrick created and delivered an activity based on the wire sculpture work of Alexander Calder that was on show at the Tate Modern art gallery in London at the time.
How fantastic then for the Tate's curator, Ann Coxon, to make a short film introducing the artist and the show in London, to children and the community in Sunderland.
Other exhibitions at the Tate have inspired activities delivered in STEAM Co. Days, but they were lucky, having creative parents and carers in their school community who could jon the dots like this.
How much would it take for every gallery and museum to do this for every event they stage, training and using carers on STEAM Co. Days as assistant curators?
How many treasures are locked in London's galleries that few London children, let alone Shropshire's children, get the chance to access.
I've known all my life of and enjoyed the treasures locked in Ironbridge Gorge's canal ways, warehouses and museums.
But I was shocked how many local children didn't.
That's why we were so inspired by the DCMS #CultureIsDigital idea and felt it relevant to inspire a STEAM Co. Event around a theme about access to all, anywhere. To inspire our children with creativity.
Inspiration from above
As I looked at the Ironbridge with a BBC Micro:bit in my hand and a blue sky above my head, I kicked off the thinking and doing to collaborate on an event to celebrate creativity and its power to engage children, innovate business and connect communities and launch STEAM Co. across Shropshire.
At the launchpad of the industrial revolution.
And after an encounter with a child in a Telford school the week before, I knew what to call it.
'Leaving No One Behind'.
A week earlier I'd met a quiet little lad in a year 3 class I worked with in a challenged primary school in our 'Rocket Kids' session, which itself was inspired by generations, by a book that my 80 year old dad found in the Oxfam bookshop he volunteers in down the road in my birthplace in Ludlow, Shropshire.
This lad, let's call him Ted.
Ted was sat on a table on his own, while everyone else was sat on tables working in teams of 3-4.
On asking a teacher, it turned out Ted had just been taken into care for his own safety. And was sitting on his own for his class mates' safety. He could talk to himself.
But Ted wanted to do so much more.
He made one of the best rockets and really came out of himself when the head teacher came in, expressed interest and told Ted what a great job he'd done on what was 'a school day like no other' that would most likely stay with him for the rest of his life.
But would it inspire Ted? To do what? What could he do?
Engineering futures
Ted's head teacher said he'd be happy if just 3-4 of the school's children went on to be an engineer or scientist after my visit.
To seize the amazing opportunities on offer nearby in Wolverhampton and Birmingham, where a team of artists and innovators I met on the way home at Birmingham City University are building a £50m STEAM House faculty in a derelict factory just a stone's throw from the glitzy Bull Ring Selfridges.
A place to foster new ways of learning and creative and collaborative ways of working. Not sitting at desks alone.
Yet Susan Coleman of Susan's STEM Zone tells me that local engineering firms can't get apprentice places filled and that local employers bus skilled staff in from Staffordshire.
Inspiring Generations
There are a lot of kids like Ted out there who need to be connected with these opportunities. And we need to inspire generations to inspire these generations. STEAM Co. recently partnered with #TEDxNorwichEd, the UK's only TED education event with the theme 'Inspiring Generations'.
As Prof Guy Claxton said to us at our event at the Royal Institution a few years back, as parents, educators and as society "We have to help children understand what they want to be great at and help them pursue that dream".
Are we going to talk like Big TED? Or walk with Little Ted?
Back to our roots
We've used that phrase a few times to celebrate how STEAM Co. was inspired by a creative project at the Camp Bestival Festival and now go back every year to work with them.
Here we use the phrase to refer to the ultimate venue for the event we have in mind today.
What better venue for the event than the birthplace of the first industrial revolution, the inspiring Enginuity centre in Coalbrookdale in the shadow of the Ironbridge itself.
Enginuity is a fantastic science museum, activity centre and FabLab maker space in an old steam engine workshop in Coalbrookdale, at the very heart of the birthplace of the first steam powered industrial revolution.
The steam boiler house there literally built the world's first ever steam engine for Richard Trevithick from Cornwall, who felt they were the only people capable of building a boiler strong enough to resist the pressures he was thinking of for his engine.
The synergies and the metaphors feel about right!
Yet, other than lucky few on school trips, hardly any of the children that I've met in local schools, literally 10 minutes away have visited Enginuity. This echoes the children I've heard of in Plymouth who have never seen the sea.
Similarly few I see travelling around the country have used the BBC Micro:bit which was given the Year 7 children or have access to Code Clubs.
The event
We're now frantically working on a one day event to be held in June/July along the lines of the events we held in Liverpool and Sunderland.
It will consist of activities for local school children and talks for parents, creatives, employers and teachers.
We will invite around 200 local children in with staff and parent/carers to enjoy a STEAM Co. Day which will be delivered by a range of local artists across performing arts, science, local crafts and culture as well as digital technology, not in a geeky silo but working with all the other activities areas, across the 'STEAM Skills'.
These activity leaders will all be available to help on STEAM Co. Days that school communities subsequently run with the briefing and planning packs that we will make available to them.
We will curate a programme of short keynotes and snappy talks by a range of inspiring national and local speakers, all round the central theme of celebrating creativity and its power to engage children, innovate business and connect communities.
But it can't be a one off for the lucky children who get a coveted place in the school mini bus that day. It's often the children who need these opportunities most who get left behind.
The day will aim to inspire Shropshire's school communities to go away and run STEAM Co. Days in Primary schools across the county and beyond.
Like this the one shown in the film below, held at Ludlow Junior School last year.
To power communities to inspire our children with creativity.
Will you think about doing that?
Sign up now to attend or help
Click here to register for further updates – to get a chance to get tickets to the talks, places for a school group in the activities, to run an activity or to sponsor or speak at the event.