Well the BBC had to start somewhere and by giving every Year 7 child in the UK one of their micro:bit computer devices we think they may just start another revolution.
But what about primary children?
The BBC and micros
Back in the 70's, when I was a lad the BBC launched the BBC Micro, a cheap home computer that you had to (learn to) code to get anywhere with. With it, they launched a revolution and an industry or two, not least the UK's world leading games development industry and with it some of its own icons beyond the likes of Lara Croft.
Indeed consider Sir Ian Livingstone, who now sits in the House of Lords and is Minister of State for Trade and Investment but prior was co-creator of global hit game franchise Lara Croft and Tomb Raider, co-founder of Games Workshop, and indeed currently co-creator of a gaming free school (n.b: not game-free school), due to open in Hammersmith next year - not unlike Liverpool's Studio School who co-hosted our Liverpool launch event.
Consider the impact on the economy of Edinburgh's Rockstar whose GTA computer game has shipped over 250 million copies and all the other game development studios up and down the land, not least Liverpool, South Wales and London.
Not bad for an industry that grew out of the car boot sales of Essex and a computer that the BBC launched to go with a series of TV content to teach people to code.
So now the BBC, in conjunction with a team of industry partners from ARM and Microsoft to Technology Will Save Us, the IET and more, are going to be giving every Year 7 child in UK schools their very own micro:bit computer.
And it's genius.
STEAM Co. and coding
Back in the day (three years ago) we managed to get our hands on 30 of the first Raspberry Pi's, 30 Lego WeDo Robocroc (#9580) kits from Lego HQ in Denmark and created an activity for a STEAM Co. Day at St Saviour's School.
In one day in just one of the day's 20 thinking and doing activities, we taught every child in the school, over 200 aged 5 to 11, to create a simple game and program the Raspberry Pi with Scratch to make the RoboCroc bite their finger when put in its mouth.
Wired magazine picked up on it. The BBC's Education team asked us to help film their first Raspberry Pi programme. We had a trip to the Raspberry Pi factory. Appeared on a global news bulletin on Al Jazeerah and front page articles in Brazilian newspapers! Google sent us (and thousands of other schools) a few Raspberry Pi kits for Christmas.
Since then, the 'Coder Corner' activity has featured on every STEAM Co. Day. We've taught children to recreate the 'Breakout' game Steve Jobs and Steve Wozniak created to make enough money to start Apple. We've featured 3D modelling activities and even 3D printed our head teacher and this year had a Processing activity designed by one of the school's dads and which saw children downloading open source code off the web to build into their program.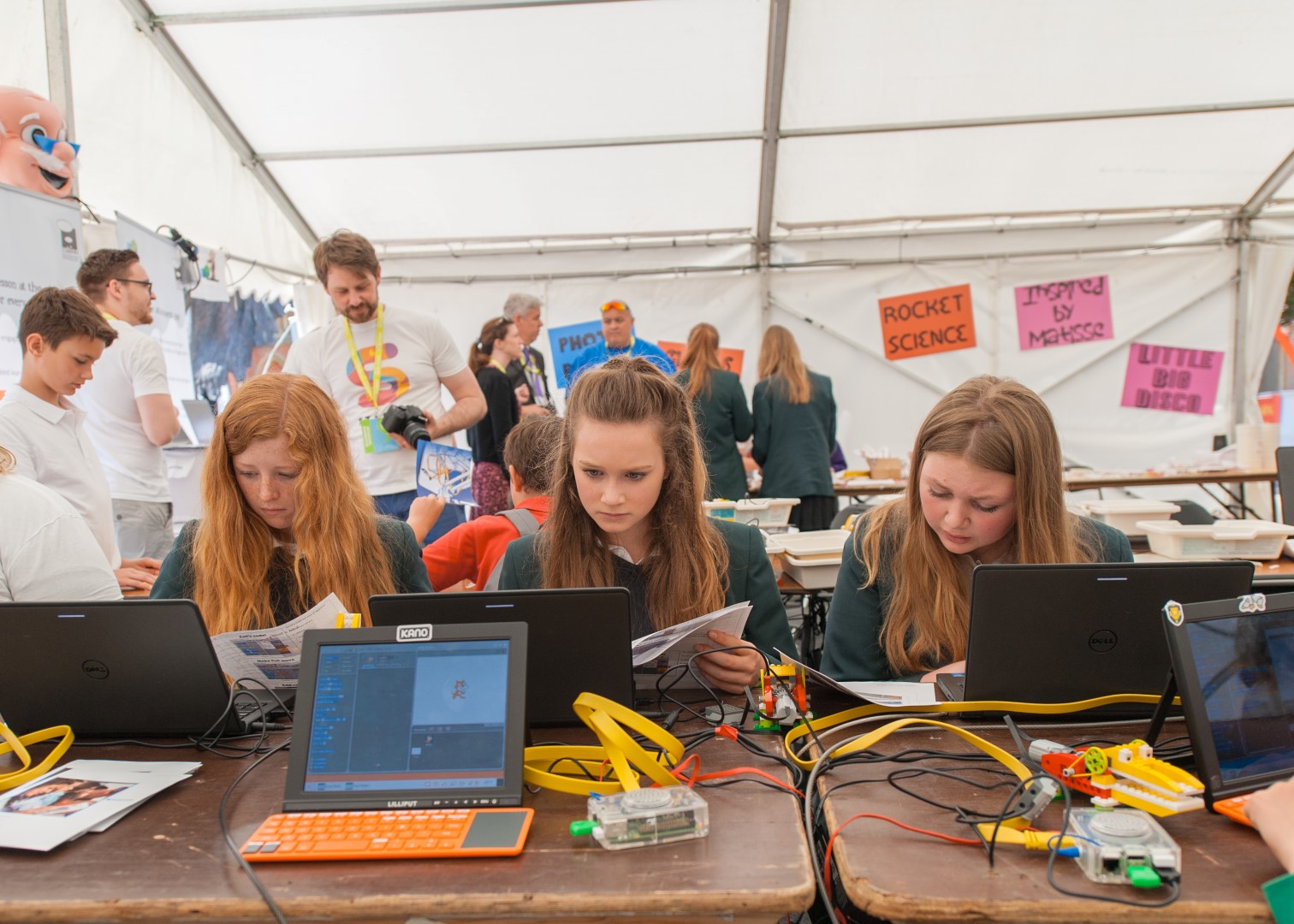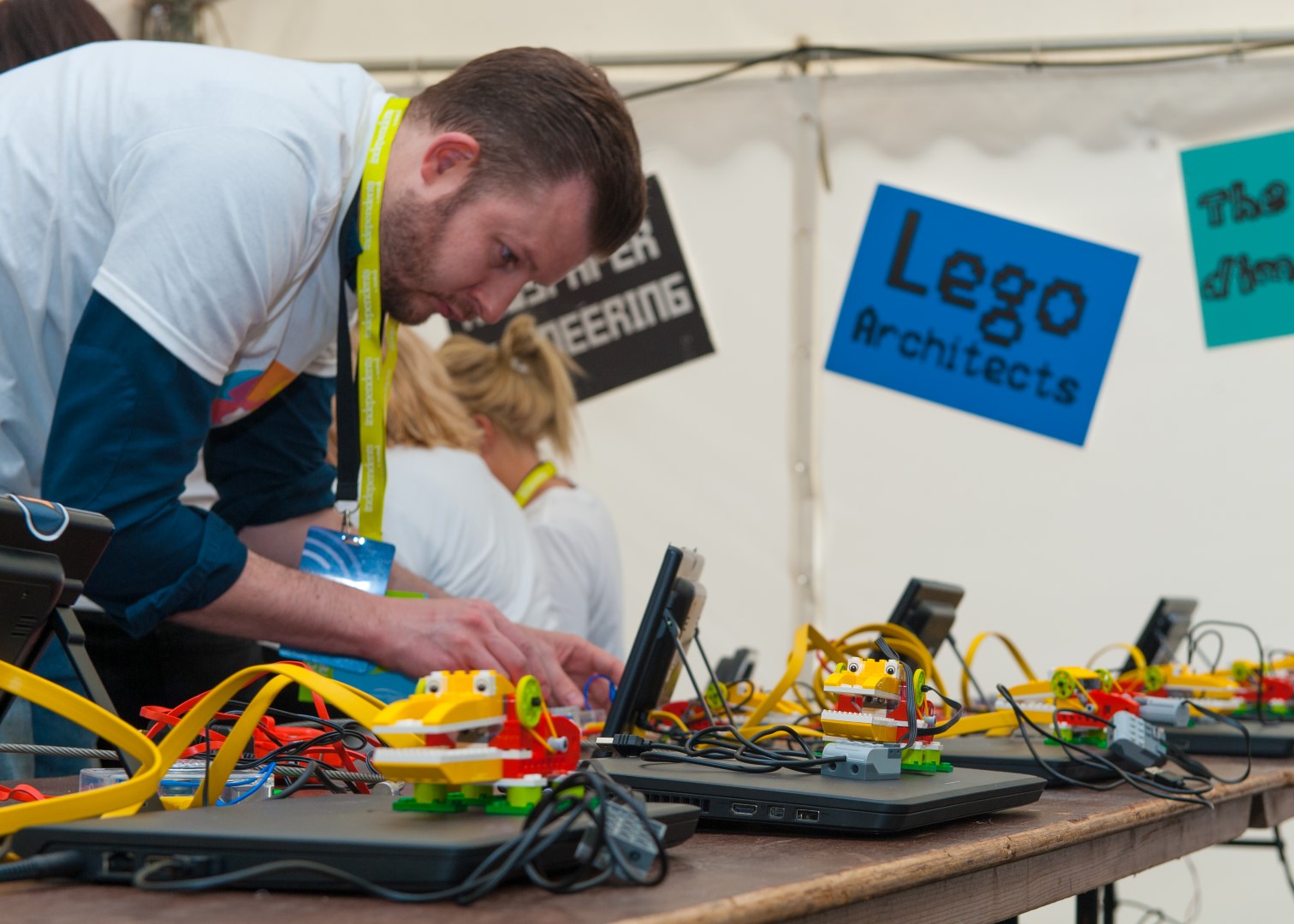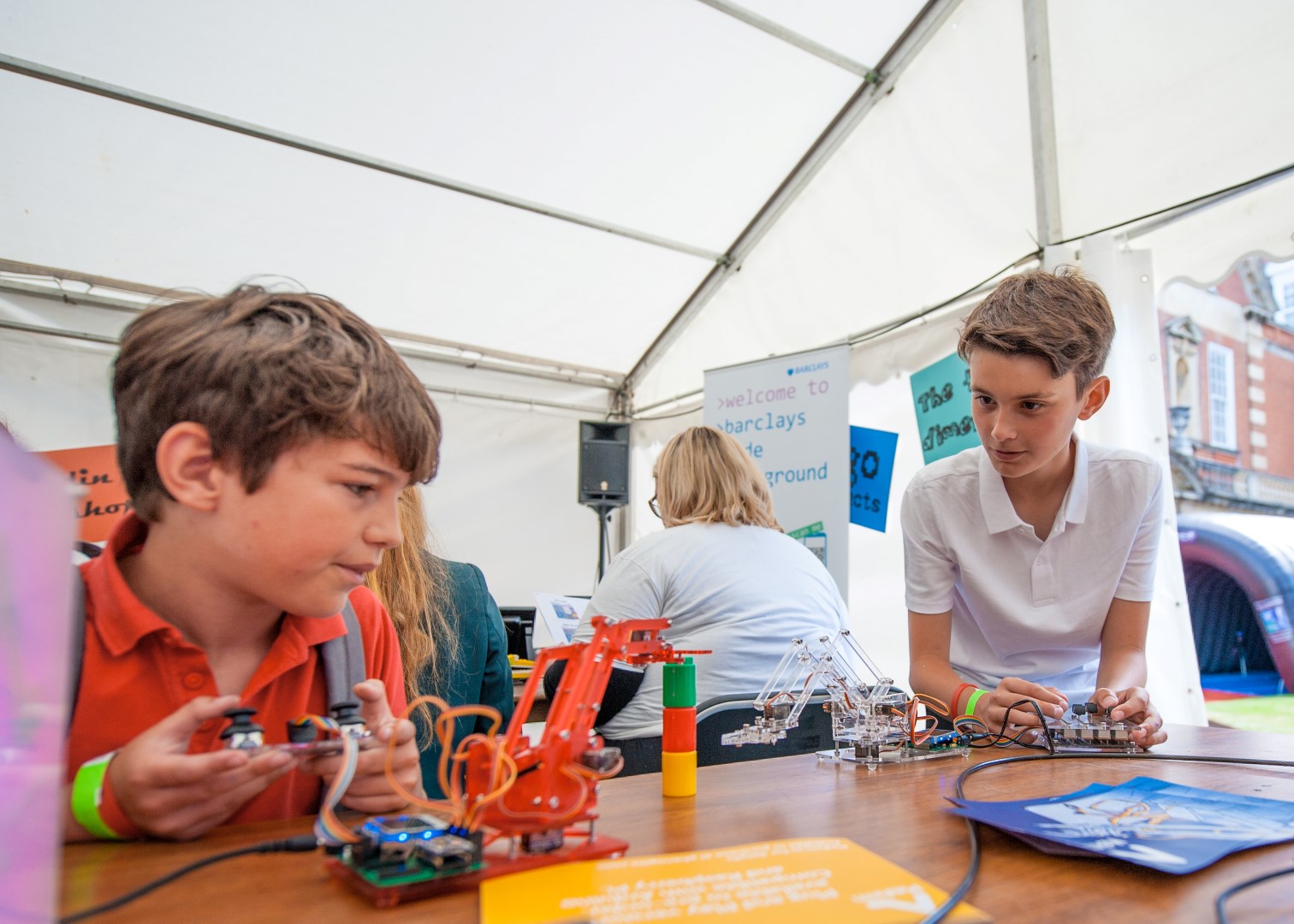 A big part of STEAM Co. is getting businesses involved and we were delighted this summer when members of Barclays 'Digital Eagles' team joined us at The Sunday Times Festival of Education where we reran the RoboCroc activity on Kano Raspberry Pi kits and Dell laptops.
And we're getting very excited again.
Introducing BBC micro:bit
As one of over 27,000 STEM Ambassadors in the UK wide STEMNET programme I was delighted to be invited to an early sneak peak of the BBC micro:bit at FabLab in the City of London last night.
(I was even more delighted when the entrepreneurial chap who founded and ran the Fab Lab, Andrew Gregson pointed me out in the audience during his welcome speech as the person who'd given him his first job on leaving art school in 1996. Small world indeed!!!)
So in a nutshell, the BBC micro:bit...
Unlike a Raspberry Pi which is a complete computer on one circuit board the size of a pack of cards, the micro:bit is stamp-sized and called a 'micro controller', in that you write programs on a laptop, tablet or smartphone and copy them over via a cable or Bluetooth to be run.
These programs can take full advantage of the micro:bit's I/O (input/output) features like a couple of push buttons, temperature sensor, tilt sensor, motion sensor, compass, bluetooth communications and a small 5 x 5 dot matrix display.
Create code not just consume
Coding offers countless creativity opportunities for children. I passionately believe that if you give a child a games computer they'll play games, many of which might be creative. But give them Scratch and they'll create their own. Give them a Kano and they'll see how to code Minecraft.
Suddenly it all comes together for them and no more so than with the micro:bit.
The tiny display screen of the micro:bit itself present a number of fascinating UX - user experience - design challenges. The IET volunteer David Whale who ran the evening described a brilliant design solution for 'canoe polo' where the display had to show two scores and elapsed time!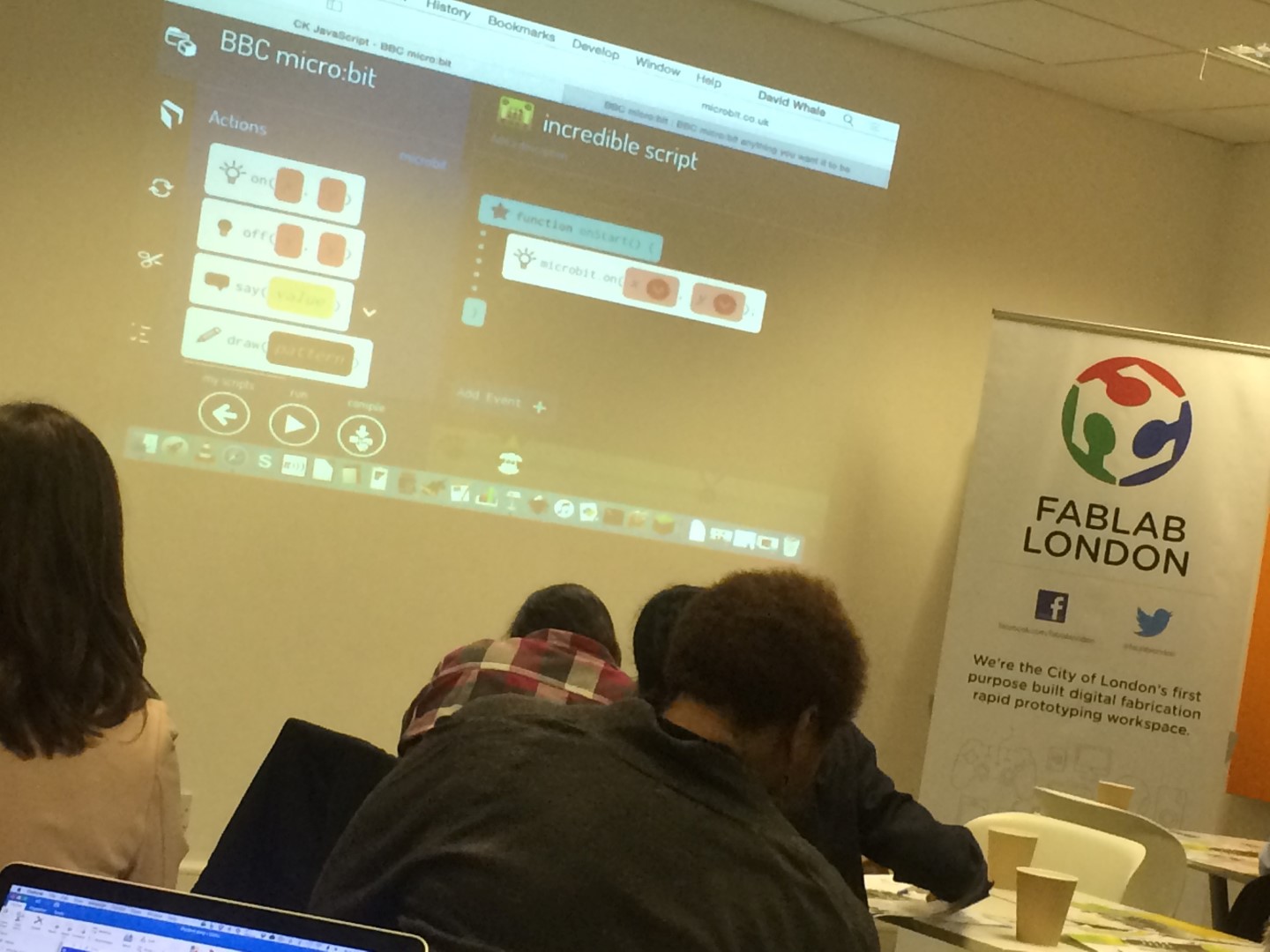 David also showed a game he'd developed with a micro:bit gaffa taped to a paint roller and you had to roll an imaginary wall up and down, left and right, to paint the 5x5 dot matrix screen, all achieved using the motion sensor and compass. Genius.
The IET have developed a whole heap of lesson resources for secondary schools to use when they get their micro:bits as part of their Faraday programme.
I really believe, despite pockets of cynicism in geekland, that the micro:bit offers a revolution the like of which we haven't seen since the Tamagotchi (you do remember Tamagotchi don't you?) Children of all ages are going to love the micro:bit and make it their own.
With an animated pattern or cheeky scrolling message, it will be wearable technology one minute, a bar football game scoreboard the next or a data logging device for a field trip. Or a digital pet, you create yourself.
The BBC have a vision of children creating programs for THEIR maker:bit on smartphones on the school bus home.
Be sure to visit the awesome micro:bit website with info and resources for teachers, parents and children. You can even run a micro:bit simulator on your smartphone now and start creating programs for when they actually start shipping in January 2016.
And if you're in a secondary school, be sure to sign up on the website for your Year 7 allocation of micro:bits. I'm assured it's not too late.
But... we have to get them in Primary
So STEMNET is great, but only targets secondary schools. Micro:bit is great too but is only being given to Year 7 secondary children initially, although it will be available for purchase by keen (not for a change just rich) parents and keener schools. But what of everyone else?
As usual, Primary schools are in danger of being left by the fire like Cinderella while everyone else is off to the ball. As Prof Robert Winston said to us, "You've got to get them in primary" and that's what we do at STEAM Co.
Code Club have done an amazing job getting coding into 2,000 or so of the UK's 18,000 primary schools in three years, and have announced intended support for maker:bit
Our dream is to get our hands on a few micro:bits as soon as we can. To develop a simple activity so that we can repeat the success we've had with Raspberry Pi and to get it into every UK primary.
We'd love to run a maker:bit activity at Inventors! STEAM Co. Day we're holding in Sunderland on Jan 29th. This event aims to provide legacy for Dominic Wilcox's three month Inventors! event to celebrate and jump-start creativity and invention in his home town, by inspiring every primary school to run STEAM Co. Days.
Imagine if every primary child in Sunderland and then the UK got the chance to play with a micro:bit. Where might that take them/us?
STOP PRESS: BLOG UPDATE
BARCLAYS DIGITAL EAGLES TO THE RESCUE
29: 01:16 - Since writing this blog, Barclays amazing team of Digital Eagles stepped up to give a talk about their work and run an activity at our INVENTORS! STEAM Co. launch event in Sunderland and taught hundreds of primary children to code the BBC Micro:bit.
Read about our work with The Digital Eagles here.
"OH GOOD LORD!!! It's not a computer at all"
22:03:16 - It's now been launched and creating tons of buzz with the DG of the BBC even opening the London Stock Exchange.
There was a fantastic piece on the BBC Radio 4 Today programme where presenter John Humphrys demonstrated the generation gap represented by the Micro:bit.
Listen to it here.
Will we sow a seed, light a fire, or inspire the next Minister of State for Trade and Investment, a coding genius or 'just' someone whose live is enriched by creativity, digital or analogue?
It's your turn
Will you help us? We're looking for 6 sponsor companies and 10 supporter companies to help us roll STEAM Co. out to every one of the UK's 18,000 primary schools. Unlike many similar initiatives, we can scale almost instantly as we're just providing inspiration and resources for communities of carers, creatives and businesses to power THEIR communities to inspire their children with creativity.
Just like The Spinney School in Cambridge did in this film the other week which shows a grandad and his grand daughter running Coder Corner.