The Telegraph Festival of Education at Wellington College attracts an enviable line up of speakers from across the spectrum of educational thinking.
We're delighted to announce a fringe evening event alongside it this year on Thursday 22nd June in a local school community to celebrate and discuss creativity in education, business and society.
STEAM Co. and The Festival of Education
Just two years ago, the festival organisers collaborated with STEAM Co. to stage the #Inspiranation feature area that was supported by Barclays, National Grid, Google, BMW and Cass Art (see film).
With Sir Ken Robinson as the Festival's keynote speaker, we were also asked to host a packed out debate on Creativity in Education.
We had a fantastic reception from Wellington College and the then Master, Sir Anthony Seldon who was particularly interested in our work, telling us about the great outreach work the school does in the local community.
A passionate advocate for creativity and holistic views to wellbeing and education, has now moved on and a new master took over last year.
Last year, after the event changed hands to the team behind Schools Week, we supported Barclays' Life Skills stand and Nick was filmed for the 'Education Britain Conversations' series of films with Ty Goddard of the Education Foundation, see the 2 minute highlights film above and the full film here.
A STEAM powered #EducationFest
After a number of conversations with the festival organisers and their support of our events, we were particularly looking forward to it this year.
We were delighted to see STEAM at the top of the agenda of the call for speakers and were encouraged by the organisers to enter four papers featuring case studies, to be presented by primary and secondary school leaders on the impact that community-powered creativity and STEAM pedagogies are having in their schools, driving engagement through measureable improvements in attendance, behaviour and academic achievement as outlined in this blog.
One was to feature the work of primary school leader Marva Rollins, recently awarded an OBE in the Queens honours list for her commitment to state education as a pioneering female black headteacher in one of the UK's most deprived inner-city areas as well as her work mentoring others and tireless work in her community.
Marva gave an impassioned talk at our event with Barclays last year alongside the CEO of Barclays and Lemn Sissay MBE, which you can see here and we were delighted to be able to feature her on the front cover of and inside the newspaper we published for our weekend at #TEDxNorwichED recently.
Have a look at this short film of a Pop-Up STEAM Co. Day that came from that, staged by a local digital agency from London's TechCity area who gave up their work day to help teach children to code and students from a local secondary school who helped on all the creative activities on offer.
A change of direction?
Sadly none of our papers or school leaders, including Marva, were included in the first round of 'hundreds of speakers' included in the programme which to date doesn't include many talks covering STEAM, creativity or references to art.
A stream has been added though for 'important World Class issues' such as measurement, standards, testing and behaviour. Another stream now features the evidence based work showcased by the ResearchEd movement, led by the widely followed and respected 'Behaviour Tsar' Tom Bennett.
This made us stop and think if maybe the Education Festival has had a change of direction and bias with its change of ownership or otherwise. Strange, as we collaborated with Schools Week who are owned by the same firm as the Festival.
Two years ago, Tom Bennett described Sir Ken Robinson in his weekly column in the TES as a 'butcher given a ticker tape parade by the national union of pigs'.
In a TES piece this year, Carl Hendrick, Director of Education at Wellington College and a Director of the Festival of Education, called Sir Ken a 'teacher basher' seemingly because he challenges the education system and by inference, teachers.
Logic and ad hominem opinions which we questioned, prompting both Tom and Carl to sadly block our twitter accounts and close any conversation.
So maybe the answer is that the people organising the event, such as Tom and Carl have introduced some bias. (SInce first writing this blog, an interesting article appeared given some interesting facts and opinions on ResearchEd's origins)
Enough #BinaryEdThinking
Since Sir Ken's work, among that of many others, inspired us to start STEAM Co. we've been quite baffled by how toxic and polarising the mention of his name can be in a world where all thinking around education seems to be put in boxes marked 'traditionalist' or 'progressive' – all very black/white, left/right, right/wrong. Very binary.
Quite a contrast to the thinking and doing we see from teachers/school leaders, business people and creative industry members we work with and who support our work. Most of whom don't recognise these labels or aren't aware of these, sometimes toxic, views.
Indeed Matt Hancock, The Minister for Creative Industries and Digital Economy has put a call out to UK head teachers to embrace at the arts as a way of raising academic achievement. He also made the above film for us endorsing an event we are running in a challenged community in the West Midlands.
So under the theme of 'Enough BinaryEdThinking' we're delighted to announce one of our community screenings and discussions of 'Most Likely to Succeed' for Wellington College's neighbours and people staying overnight for the Festival of Education.
This award winning and much celebrated education documentary features Sir Ken, Salman Khan (Khan Academy) and the man who was beaten at chess by IBM's Big Blue computer.
After the film we'll hold a discussion about points raised. It shows quite an extreme view of creativity in education that certainly kicks off a conversation and we hope all perspectives will be represented.
We're delighted to confirm that the panel will include:
Warwick Mansell (Chair) : Journalist with TES and The Guardian
Steve Bogg - Bracknell Forest Council Schools Team/TeachMeet Bracknell Forest
Phil Sherwood - Head Teacher Uplands Primary/Forest Learning Alliance
Stoner - Blind Rapper from Reading
Jade Delecia - Local artist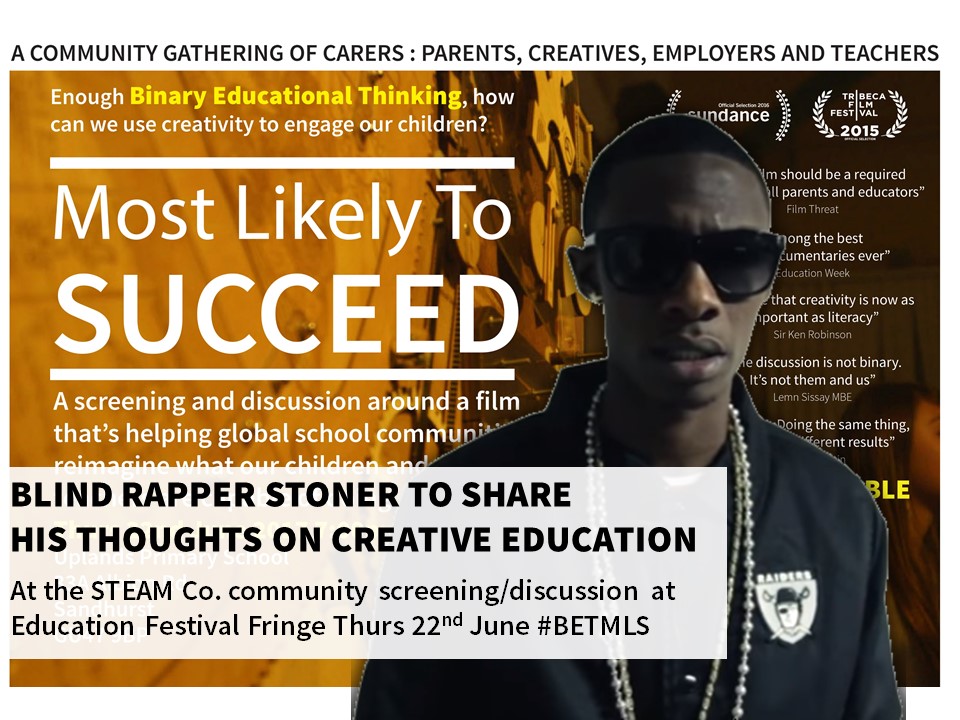 We'd sincerely love to see Tom and/or Carl there but they (and recently the Education Festival) have blocked our Twitter and don't reply to emails. Not even a Binary conversation, that's no conversation,
"It's not them and us"
As Lemn Sissay MBE, Poet and Chancellor of Manchester University points out in the highlights film below from a previous community screening:
"It is an opportunity for us to take a good look at why creativity is important
and the systems we have assumed must be right because they are there.
And see where the faults are. Because there are faults.
The conversation is not binary. It's not them and us."
Upcoming screenings
This screening is one of a number we're holding around the UK this summer.
Sat 27th May : Clifford Primary, Hay On Wye for Hay Festival Fringe : Info/ tickets
Weds 7th June : St Marylebone School, London : Info/ tickets
Mon 12th June : Hadley Learning Community, Telford launch of 'No One Left Behind' : Info/ tickets
Fri 16th June : Brudenell Primary School, Leeds with 'Northern Rocks' : Info/ tickets
Thurs 22nd June : Uplands Primary School, Sandhurst for #EducationFest Fringe : Info/ tickets
Find out more about how to collaborate with us on holding one of these screenings and discussions in your school community, wherever you are in the UK.