A piece on the Radio 4's flagship show Front Row caught our ear a few weeks ago... sculpture... submarines made of old tyres... steam locomotives made of bricks.. industry... engineering... stories of childhood growing up in Methil, Fife, Scotland among factories, coal mines, docks...
It was a lovely piece, an interview rich with the dulcet tones of acclaimed Scottish artist David Mach and what really stood out was that his latest project in the Griffin Gallery in West London was to be made from 20 tons of newspapers.
It had echoes of our STEAM Co. newspaper engineering activity where children roll newspapers into titanium strong rods with which they built structures as in the film here from the STEAM Co. Day run by the community at Ludlow Junior School in Shropshire.
Anything to add?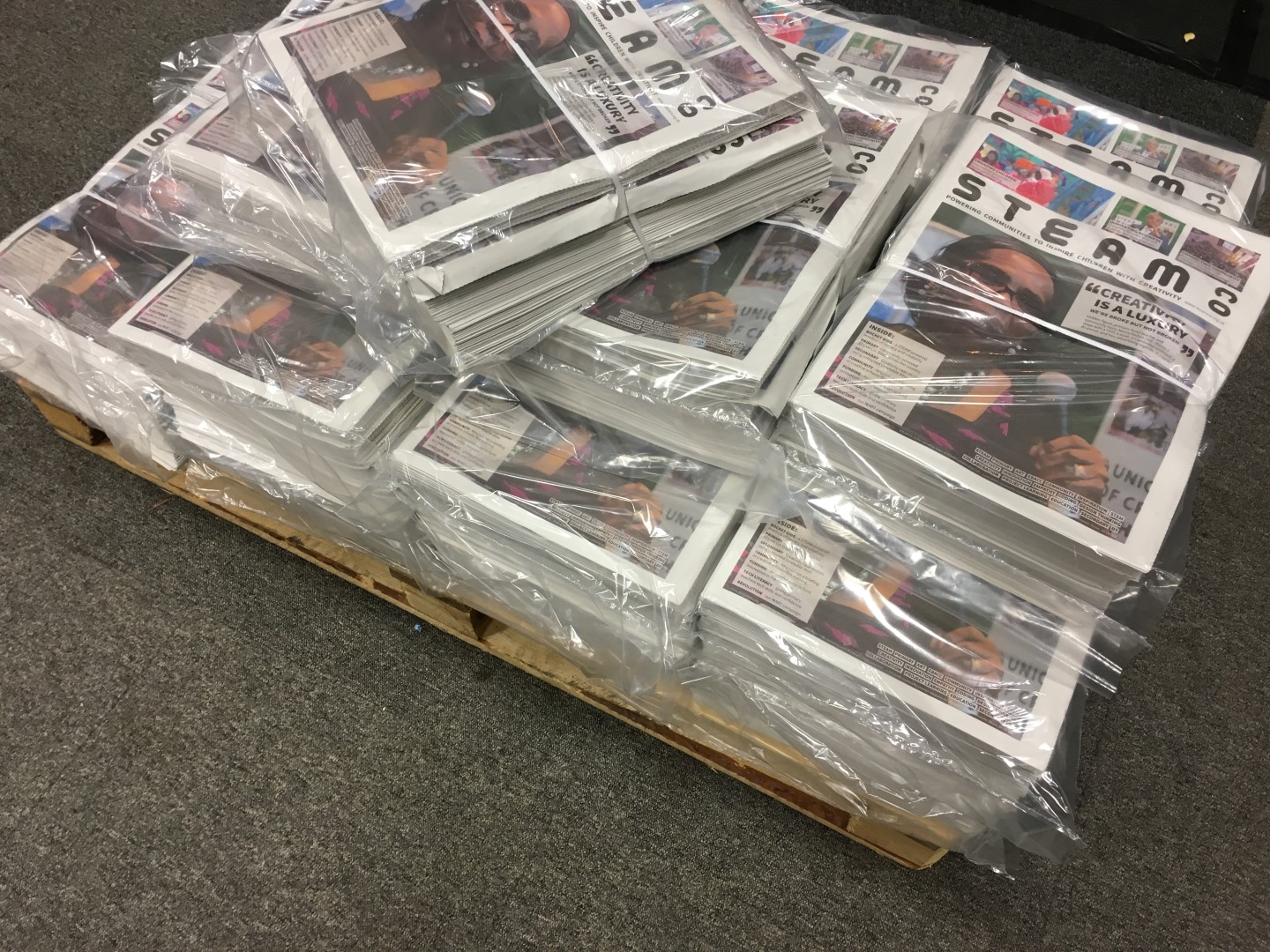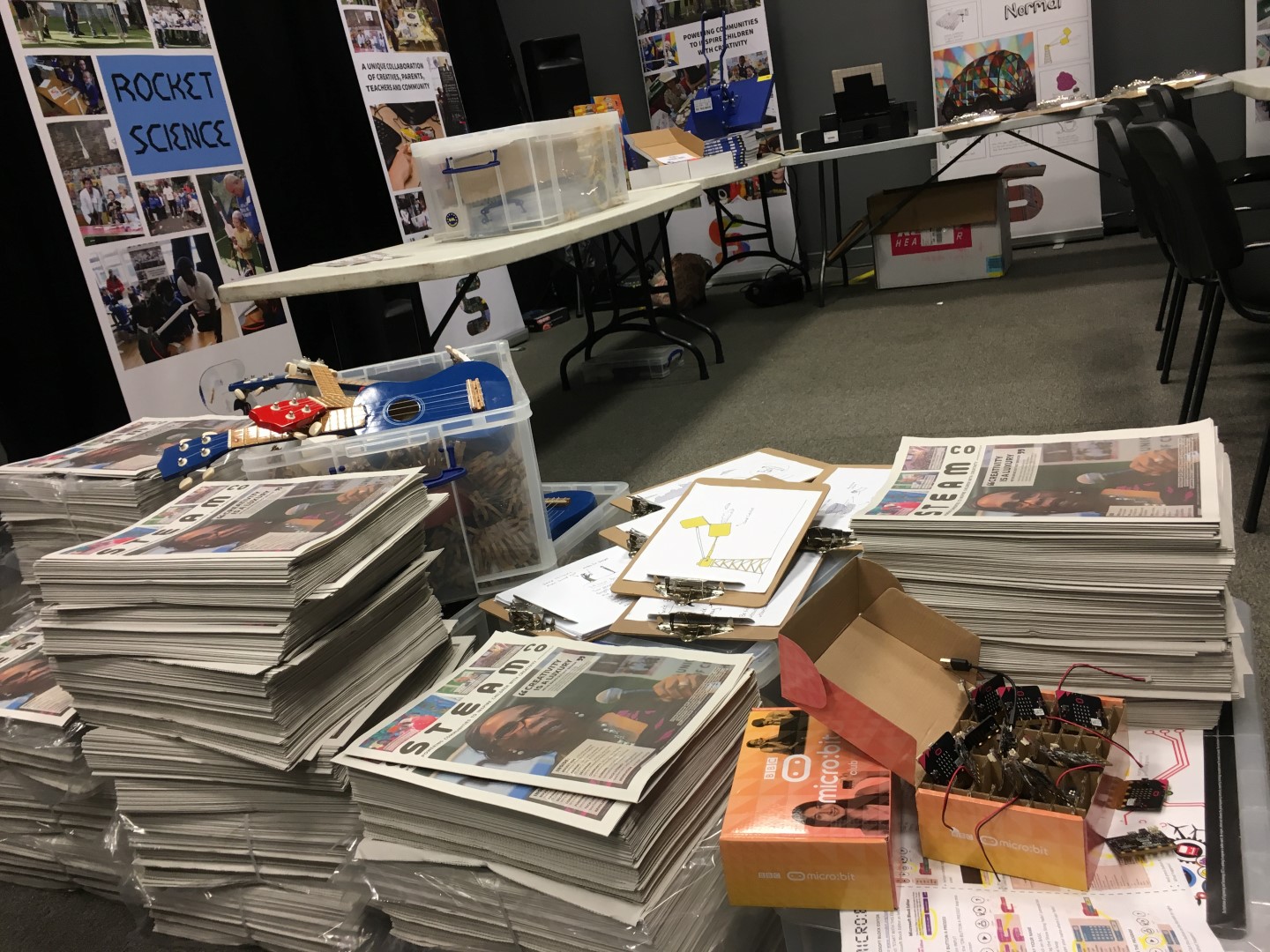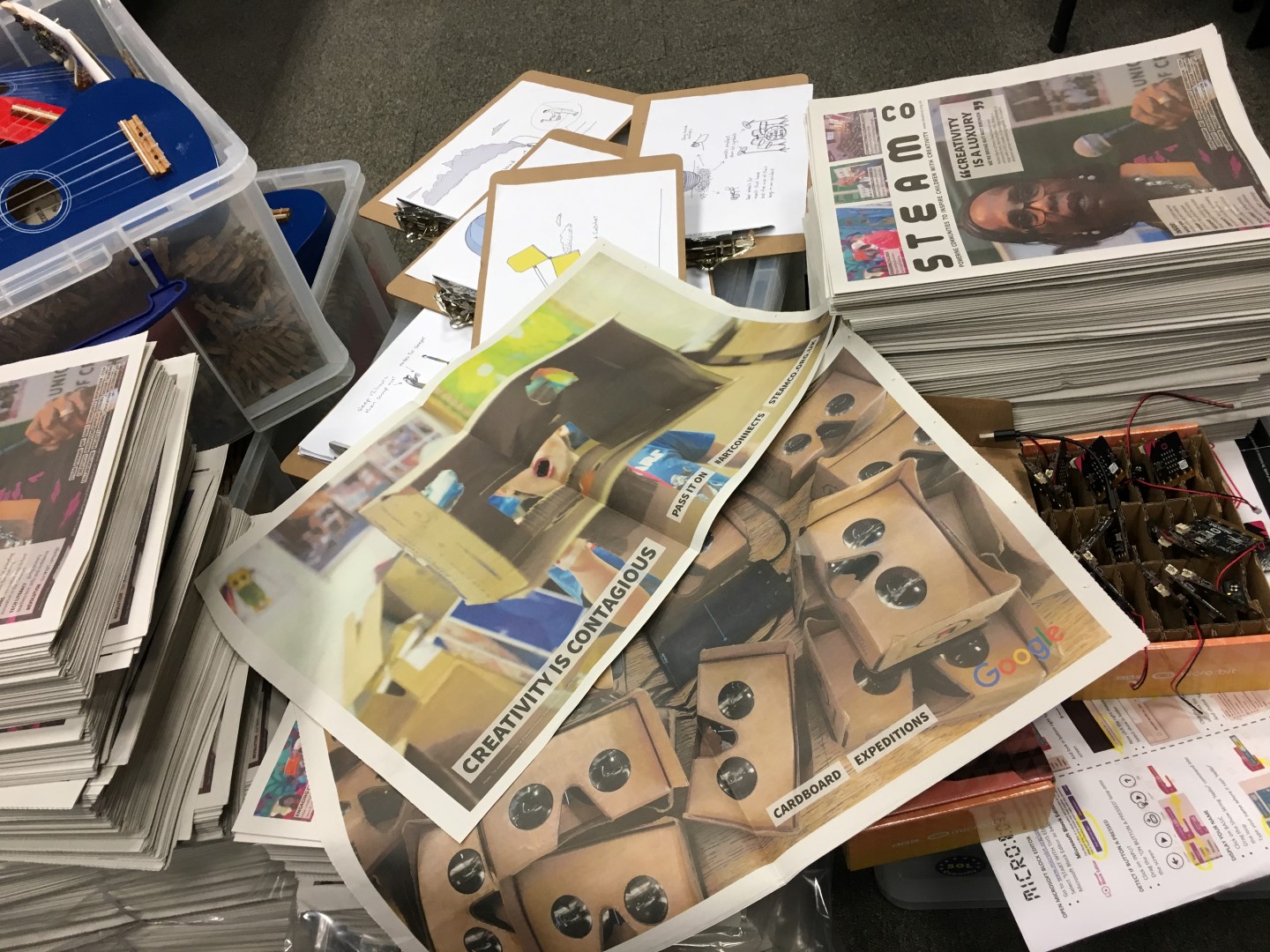 So we legged it down with a bundle of the latest STEAM Co. creativity newspaper we'd printed for our weekend at the TEDx Education conference in Norwich recently to see if there was anything we could add.
The canvas was literally bare with the first ten tons of papers just delivered alongside some beautiful old timbers from groynes from a beach on the South Coast . Preparation was well underway.
We had a lovely chat with David as you can see from the film he made for us below. And we left the papers
Here are a few clips off the webcam the gallery had running for the two weeks while David created the piece with the help of a few assistants and his brother, but we can vouch for the fact that David was there all the time. An old school grafter.
One week later
When we popped back, David and his team had made great progress. The Jeep was in position on crates. He assured us that our bundle of newspapers was in there somewhere!
David was hard at it. We still haven't quite worked out how he rips a newspaper, with a glossy supplement in half with his bare hands in one rip. We certainly couldn't, Must be all the Irn Bru! ;-)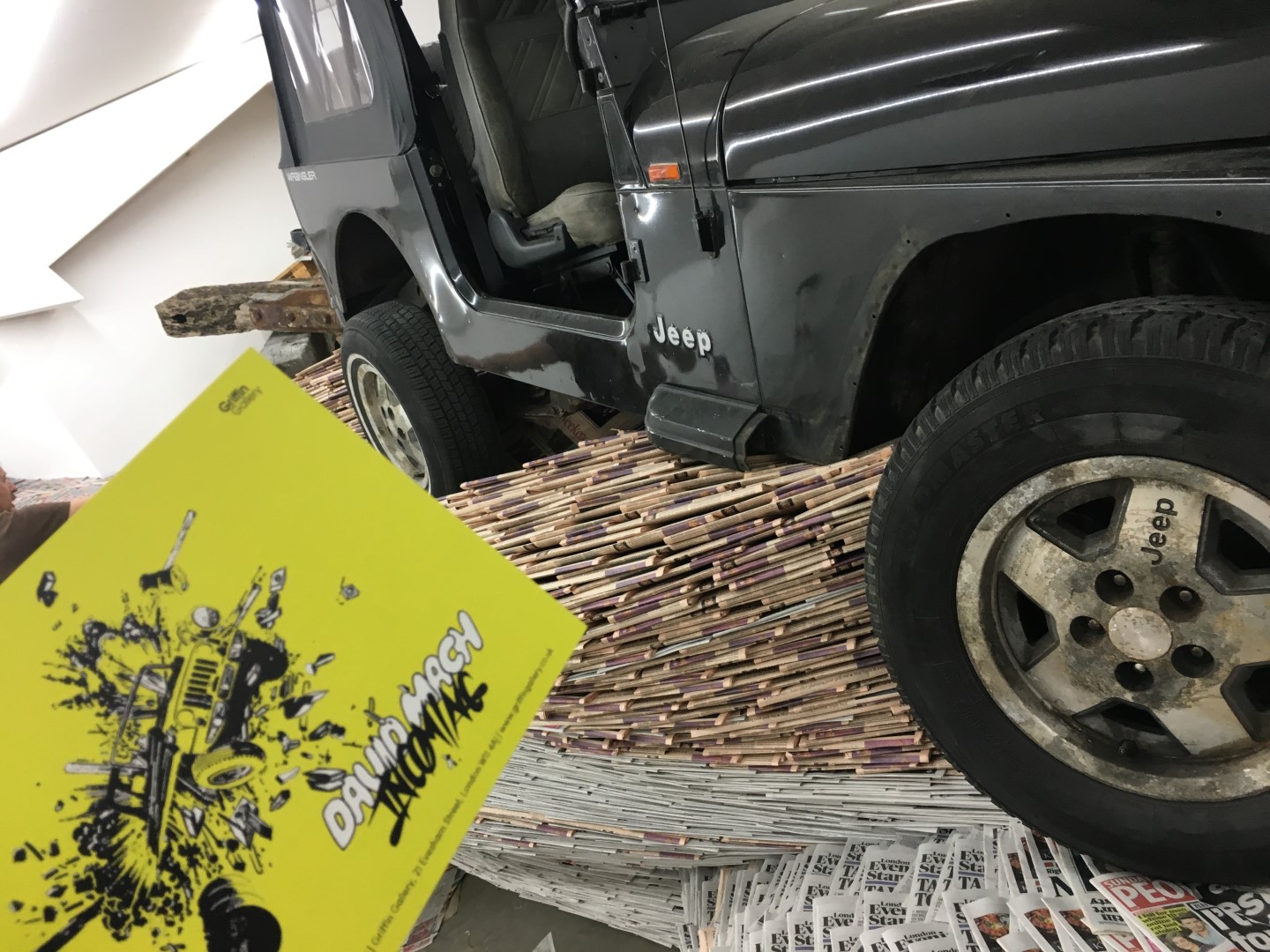 The Opening
We were delighted to be invited to pop along to the opening evening for the exhibition and to see the finished. work and stunning it was too.
Listen to this recording of David on the Robert Elms show on BBC Radio London the morning after his opening evening.
And this clip from BBC London news.
Inspiring Artists
One thing that struck us visiting the Griffin Gallery was finding that it was located in and owned by a company called Colart, who it turns out are the parent company of the most prestigious names in art materials such as Winsor and Newton who were found on the principles of art and science by artists and scientists - right up STEAM Co.s street and echoes of the chromatography activity we've run on STEAM Co. Days in the past.
They do a lot of work with artists and have artists in residence in studios above the Griffin gallery.
Elsewhere the building we saw labs where Colart have colour scientists literally inventing paints and paint colours and it turns our one of their biggest customers and partners is Cass Art who have supported us at our launch in Liverpool with Sir Ken Robinson and our recent newspapers.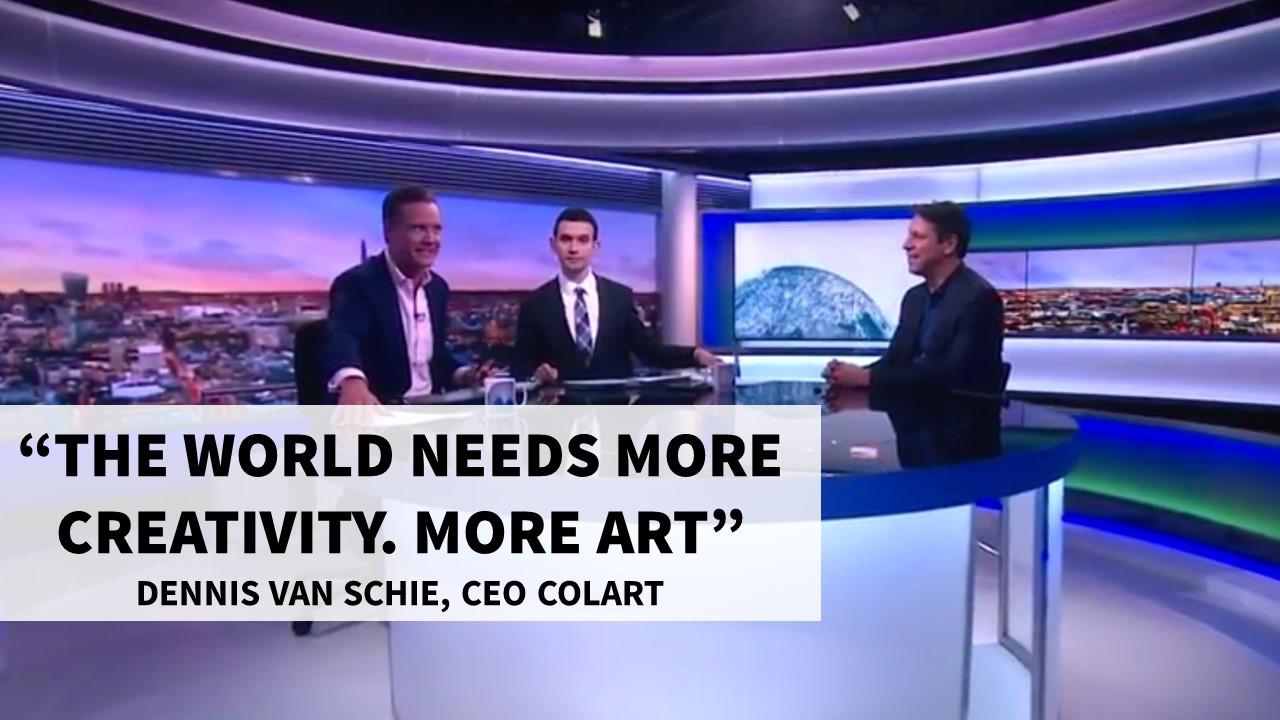 We really need to follow up with them, we could have a lot in common. Them inspiring artists, us inspiring children.
See this film by their CEO on BBC News recently.
And the fact that we're all artists as our #ARTconnects film below with Seth Godin testifies.
That's why we call it art